A Rare Celebration of Hope
"I am by nature an optimistic kind of fellow. "Naïve" might even be a better word; it is certainly more descriptive of how I have gone through life. The world has been depleting my reservoirs of optimism of late.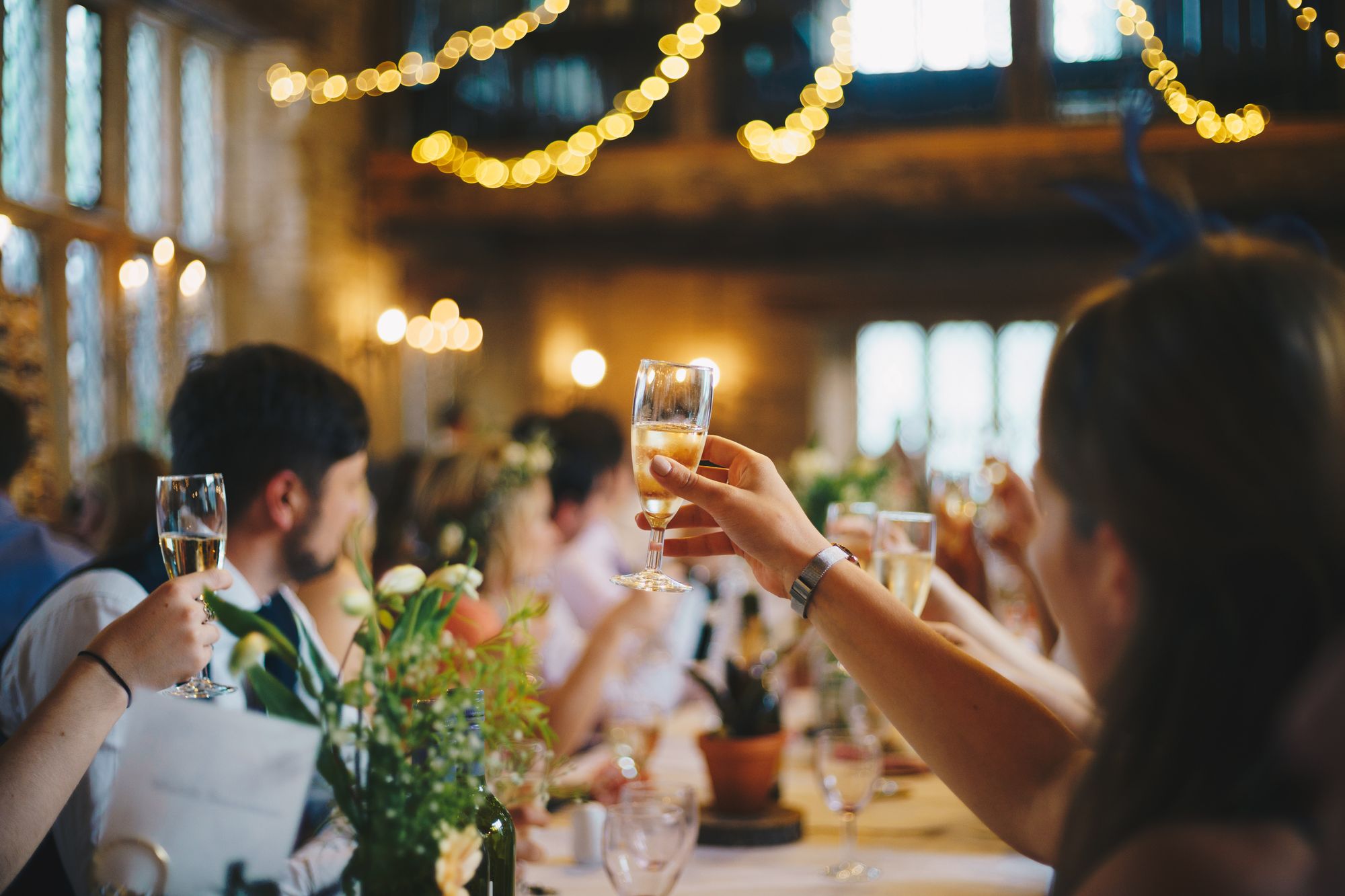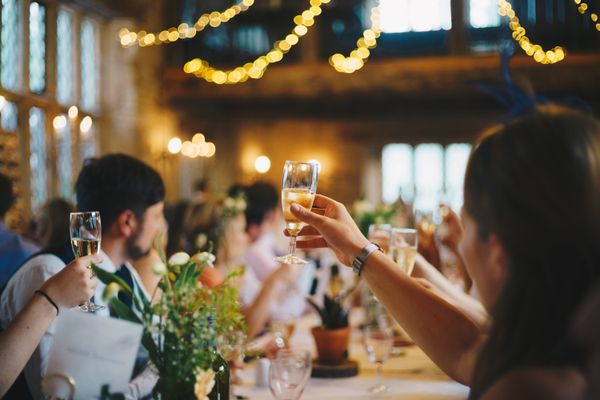 The wedding of two good friends turns into an unexpected oasis of optimism in a pretty crappy fall.
I am by nature an optimistic kind of fellow. "Naïve" might even be a better word; it is certainly more descriptive of how I have gone through life. My optimism, though, has served me well in all the times my naivete has gotten me burned by life its ownself. So I have that going for me.
The world has been depleting my reservoirs of optimism of late. My optimistic side wanted to hope the midterm elections in Texas would produce some change in our beleaguered state, but the Four Horses' Asses of the Apocalypse each cruised to double-digit victories and the Texas GOP picked up seats in the Texas House and Senate. Worse, turnout was down measurably from its 2018 high. Nationally, democracy held against the election deniers, but not resoundingly and not in a way that lets me breathe easier about the 2024 elections.
My own political malaise was magnified by Austin's weird fall weather. To wit, there was no fall, at least that I could detect. On the heels of the second hottest summer on record, Austin's weather just blew through whatever relief the fall equinox was supposed to bring. The daytime temperature frequently exceeded 90 degrees into mid-October, and 80 degrees well into mid-November. The unusual heat was accompanied by that Central Texas humidity we've all come to know and hate.
Thanksgiving week, while a little cooler, was bleak and muggy. A thick blanket of clouds covered the skies, blocking the sun without promising or delivering precipitation. The temps were neither cold nor warm.
My own life did not seem much better.. I'd been catching up with my doctors during the fall, and some once-every-six-months doctor visits produced follow-up appointments in early December. Very disquieting. Also, I've lost a few friends this year. My social life, such as it is, continued to disappoint.
I was ready for an uplifting moment or two. Which is why I was so delighted and inspired by the wedding of my friends Margaret Justus and John Burnett on Saturday.
---
Margaret and I have known each other for years, since the halcyon days when we both worked for then-Governor Ann Richards. She wrangled the press (in the days before it was "The Media"); I was a policy geek, or "mook" in Richards Administration terminology. After the Richards Administration, Margaret worked in a variety of public affairs positions before becoming the guiding force and chief bottle-washer for the Ann Richards Legacy Project, which first created a series of public art installations featuring Ann's likeness and quotes in Austin, Houston, Dallas, San Antonioand El Paso, and this year followed up with the publication of The One Ann Only, a book of photos and quotes with an exquisite introduction by the writer Sarah Bird.
I'd been a fanboy of John's for a similarly-long period, admiring his distinctive voice, wide-ranging reporting and elegant storytelling for National Public Radio. I knew his voice on sight, so to speak, but I had not met him until introduced by Margaret after they were already dating.
Eventually, they became my neighbors, giving us occasional opportunities to break bread together. They also invited me to a couple backyard concerts they hosted.
In contemplating the wonder that was their wedding, it is important to keep a few things in mind. First, John and Margaret are of an age and circumstance where a wedding might represent, in Samuel Johnson's lovely formulation, a triumph of hope over experience.
Second, the ceremony itself was compact and elegant. It was held in the soaring Bethell Hall at St. David's Episcopal Church in downtown Austin. The theme of the readings was "Love." Consider this excerpt from the Song of Solomon:
Set me as a seal upon your heart,
 as a seal upon your arm.
For love is strong as death
 jealousy is fierce as the grave.
Its flashes are flashes of fire
 the very flame of the Lord.
Many waters cannot quench love,
 neither can floods drown it.
Or this reading from the 14th Century Sufi poet Hafiz:
Take your spouse or lover into your arms
The way you did when you first met
Let tenderness pour from your eyes
The way the Sun gazes warmly on the earth.
…
Jump to your feet, wave your fists,
Threaten and warn the whole Universe
That your heart can no longer live
Without real Love!
Third, the Gospel reading was emblematic of the life both of them had chosen: present in the world, trying to make it a better place, drawing strength from each other. It celebrated the hope and idealism each brought to the union. From the Beatitudes:
Blessed are the poor in spirit, for theirs is the kingdom of heaven.
Blessed are they who mourn, for they will be comforted.
Blessed are the meek, for they will inherit the land.
Blessed are they who hunger and thirst for righteousness, for they will be satisfied.
Blessed are the merciful, for they will be shown mercy.
Blessed are the clean of heart, for they will see God.
Blessed are the peacemakers, for they will be called children of God.
Blessed are they who are persecuted for the sake of righteousness,
for theirs is the kingdom of heaven.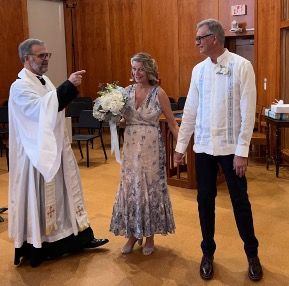 Fourth, it was followed by a kickass after-party (they preferred to call it a "reception") featuring live music, with both of them playing and singing, and a marvelous first dance. A hundred or more of their friends celebrated with them.
All in all, a marvelous day.
So, what did we learn, Palmer?
We learned that hope can spring from any source, at any time.
We learned that it is good to celebrate with your friends, especially the ones who've been side by side with you on the journey, and that those moments are increasingly rare as time goes on.
We learned that hope requires you to lean into it, to show up, and celebrate those moments that bring hope into the world.
⭐
DeeceX (Deece Eckstein) has over 30 years of responsible experience in the Texas legislative and advocacy arenas. He is the retired Intergovernmental Relations Officer for Travis County, Texas, where he created the office and coordinated legislative policy development and advocacy for the Commissioners Court. He also amassed a distinguished record as a policy guru and public servant, including six years as the chief of staff to state Senator Rodney Ellis and three years as a senior advisor to Governor Ann Richards, who also appointed him to the State Board of Insurance.