No Needles Were Moved in the Making of this Debate
Greg Abbott and Beto O'Rourke had the (for now) only debate of their gubernatorial matchup. Each candidate gained some voters, but most of us were left to ponder anew whether to move to another state.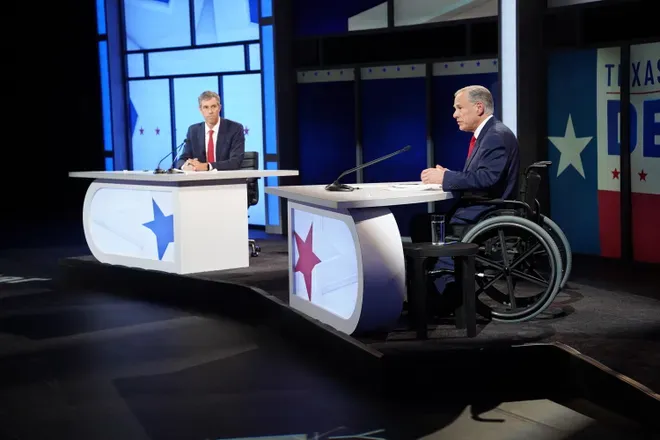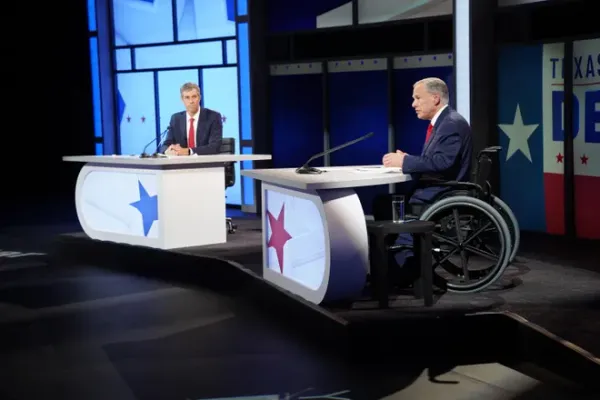 As y'all know, in a month or so we Texans will have the opportunity to vote for our key statewide officials – Governor, Lieutenant Governor, Attorney General, Comptroller, Land Commissioner, and even a SCOTEX justice or two. I love the opportunity to vote in these elections, generally because I love democracy and particularly because I believe that state government plays a significant role in the quality of our day-to-day lives. That's because state government, more so than the feds, actually deals with stuff that matters to ordinary people. Of course, city councils, county commissioners courts, school boards and hospital districts make big, meaningful decisions at the local level, but they all operate within a policy framework created at the state level. Consistent with this longstanding derangement, I've paid attention to state-level elections with an enthusiasm and focus I rarely summon for federal elections.
One of the quadrennial rituals of what my mentor Ernie Cortés called "crass electoral politics" in Texas is the obligatory debate between the Democratic and Republican gubernatorial candidates. There have been 14 of them in the last 40 years, and it's safe to say that none of them will be confused with the seven Lincoln-Douglas debates in 1858. For one thing, each of those debates lasted three hours, which is two hours and 54 minutes longer than the average Texan's attention span – and I'm being generous here.
The Conventional Wisdom is that debates rarely change the trajectory of an election. Even more so in Texas, where debates are typically (and intentionally) scheduled on Friday nights during high school football season. (This has changed some. In olden times, if you did not watch a debate live, it was gone. Now social media posts clips, comments and analyses of the debates in almost-real time.) They only change outcomes if someone screws up. For that reason, the candidate ahead in the race has little or no interest in a debate. An incumbent who's ahead has even less interest because she or he has a record to defend.
The marquee matchup this year is between incumbent Governor Greg Abbott and his arch-nemesis, President Joe Biden.
… Uh, hold on a minute. After consulting my notes, it turns out Abbott is running against Beto O'Rourke. Someone should probably tell Abbott this, since he's keeps going on and on about the Evil Biden Administration, which has visited Texas with a series of plagues that make the legendary 10 Plagues of Egypt look like housewarming gifts: open borders, Green New Deals, defunded police departments, burdensome regulations, mask and vaccine mandates, and so forth.
Polling shows Abbott with a consistent but not insurmountable lead. The latest Quinnipiac poll, taken September 22-26, gives Abbott a seven-point lead, 53% - 46%, about the middle of the range of polls taken over the last month.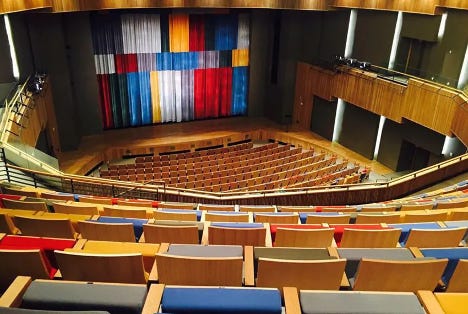 Against that background, on Friday night the two candidates locked horns in a truncated one-hour debate held in Edinburg, Texas. The debate sponsors and the media made a B.F.D. about how the debate's setting in Edinburg showed a) the importance of the Hispanic electorate in Texas, b) the importance of the Valley as a sub-region of the state, and c) the salience of immigration and border security as issues in this election. But for all it mattered, they could have held the debate at the North Pole. The auditorium was empty (allegedly, at Abbott's insistence). The debate moderator was from San Antonio, as was one of the interlocutors. The other two interlocutors were from Austin and Dallas. In keeping with modern trends in political debates, questions were asked via video by two ordinary citizens – from San Marcos and New Braunfels. In other words, no one with a speaking role in the debate lived south of I-10. Hardly a South Texas pachanga.
The debate panel covered a good number of topics in the hour: immigration, border security, gun control, school shootings, abortion, defunding the police, the electric grid, education, and property taxes. You can watch the debate between here. (Skip to the 9:00 minute mark to avoid dead air, unless you're holding a rave in your living room.) Recaps of the debate can be found here, here, here, here,here and here. Fact-checking of some of the claims can be found here, here, here, and here.
Both candidates were well-prepared. Abbott seemed less uptight and wooden than he usually does. He stumbled on the abortion issue, suggesting that rape victims should take a Plan B pill, and that the State would support carrying their babies to term by handing out an unspecified package of resources. (Honestly, it costs $300,000+ to raise a child now, and the State is going to kick in a car seat?) For his part, O'Rourke seemed more disciplined than he often does; no soaring flights of rhetoric, although he did call for public policies "consistent with our values," whatever that means.
No one delivered a knockout punch, but each got in what passes for a zinger these days. (This is a zinger.) Abbott, confronted about busing refugees as a political stunt, pointed out that O'Rourke's hometown of El Paso also buses migrants to other states. (He tried to prove too much by saying El Paso had bused more migrants than the State itself, which was not true.) Beto, hearing Abbott's explanation that DPS officers who violated protocol at Uvalde would be investigated and disciplined, replied, "The buck stops on your desk, Governor. You blame everyone else."
Towards the end, each candidate was asked a "personal" question. Abbott was asked if he's "moved too far to the right" during his time as Governor. Abbott replied about being pro-life and mentioned his daughter's adoption. Pressed, he said he was "governing from principles."
Now, there's only one person who believes that Greg Abbott's sad descent into Trumpism (imitated, unfortunately, by the GOP power structure in Texas as a whole) is not the result of a cynical abandonment of principles in favor of political power, and that person is Greg Abbott. In fairness to him, his principle principle is getting re-elected, as it is with most politicians.
O'Rourke was asked why he's run for office in each of the last three election cycles: is it ambition or public service? O'Rourke rhapsodized about the opportunity to make life better for people, getting a couple sidelong digs at Abbott along the way. Bottom line: He's ambitious to be a public servant.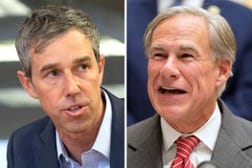 At the end, each candidate was given 30 seconds to make a closing statement. Not surprisingly, the theme of their closers was "change" versus "more of the same." Here's what they said:
O'Rourke:  Look, I don't think that Greg Abbott wakes up wanting to see children shot in their schools or for the grid to fail, but it's clear that he's incapable or unwilling to make the changes necessary to prioritize the lives of our fellow Texans. That's why it's on all of us to make sure that we have change at the ballot box this November 8th, I'll keep your lights on. I'll make sure that I keep your kids safe, we'll reduce property taxes, and we'll prioritize the lives of each and every single Texan in this state.

Abbott: Texas ranks Number One for the most new jobs added since you re-elected me. We're Number One for blue ribbon schools, Number One for Tier One research universities, and Number One in so many categories. I'm running for reelection to keep Texas Number One, to cut your property taxes, to secure the border, to keep dangerous criminals behind bars, and to keep deadly fentanyl off our streets. Together we will keep Texas Number One.
What happens now? Abbott has declined to agree to any other debates, although O'Rourke's hinted he'll do townhall-style meetings without him if media outlets want to sponsor them. Assuming this is the last time we'll see them on the same stage, though, Abbott got the better of Friday night's debate in that he didn't screw up. The next six weeks will be full of TV ads and get-out-the-vote messages from both campaigns – and constant prayers from Abbott there's not a mass school shooting in that time.
It's a shame there will be no debates in the Lieutenant Governor and Attorney General races. Incumbents Dan Patrickand Ken Paxton have refused to meet their challengers, Mike Collier and Rochelle Garza, onstage. The Texas Politics Project poll showed the Republican leading by five points in both races – the same as Abbott, but with many more undecided voters. Both incumbents have handicaps that could change the dynamics of the race in the last weeks. Patrick has been embarrassed by the public defection of several prominent GOP leaders, including outgoing Panhandle state senator Kel Seliger, retiring Tarrant County Judge Glen Whitley, and retiring San Antonio state representative Lyle Larson. Paxton continues to be plagued by allegations of civil, criminal and marital wrongdoing, and made news last week when he fled his house to avoid a process server.
IMPORTANT DATES TO REMEMBER
The next round of campaign finance reports is due October 11.
Deadline to register to vote is also October 11. You can request an application to register to vote here.
Early voting runs from Monday, October 24, to Friday, November 4.
The last day to submit an application to vote by mail is Friday, October 28.
ELECTION DAY is Tuesday, November 8.
⭐
DeeceX (Deece Eckstein) has over 30 years of responsible experience in the Texas legislative and advocacy arenas. He is the retired Intergovernmental Relations Officer for Travis County, Texas, where he created the office and coordinated legislative policy development and advocacy for the Commissioners Court. He also amassed a distinguished record as a policy guru and public servant, including six years as the chief of staff to state Senator Rodney Ellis and three years as a senior advisor to Governor Ann Richards, who also appointed him to the State Board of Insurance.