Tex-a-Tete
A fantasy: Angela Paxton sits through the whole impeachment trial, and when it comes time to vote, rises from her chair and gives a big thumbs down. The crowd in the gallery swoons; Paxton's mistress cries out, Ken!" and then a process server walks on the floor and serves Ken with divorce papers!!!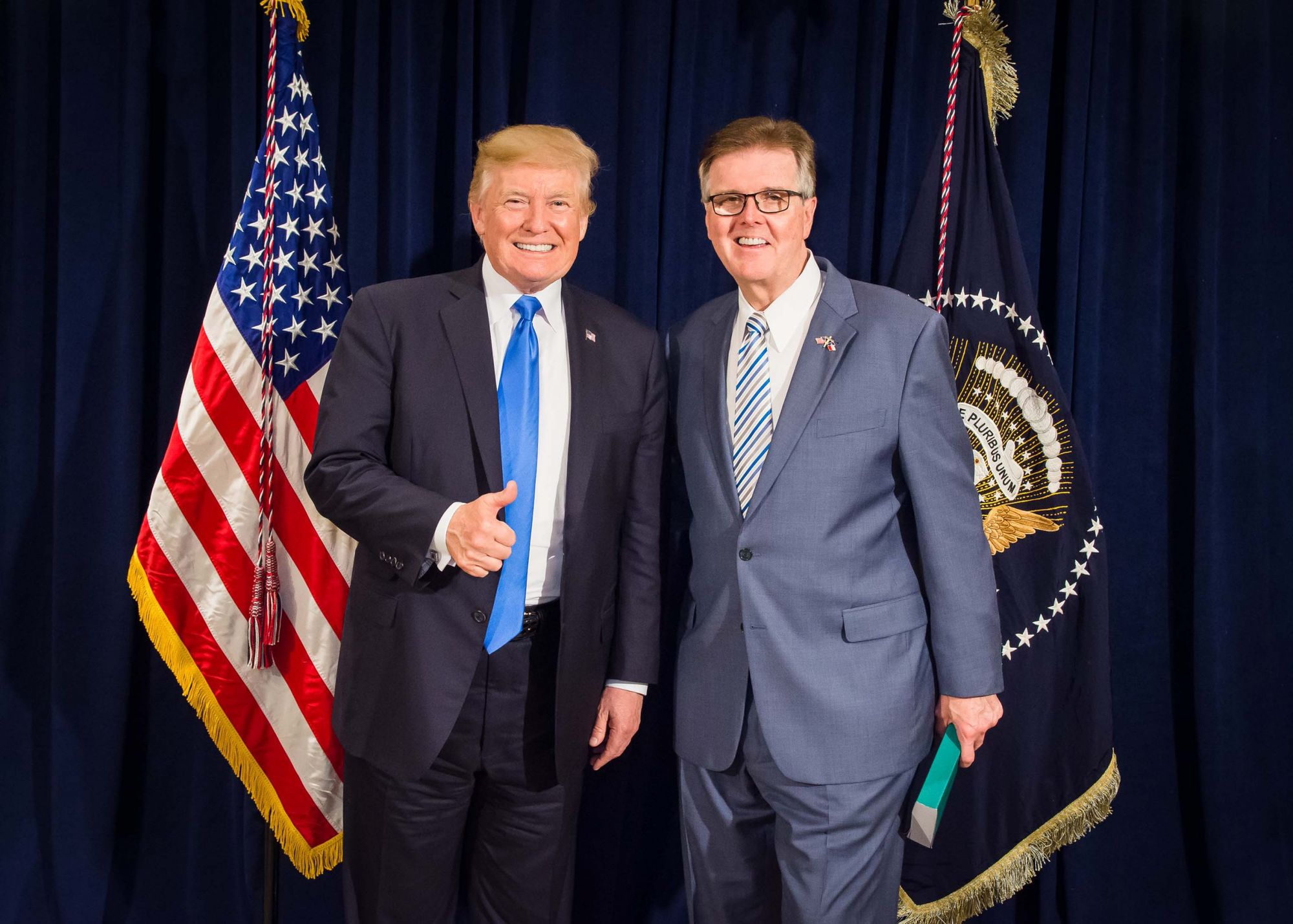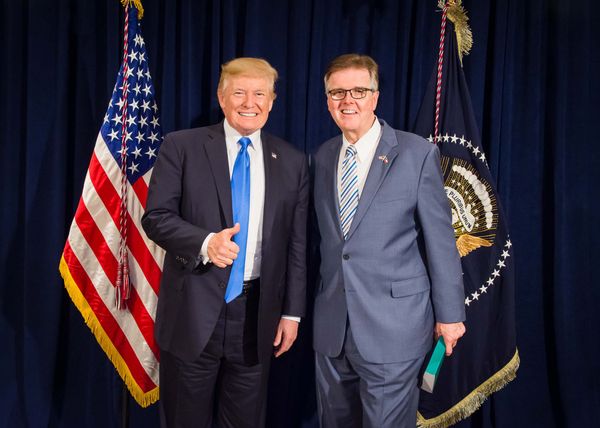 (My friend and fellow politically obsessed thinker, Deece Eckstein, and I had a rather long text conversation that we both thought was enjoyable, and illuminated our ideas on Texas, Trump, the legislature, and accumulating indictments. We decided to do it again and share the exchange. The full transcript is below and we hope you find it of use. Deece has a long background in Texas politics that includes working for Ann Richards, being chief of staff for a state senator, and many years representing Travis County's interests before the state legislature. He knows his stuff, and is a fine writer, as well. Highly recommend you subscribe to his newsletter, "Life Its Ownself.")
Transcript of text message conversation between Jim Bob Moore and Deece Eckstein, Friday, June 9, 2023.
Deece Eckstein:
Hi, Jim. Thanks for the chance to chat it up with you. It always makes me smarter.
James Moore:
Well, I fancy you're the smart one and I pretend. But let's go!
Deece Eckstein:
We first started talking about this when we saw Dan Solomon's piece in Texas Monthly. It was titled, "Paxton's Impeachment Is Not a Referendum on Trump" and was about the intramural fights in the Texas GOP, particularly between the House and Senate this session.
James Moore:
And I think that is a good premise for a story and a prompt for our discussion. I believe, at least in the House, they have all they know to be embarrassed by Paxton and his behavior and have no interest in what Trump thinks. I'd say even less so after yesterday. You think Trump and his MAGAts have time to worry about a Texas State rep's vote after what's just been dumped on T's lap?
Deece Eckstein:
I think that, from the get-go, the principals have insisted this is TEXAS business. DJT is very popular and has the ear of the MAGAts, as you call them. But the fact that 60 of the 85 GOP House members voted for impeachment after Trump directly threatened them — "I will fight you!" — was their way of saying this is our business.
And, as you point out, that changed last night with the 7-count indictment.
I think it changes two things:
First, Trump has less bandwidth to involve himself in a Texas land war over Ken Paxton's future.
Second, Trump has a little more "Stank" on him. The rabid MAGAts will still be loyal, but practical politicians must make decisions about their future.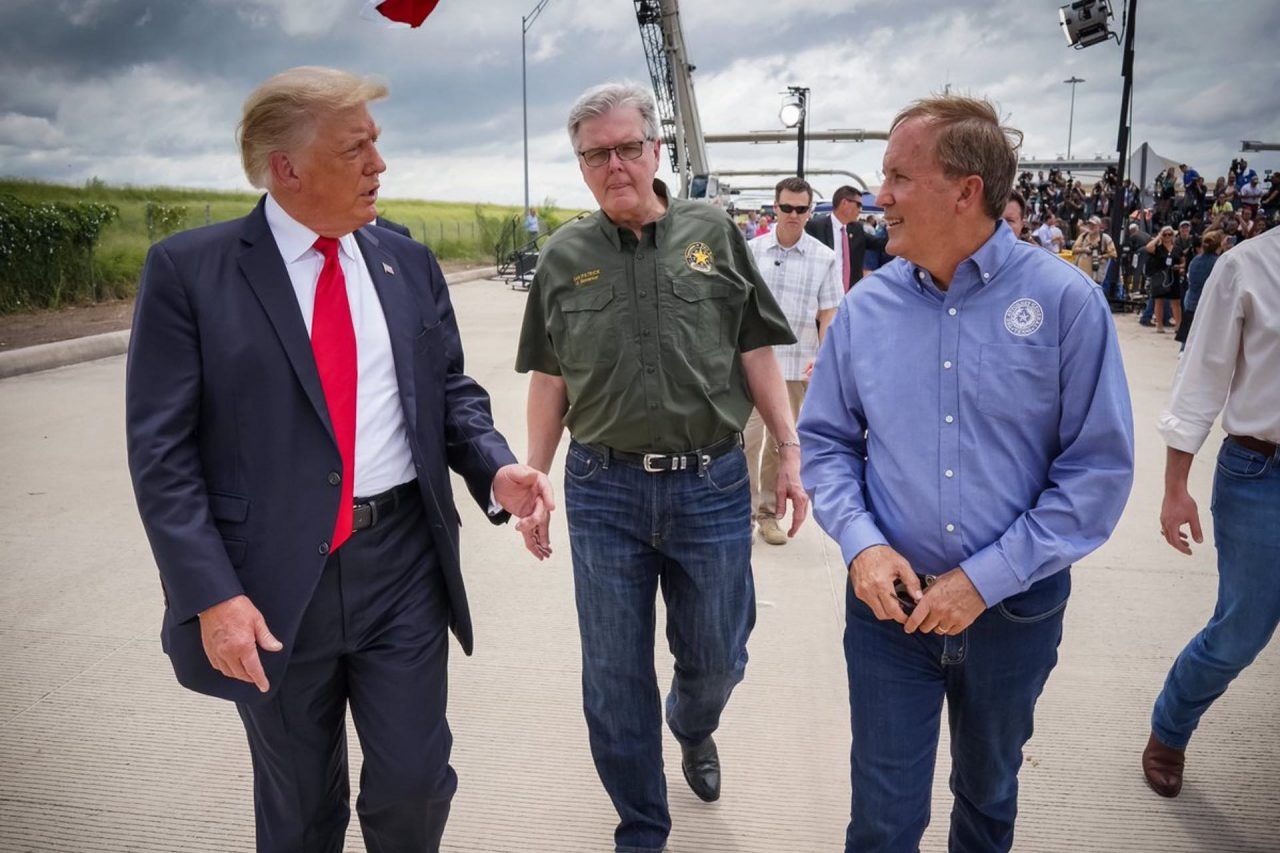 James Moore:
The House is going to bring it, if possible, with an all-out effort to the Senate trial. They have evidence and witnesses to put before the public. But Mr. Patrick, the prez of the Senate, and Lt. Gov. have the power to constrain the rules for how this trial is conducted. He may not want this all aired out before Texas and will try to execute a pro-forma hearing that is made to look like a putative form of justice.
Deece Eckstein:
1) You're absolutely right about the House being loaded for bear. DeGuerin and Hardin are great examples.
2) You've gotten to the heart of the matter: what does Dan Patrick want?
Patrick and Paxton have been political allies, but I wonder how far that goes now. For all the truthiness about Paxton being innocent until proven guilty, the allegations as a whole are damning.
James Moore:
I think Dan Patrick wants this to all go away with minimal damage to his party, and if he has to put a fig leaf over the charges against Paxton to make that happen, I suspect he will find a way. The bigger question is what does that look like when you have high-powered Houston lawyers, skilled not just at the law but also know the value of performance and the court of public interest. If Patrick tries too hard to make this look like petty grievances between Paxton and the house and not of sufficient import for the Senate, he could harm himself and his party. He also doesn't want to hurt Paxton too much because of that relationship and Patrick and Paxton's confederacy with Trump. Should be a good test of Paxton.
Deece Eckstein:
Great insight re Patrick's desire to keep a relationship with Paxton. But does he care if Paxton's been kicked out of office?
James Moore:
Not enough to prevent it, but that's why I suggest that he has to be careful about the shape the trial takes. If it is performative and fatuous, Patrick could be dealing himself and the GOP a kind of self-inflicted wound. He cannot constrain the proceedings too much, but he also doesn't want to look like he's going after Paxton too strongly because that, too, carries ramifications. Of course, he might have already decided, "Screw the guy. No longer worth the trouble."
Deece Eckstein:
My theory: Paxton has been an embarrassment since 2014, but he became THEIR embarrassment when he asked them to cough up $3.3.M to pay for the whistleblower lawsuit. Then impeachment and now the turd is sitting square in Dan Patrick and the Senate's punchbowl. My current theory is your last line: "Screw the guy. No longer worth the trouble."
James Moore:
And you may be right. "If thine eye doth offend thee, pluck it out," right? Their best bet, from the standpoint of political damage, in my view, is to convince everyone he is a bad actor, and they did not countenance his behavior and he has violated moral and ethical codes and was trying to take advantage of taxpayers. He has to go, but look at all us good Republicans who passed judgment and got rid of the poison?
Deece Eckstein:
To your comment: what price will GOP candidates have to pay in 2024 or 2026 if they convict Paxton?
Yes. That's the way they have to frame it: a great Texan, brought down by this own pride and corruption.
James Moore:
I think there will be some damage on statewide tickets but not a lot. But this really compounds their problems with Trump also facing issues. A lot of money, especially in the presidential race, will now stay on the sidelines waiting to see where this Trump thing goes in the prez nominee race. And that will have some impact on their decision to fund statewide and legislative Rs, I think.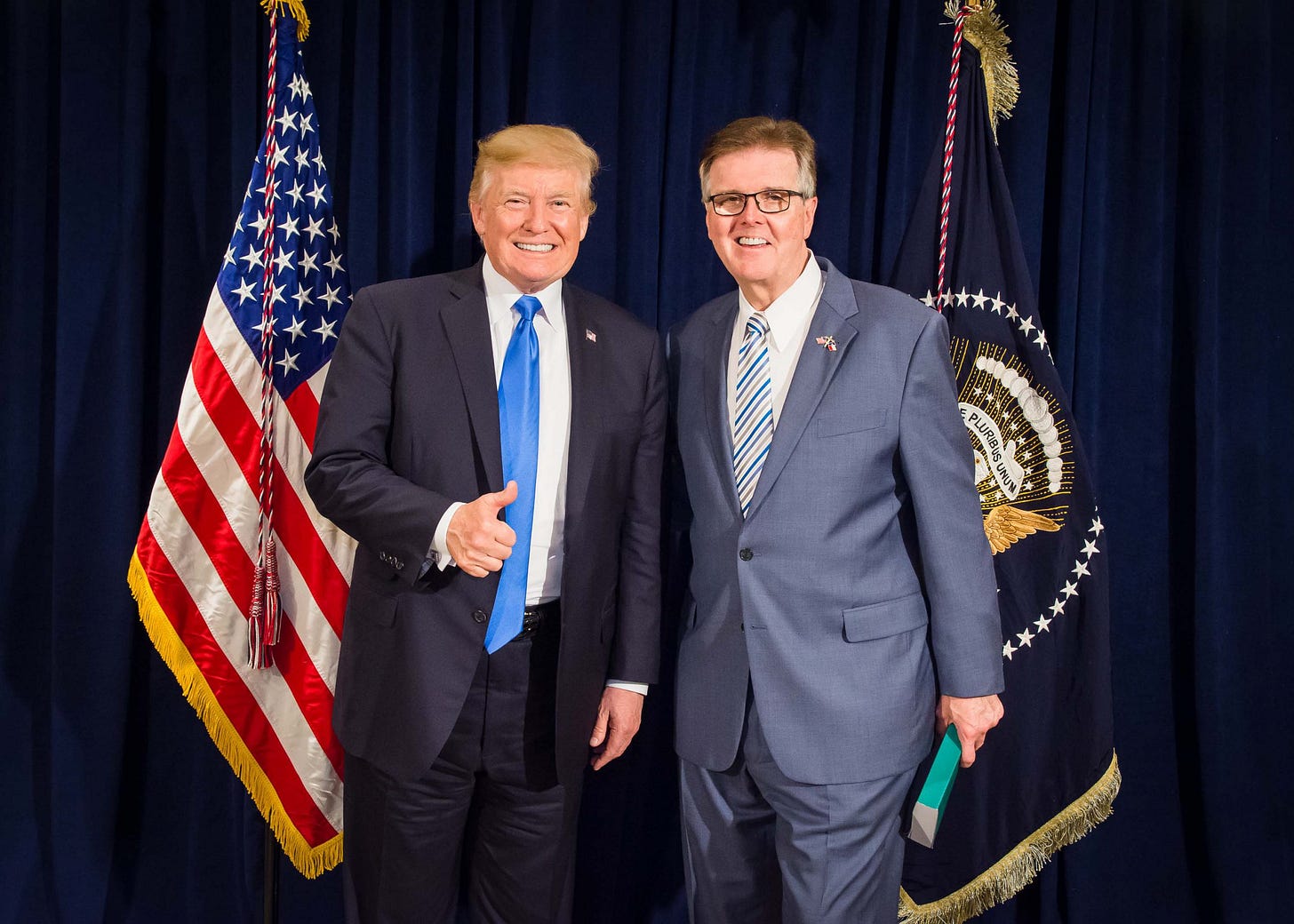 Deece Eckstein:
To change the topic slightly, the interesting thing is that we both know Paxton would not exist but for the rot that has crept into the Texas GOP because they have not been accountable to the voters for 30 years or so.
One thing we should note, in Paxton's favor: some of the richest GOP donors in Texas — the Wilks Brothers, Tim Dunn — are all in for Paxton.
James Moore:
Yes, and that is quite sad. But they have all this coming to them. Nobody shouted at Paxton over his court delays, and he got away with them just like Abbott and Patrick have been getting away with border stuff and silly woke nonsense. They know their days are numbered so they pass voter suppression laws and gerrymander to retain power as long as they can.
Deece Eckstein:
Trump may escape his problems. He may win the nomination and, God forbid, the presidency again. But I think the days where he could bless a Patrick or an Abbott and have that be determinative are over.
James Moore:
Our state is a mess because of the GOP. They don't deal with real issues. They worry about the sexuality problems of teens and what books are in public libraries while teachers are quitting daily because they can't afford to live in this state.
I agree with you. But I don't think Trump can win as more and more of this stuff leaks out. There are not enough MAGAts to make that happen.
And he is going to start losing donors and voters just slightly to the left of the MAGAts. I believe Trump fatigue is a very real thing, even for angry MAGAts.
Which is why DeSantis has a shot.
Deece Eckstein:
So, assuming Patrick is not committed to saving Paxton's butt, what happens in the Senate trial? Two issues to consider:
1) Will Patrick allow a one-year delay, as Tony Buzbee is requesting?
2) Will Angela have to recuse herself? Or anyone else?
James Moore:
I am not sure that Patrick has the authority to delay for a year, constitutionally, or does he? That might not be the smartest move, in any case, the lingering allows more investigative reporting, and gossip, and analyses, none of which will have a positive impact for Patrick or the GOP.
There is nothing that I am aware of that requires Mrs. Paxton to recuse herself, and in a close vote, she could make a difference. When did these people ever recognize a conflict of interest?
Deece Eckstein:
The Senate gets to set the timing of the trial, with due allowance for parties to prepare. Of course, a one-year delay is preposterous. I could see them delaying until October, maybe. The Senators — D and R — want it over before filing period begins.
James Moore:
Yeah, has to be disposed of before any campaigning.
Or even just filing, as you suggest.
Deece Eckstein:
Angela can argue a constitutional duty to participate, but no judge in the real world would let the defendant's wife serve on a jury. Especially when she is all up in the business of the impeachment: home renovations, mistress, etc.
It's important strategically because if she's recused, they only need 20 votes to convict, not 21.
Although if we think Patrick is going to cut Paxton loose, that won't matter. There will be 24-25 votes to convict.
James Moore:
I can't wait to see and hear Dick DeGuerin on the floor of the Texas Senate going after Paxton. DeGuerin has never had such a venue before, and I expect he will rehearse like hell and give a winning performance.
Deece Eckstein:
Well, and Paxton has built his whole career on hiding from the public. As much as his handlers are crying out for "his day in court," he's dodged a bunch of them in the past, my guess is they'll do everything they can to keep him off the witness stand.
James Moore:
Yeah, your comment is important because if Patrick tells them to acquit, they likely will, even though at least few will have to hold their noses to vote not guilty. And Angela has to be considered a witness, too, and asked about her husband's affair, etc. I'd think she'd not only recuse herself but also excuse herself from the room.
Deece Eckstein:
I have this fantasy; maybe you can put it in your next Netflix series. (CONGRATULATIONS, by the way!) Angela sits through the whole impeachment trial, and when it comes time to vote, rises from her chair and gives a big thumbs down. The crowd in the gallery swoons; Paxton mistress cries out, Ken!" and just then a process server walks on the floor and serves Ken with divorce papers!!!
James Moore:
Now you are the scriptwriter, pal! What a great scene, almost like John McCain's health care vote right before he died. Only Paxton would be dying a different kind of death. She could also be playing the good Christian lady who has used up her forgiveness. Let him be with his mysterious concubine.
Deece Eckstein:
The constitutional and statutory provisions seem to suggest that senators have to be in their seats during the trial but are silent on whether all of them have to vote. In fact, conviction requires the vote "of 2/3 of those PRESENT." So, Angela might have to sit through the whole thing and then excuse herself for the vote.
James Moore:
Your constitutional insights are impressive, amigo. So, perhaps Angela stays away. Why would she want to hear the testimony anyway? Hasn't the poor woman suffered enough??!!
Deece Eckstein:
My reading is she has to be there. I'm frequently wrong about these things. The more interesting question is whether they can compel her to recuse. And while they're at it, Bryan Hughes and/or Donna Campbell.
OK, so we seem to be closing in on the idea that Patrick will not intervene to save Paxton's hide. If so, the Senate may act as an impartial tribunal. I assume you agree with me that, given that chance, they will convict.
James Moore:
I just don't see how they dance around the evidence and let the guy off. That would bring so much political heat they'd all get burned. But, as I mentioned, Patrick has great leeway in how that trial is conducted. Will there be live witnesses? What type of evidence can be admitted or dismissed? Will he allow the Nate Paul stuff to be entered into discussion and its implications? He can soften the impact of evidence with the rules he promulgates with senators.
Deece Eckstein:
By the way, in answer to your question, "Why would she want to hear the testimony anyway? Hasn't the poor woman suffered enough??!!" She HAS been married to Paxton for ~20 years, poor woman.
James Moore:
Which was what I was trying to subtly suggest.
Deece Eckstein:
Interesting question: Patrick has delegated rating the rules and procedures for the trial to a committee of 7 senators. If he really lets them do it, their answer to those questions might be different than a Patrick whitewash would entail.
James Moore:
I would certainly hope they set up a true court of law.
Deece Eckstein:
Abbott has been very quiet about the Paxton imbroglio. So has Patrick. Any chance Abbott will decide to get involved? Why would he?
James Moore:
Abbott will courageously stand back and let other people deal with it, live with the verdict, say due process was afforded, and it's time to move on. He is a rank coward, as you know. He will put nothing at risk, even if Paxton and he came from the same womb.
Deece Eckstein:
Understated, as usual, Jim! 😊
I agree.
James Moore:
Understatement is not my strong suit. Now, I can talk about overstatement and overwriting all day long.
Deece Eckstein:
I think the strength of the House vote (121-23) told everyone which way this was going. To quote "Casino," which has been my touchstone in figuring this all out:
"The word was out. The bosses had enough of Nicky. They had enough. How much were they gonna take?"
The RPT has been very solid for Paxton, although they've got a little distraction now with DJT's indictment.
James Moore:
But the thing that bugs me was that they had the evidence on him and took so long to act. The money request to settle the $3.3 million lawsuit is all that mattered or mattered most to them.
Well, I wanted to talk about the Trump situation. I think that affects Texas conservative politics. Enthusiasm goes into the crapper. Money for him stays on the sidelines, and it's hard for even the right-wingers to say they don't believe in the judicial system, though many of them don't. How do you argue against a trial where evidence convicts and then call it a railroad job?
Deece Eckstein:
I just think he could be as big an ass as he wanted to be, if it was not their problem. When he demanded the money, it became their problem. Phelan, Geren, Murr and others said much the same thing on the House floor.
James Moore:
I think that's the point of the story. No moral outrage until he asks for money. Makes them good people in the Texas house.
Deece Eckstein:
What Trump has done over the years is convince some not-insignificant portion of America that the whole shooting match is corrupt, and specifically that it is out to get DJT because he is on "their side." That belief is remarkably immune to facts.
He may never lose them. They be-LIEVE in him. The serious people — elected officials, donors, the political infrastructure — know he's a fraud. But they've known that for 8 years and it hasn't stopped them from kowtowing to him.
Your key insight is that many of them will hold their powder now.
James Moore:
That's a great assessment, of course. But I think we might be approaching an expiration date on Trump and his BS. My belief is that even the people who believe deep state stuff and conspiracies galore have grown weary of this guy and want to try a new and sharper sword.
Deece Eckstein:
Who will the beneficiaries be? DeSantis? Any of the others? As a group, rich Texans are a pretty right-wing clan; I can't see them getting excited over Hutchinson, Haley …
James Moore:
I believe they stay out of the game until they see which way the wind is blowing. DeSantis is right now the most likely to get their money and vote, but I know better than to predict this far out.
Deece Eckstein:
I hope you're right. Trump's "sell by" date seems to have come and gone, but people are still drinking the Kool-Aid. Maybe a trial on "espionage" will get their attention.
I agree with you about the donor/political class.
James Moore:
Well, perhaps we should go do something more productive than political chatter on this lovely Friday, though I think we need to do this again soon, maybe even on the regular.
Deece Eckstein:
I agree we should do this again and soon,
By the way, I think we both know this would have been more incisive and brilliant if we conducted it live in the Broken Wheel Bar. Soon …
James Moore:
That needs to happen soon. No place facilitates political discussion and generalized joy than the Broken Wheel Bar……..
Deece Eckstein:
Yep. Well, have a good weekend, Jim.
James Moore:
You, too, amigo.
⭐
James Moore is a New York Times bestselling author, political analyst, and business communications consultant who has been writing and reporting on Texas politics since 1975. He writes frequently for CNN and other national media outlets and can be reached a jim@bigbendstrategies.com.
⭐
DeeceX (Deece Eckstein) has over 30 years of responsible experience in the Texas legislative and advocacy arenas. He is the retired Intergovernmental Relations Officer for Travis County, Texas, where he created the office and coordinated legislative policy development and advocacy for the Commissioners Court. He also amassed a distinguished record as a policy guru and public servant, including six years as the chief of staff to state Senator Rodney Ellis and three years as a senior advisor to Governor Ann Richards, who also appointed him to the State Board of Insurance.