A Texas School in the Middle East? Yes. And it's winning!
While education is being debated, undermined, and manipulated by American politicians, this American school in Doha, enjoys immunity from that. Texas educational standards serve as a foundational basis, not as daily oversight.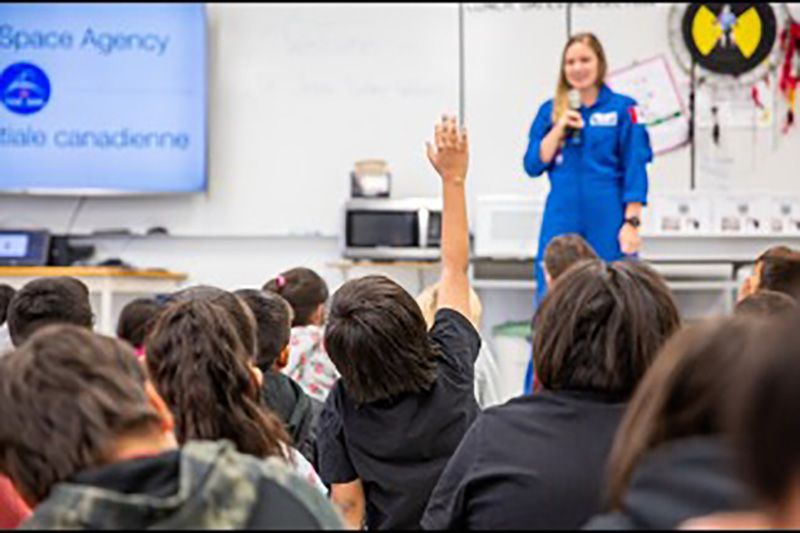 Just when you think we can't all get along, you find out we can and do. Every day we read news about world conflict, political division, and threats to democracy. But to turn a familiar phrase into a positive position, Good Happens.  In one of the richest countries in the world, a Texas school with its origins in Houston is busting old-line educational stereotypes and expanding the boundaries of learning.  From as young as ten years old to seventeen, the students are too busy winning awards to allow their cultural differences to undermine their strengths to become a team. They respect themselves and their teammates.
Doha, Qatar is known for its rich history and modern skyline. In 1997, Al Rayyan, Qatar became the home to Education City a complex that houses eight universities, top-performing high schools, and Al Jazeera's children's television channel. Top-tier U.S. educational institutions have campuses in Qatar's Education City. Among them, Carnegie Mellon University in Qatar, Georgetown University School of Foreign Service in Qatar, Cornell, Northwestern, and Texas A & M. Qatar's Leadership not only focused on education but also medical research and innovation.
The Michael E. DeBakey School for Health Professions in Doha, Qatar
The late Dr. DeBakey was a decorated American, scientist, medical educator and world-renowned cardiovascular surgeon. At Baylor College of Medicine, he served as Chair of the Department of Surgery, President, and Chancellor. The list of his national and international honors and awards reads like accolades for a dozen people rather than only one. Dr. DeBakey was a humanitarian who believed in service to others and the preparation of the next generation. Several institutions carry his name and before his death in 2008, he gave permission for the Michael E. DeBakey School for Health Professions in Doha.
DeBakey-Qatar is modeled after the Houston DeBakey High School which was created in partnership with Baylor College of Medicine and the Houston Independent School District. Both are STEAM schools highly centered on Science, Technology, Engineering, the Arts and Mathematics. The DeBakey-Qatar curricula is based on the Texas Essential Knowledge and Skills known as TEKS, the Texas standards for education. And in the tradition of Dr. DeBakey, the school is teaching students from all over the world to dream big and innovate.
Houstonian Dr. Virginia Parras-Grande is president of DeBakey-Qatar. She was recently recognized by Houston Mayor Sylvester Turner as a woman leader in educational innovation.  For more than two decades she has been an educational curricula consultant, faculty member, and leader at institutions across the country. She says that their campus is paving the way for tomorrow's future in several ways:  All students including Americans can thrive in an international setting. Students from the Middle East and other countries can learn and work together despite differences in religious practices and cultures. And most importantly, children in their middle school years have the capacity to learn well beyond their expectations in innovative educational systems. The DeBakey Qatar motto is "nurturing students beyond their potential."
The teaching and learning process at DeBakey Qatar is extraordinary. Students ages 10- 17 have had multiple opportunities to interact with NASA astronauts about their space travel and life experiences. The school hosted the first-ever live open-heart surgery broadcasted from the Houston DeBakey Cardiovascular Center, which was attended by more than 300 students and educators from the school and medical universities in Doha. It would be expected for medical students but not necessarily middle and high schoolers.
The acceptance rate of their students into colleges and universities is 100% following prestigious hospital internships and engineering programs at places like Oxford University. Their standardized test scores outperform students from other countries including the U.S. and they managed to receive international awards even during COVID.
While education is being debated, undermined, and manipulated by American politicians, this American school in Doha, enjoys immunity from that. Texas educational standards serve as a foundational basis, not as daily oversight.
Dr. Parras-Grande says that her school is focused on the core values established by Dr. DeBakey himself of trust, responsibility, compassion, and respect. These core values bring students together from all over the world and prepare them to be international leaders for the next generations.  It also expands traditional educational boundaries to create the impetus for lifelong learning. DeBakey has the freedom to facilitate learning that will allow their students to create jobs and knowledge that currently do not exist. DeBakey is merging medical science and engineering long before students enter a university.  
A graduating senior in 2020 received more than $160,000 in scholarship funding to Dr. DeBakey's alma mater, Tulane University. That graduating class received more than $1.2 million in scholarships in total. In 2020, two female students become the first from a private school to win the coveted Amir Award and went on to Carnegie Melon School of Medicine.
In 2021, the school became the first high school in the region to open a health science simulation laboratory that includes virtual reality exploration of medical subjects, illnesses, and anatomy.
There is a lesson to be gained from the DeBakey School – Qatar's educational model.  It is that children have a much larger capacity for learning than we might assume. Students, nurtured through a rigorous curriculum by caring teachers and staff who are taught how to work together will become global leaders. We do not have to hide differences and live under the notion that we all must be the same, worship the same, dress the same, and look the same. And on the other side of the world, the better parts of Texas and the US. are being celebrated, nurtured, and appreciated to create global citizens.
⭐
Myra Jolivet is a storyteller. First a TV news anchor and reporter. Then came PR work and consulting. That's where she is today - banging her head against the wall - trying to help CEOs and political candidates tell their stories well. Myra writes a series of murder mysteries She was a kid with an imaginary friend. That says it all.