Best of the Pecos
"You see, you spend a good piece of your life gripping a baseball, and in the end it turns out that it was the other way around all the time." - Jim Bouton, pitcher, author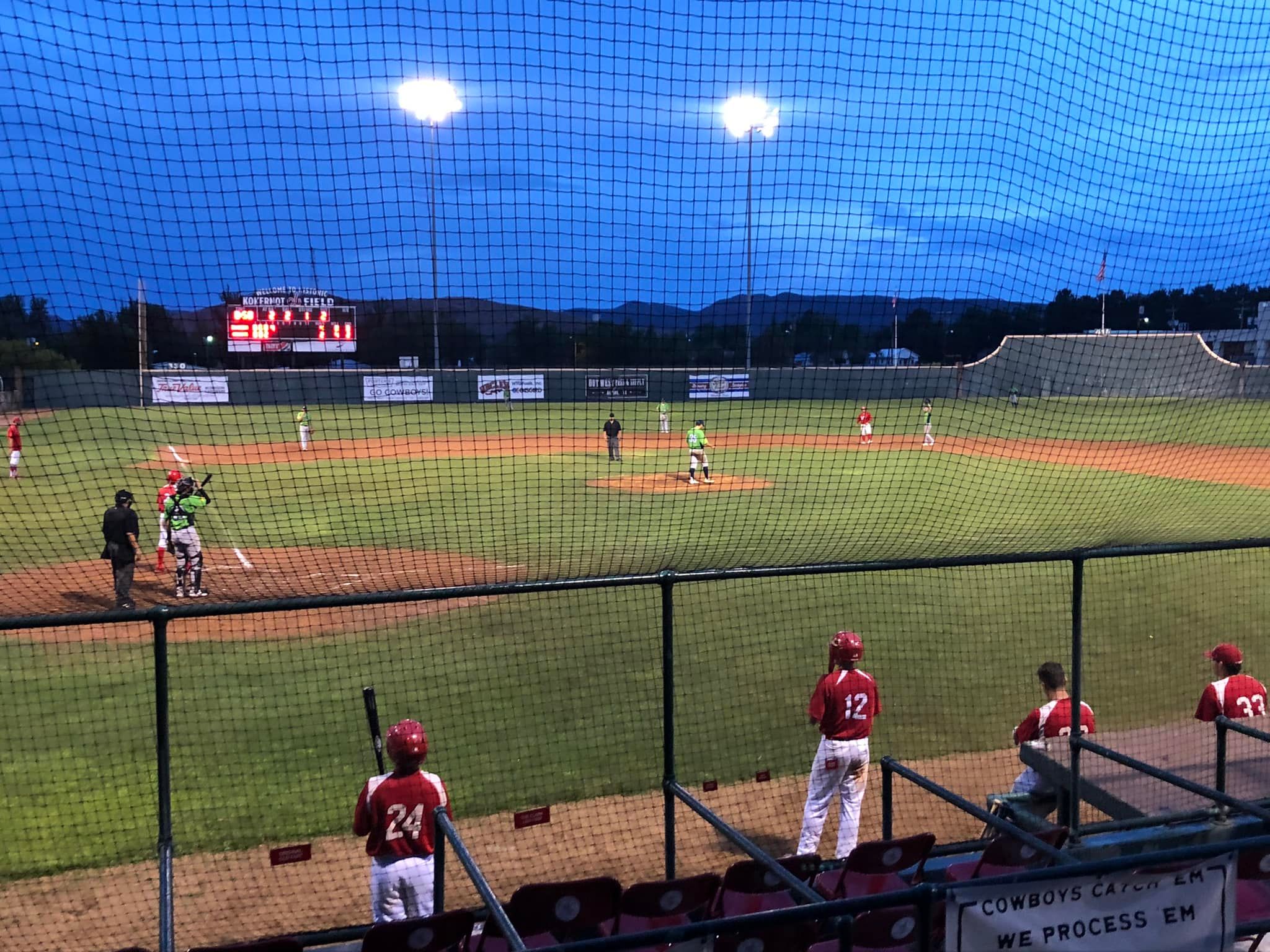 I was out in West Texas again the past few weeks. There are always reasons to be West of the Pecos but I was hiding out to do some writing and finish a book I've been hired to ghost. The rock house was quiet and the words came along nicely, but there were the distractions of the sky and high desert right outside my door. The temperature was at least ten degrees lower than Austin, and great, dark cloud tops seemed to build each evening across the Marathon Plateau. We got rain on a near regular basis and hail with a wind sufficiently strong that the giant centennial plants were tilted enough to pull at their roots.
One evening as the skies darkened to the west, my pal Deece and I were contemplating skipping a baseball game we had planned to attend in nearby Alpine. There was a patio where he was living with a view of the sky and the lightning and a nearby bottle of mezcal that might enhance nature's glory. The first streaks were sharp with sound and fury and the rain came hard and fast and out of the steel gray curtain across the horizon. But we expected, as is often the case, the weather might be different thirty miles west in Alpine, which was where the game was to be played. Deece drove Highway 90 and the storm eased as we approached the famous ballpark.
As many times as I have attended games at Kokernot Field, I have never tired of its storybook setting. The baseball park looks more like a movie set than home to the Alpine Cowboys, a semi-pro team that plays in the Pecos League. These are young men who do not expect to make it to the big leagues, and if they harbored such a dream, you can be assured they would dare not speak it. The odds of rising from an unaffiliated team paying you $50-$75 a week in an obscure regional league to taking the field in a Major League ball park are more than slightly daunting. If you possessed that potential, it would probably have been noticed before you had to drive down to Alpine and move in with a host family for the short season.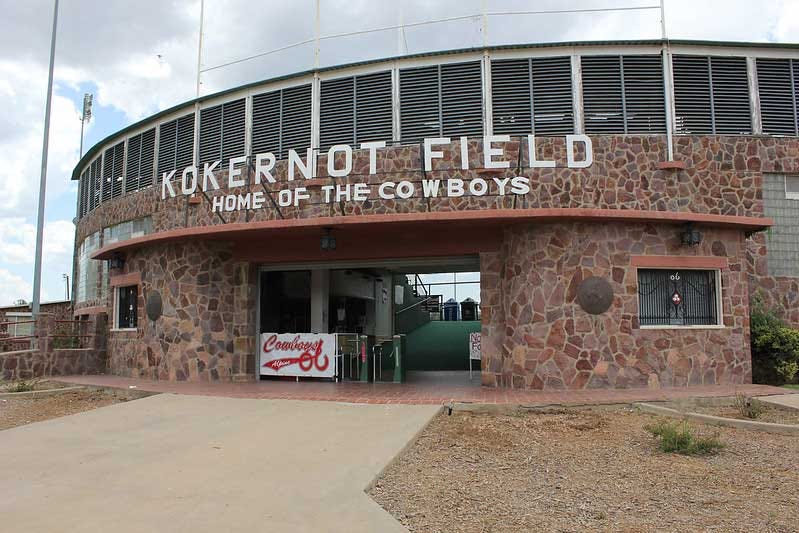 But who cares? They are young and healthy and playing a game that they love, and like anyone who gets to play baseball at a competitive level, even for money that is inadequate to buy groceries, it can feel like a gift. When the infield grass is trimmed tightly and the ball bounces true and the dirt is smooth and fast, you are happy. There are a few friends and family members in the stands and maybe a girlfriend and when a line drive takes a quick skid hop but you dive and backhand it at shortstop and standup with a perfect throw to beat the runner, well, what's better than that? Between innings, you are running out to your position and you see palm trees and mountains beyond the left field fence and the long light of a setting sun coloring the evening as the electric illumination comes up in the ballpark and you think you are becoming familiar with heaven.
Deece and I met up with David, bought our tickets, and walked up the ramp to find a place to sit on the first base side. The rain passing through had made the grass a little slick but there was no standing water and the game started on time. The Alpine Cowboys were taking on the Roswell Invaders and the sky was clearing and a gibbous West Texas moon was coming into view. The Cowboys pitcher, as nameless to the crowd as every other player on the field, had a smooth natural delivery on his fastball and some "late life" in its movement. There was not, however, any sign of a curveball in the early innings, which meant, of course, the Invaders were likely to eventually get their timing right and start hitting the ball.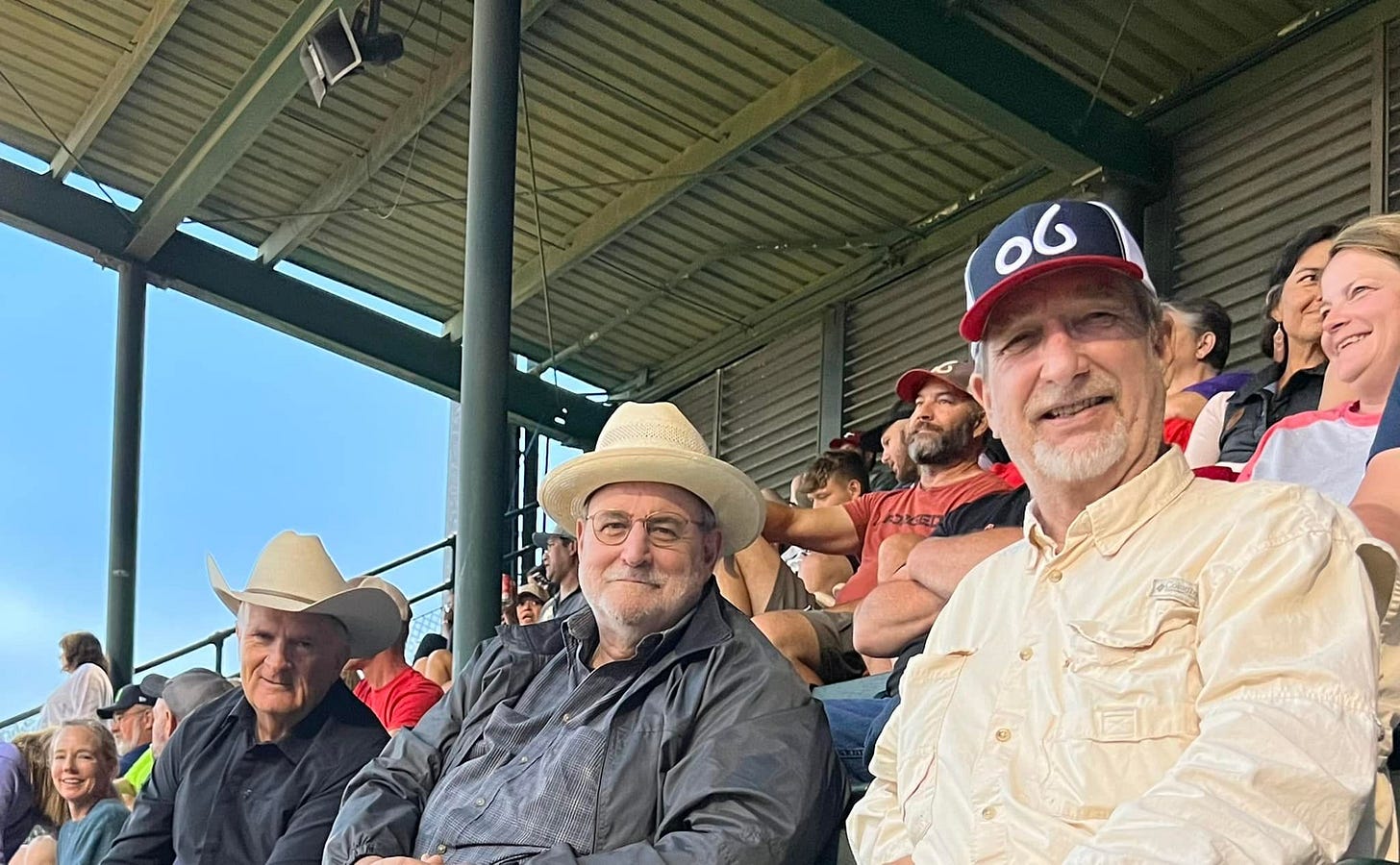 I wondered if any of these young players knew they were standing on a field where a former American League Batting Champion, Norm Cash, had perfected his farm boy swing with his outsized hay-bale-tossing forearms. Not too far north, on the edge of the Texas cap rock, Cash had played high school baseball in Post. The field bears his name today because he brought greatness to his community. Cash, a lefty, started his serious baseball career by playing for the Sul Ross University Lobos in Alpine, who used Kokernot for their games. In 1961, he might have been the most famous person to have ever come out of Alpine, Texas. Cash won the American League batting crown by hitting an amazing .361 and with an on-base percentage that remains improbable even with the training, skills, and athleticism of modern athletes.
As we watched, the Invaders started turning on the lefty's "cheese" and getting hits, but he managed to escape a few precarious situations in consecutive innings. The game remained close. I wondered, momentarily, if he knew that he was standing on the same mound where two of baseball's greatest pitchers had also faced opposing batters. The incomparable Satchel Paige had once traveled to Alpine to take part in an exhibition game against local All Stars, and, as the story was retold, pitched only one inning and struck out all three batters he faced. Nonetheless, for years there were dozens of old timers in town who claimed they had been struck out by Satchel. Gaylord Perry had also toed the rubber at Kokernot. The North Carolina wunderkind began his minor league career as a teenager in Alpine, and he might have even begun polishing his ability to doctor baseballs and throw the "spitball," which was a claim he labored under during his 22-year career of playing for eight different big league teams. Perry went from Alpine to the Baseball Hall of Fame.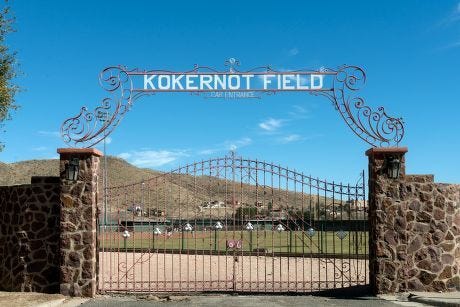 I sat there with my friends watching baseball in the high country gloaming and thought about the love of a game. There were kids out on the field who could have, and maybe even should have, been doing other more productive things with their summer and the vitality of their youth. They weren't making a living, and based upon the quality of play, there did not appear to be anyone who might make any money playing baseball in their future, unless it was to return to the Cowboys or the Invaders for another shot at the roster next summer. Should they be in law school, instead, or learning software engineering, or studying literature? If they were to be asked, the answer would be be, "Just leave me alone for now and let me play baseball while I can because I love it."
There may have never been anyone who loved baseball more than Herbert Kokernot, Jr. He was the reason my friends and I and those young men on the field were in that particular time and space. Mr. Herbert, as he was addressed around Alpine, had built that grand ballpark. His family owned the 06 Ranch, a vast spread of mountains and pastures covering over 100,000 acres between Alpine and Fort Davis to the north, and there just wasn't any quality baseball within driving distance when you live in the great out yonder. Kokernot would have had to travel to El Paso or Midland-Odessa during the late 1940s and 1950s to see quality club baseball, and the shortest of those trips was three hours across Wild Rose Pass in the Davis Mountains and down into the Permian Basin oil patch.
The solution was to build his own ballpark, find quality players, and then identify teams to play. He bought a semi-pro team called the Alpine Cats, which played on a dusty tract of land with no place to hide from the sun for fans and a field that did not inspire quality baseball. Kokernot began construction in 1946 on a park to bear his name that would also be decorated with the 06 brand from the family ranch. He was a descendant of ranchers who had been raising cattle in Texas since before it was a state and he took great pride in the brand. Stadium walls were built from rock quarried on the 06 but he had red Georgia clay shipped in by boxcar to make the base paths and infield. The stands are concrete and can accommodate only 1200 fans, but the ballpark is a thing of lasting beauty. By the time he had completed construction in 1947, total cost had reached $1.25 million dollars, which, according to reports out of Chicago, was five times more than what Wrigley Field had cost three decades earlier.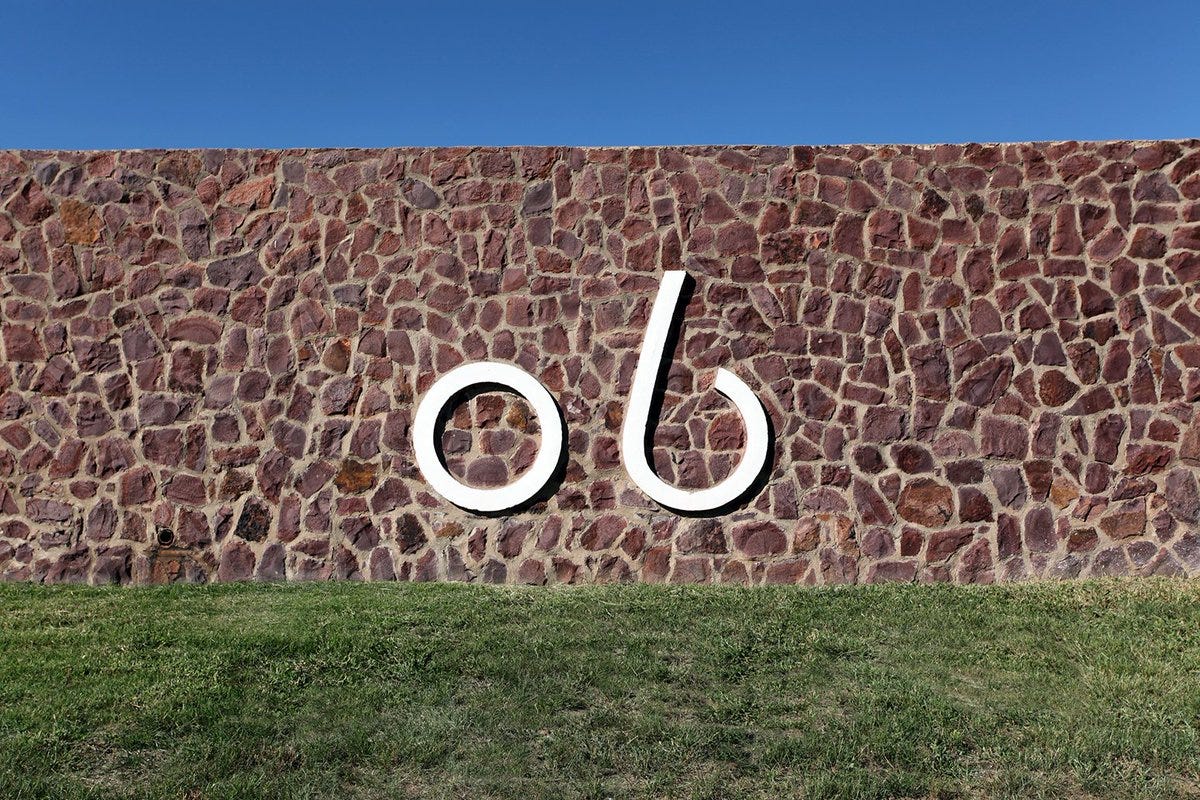 Mr. Herbert wasted no time assembling talented ballplayers to comprise his team. In addition to Cash and Perry, future California Angels All Star Jim Fregosi played for the Cowboys. The resources spent on the team were not insignificant. At one time, the semi-pro Cowboys were traveling on a twin-engine plane Mr. Herbert had purchased to get them to games more quickly and rested and ready to compete. In the era of their prominence, the Cowboys won a dozen regional championships and finished as national runner-ups in the American National Baseball Congress. Players who hit home runs were rewarded with cash from Mr. Herbert and at the end of each season he made it a tradition to give his players a pair of red boots emblazoned with 06 brand on the uppers.
The Cowboys were so competitive, in fact, in 1959 they became a farm team for the Boston Red Sox. The relationship lasted, however, just under two years because Mr. Herbert could not abide some of the rules and resented how players were pulled unceremoniously from his team to support the big league roster. His complaint was that the "boys were bought and sold like cattle."
I wondered what Mr. Herbert might think of the quality of baseball being played on his namesake field today. When his Cowboys stopped playing, he deeded the park over to Sul Ross but their baseball program ceased in 1968 and the local high school was given the facility by Kokernot. The place fell into disrepair and he was saddened enough that Mr. Herbert was rarely seen around Alpine. Eventually, Sul Ross University reinstated its baseball program in 1983 and reportedly spent $150,000 restoring Kokernot, which the college now shares with the semi-pro team. Things had taken a positive direction before the dreamer Mr. Herbert died in 1987.
But I suspect he'd be happy with what is happening at his old ballpark. The diamond is populated with young men who love baseball and have no expectation other than enjoyment of the game. There are likely no Norm Cashes or Gaylord Perrys bounding out of the dugout, but there are happy souls running out grounders and chasing down long fly balls, and they seem to need nothing more than the game to sustain their joy. Mr. Herbert might also be pleased to know his great granddaughter Kristin Cavness is the general manager of the non-profit Cowboys, and Alpine and surrounding communities have embraced the team and love the stadium with a singular passion for the game.
Deece and David and I watched four and a half hours of Cowboy baseball the night we drove through the rain to the game. The home team won with a sacrifice fly in the bottom of the tenth inning. The game had been well-played with only a few errors and a lot of hitting, including three home runs that would have left most major league confines. Driving back to Marathon all I could think about was how I wish I were 18 again and could have a chance to play at Kokernot Field. That's what baseball does to a man.
---
⭐
James Moore is a New York Times bestselling author, political analyst, and business communications consultant who has been writing and reporting on Texas politics since 1975. He writes frequently for CNN and other national media outlets and can be reached a jim@bigbendstrategies.com.