Good Friday from up on The Heights
He is despised and rejected by men, A Man of sorrows and acquainted with grief. And we hid, as it were, our faces from Him; He was despised, and we did not esteem Him. -Isaiah 53-3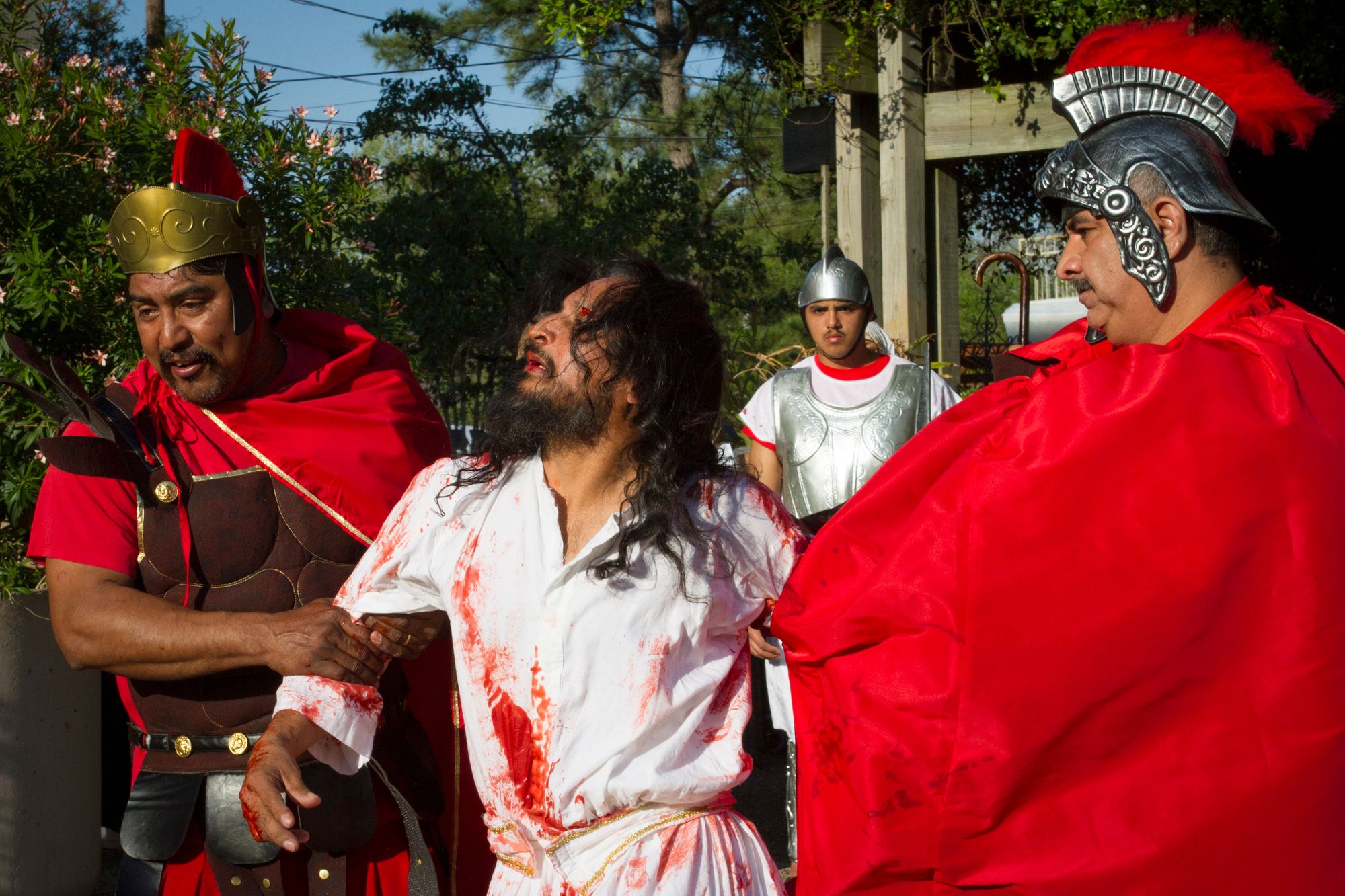 One of the oldest neighborhoods in Houston is The Heights. It was built around the turn of the last century as a "streetcar suburb" so that the downtown crowd could get away from the hustle and bustle of city life. Victorian-style homes lined the big, central boulevard, and smaller cottages filled out the 'burb. About 25 feet above downtown, the Heights provided at least a little more protection from floods than the old, swampy downtown. This also afforded wary residents some confidence that the area might be safer from the outbreaks of Yellow Fever, which had plagued swampy Houston in the mid and late 1800s. The Heights originally appealed to white-collar workers, young professionals, and working-class skilled craftsmen of the era. Businesses sprang up throughout the neighborhood, as well as schools, parks, and churches.
Post-WWII, the area began a long decline. The larger homes were cut up into duplexes and quad-plexes. Some of the older houses were scrapped entirely to make room for cheap apartments. By the 70's, parts of The Heights were pretty sketchy. The neighborhood became racially diverse, but overall it was an area in economic decline. In the '70s, much of downtown and midtown Houston was also in distress. White flight to the suburbs was the rule of the day. The up and down cycles of Houston's oil and gas economy didn't help matters. It wasn't until the very late 80's that things started to level off. The city of Houston had begun to undertake some revitalization efforts to make downtown more attractive. Sports arenas were being built as were beautiful new theater and art spaces. People who were tired of commuting two hours a day to work in the city were looking to move back into town. A few hearty souls began buying the cheap and deteriorating husks of old houses and restoring them.
You can write the rest of this story. And it's a story that has repeated itself across many of the now bougie areas in the country: Gentrification. In the '80s and the 90s, houses were being remodeled, restored, and resold. Houses too far gone to be worked on were bulldozed and giant Victorian-style reproductions went up in their place. On other lots, odd or artsy contemporary homes were built. And then there were the two-on-a-lot townhomes, and huge mid-rise, modern apartment complexes.
Some of those working-class folks tried to stick it out, and many did for years. Old residents that had bought into the area when it was inexpensive could live near town and work blue-collar jobs or live on a teacher's or nurse's salary. While they couldn't afford to eat at the newest foodie joints where the prices got higher and portions got smaller, they could enjoy watching the neighborhood become safer and more attractive… until they couldn't.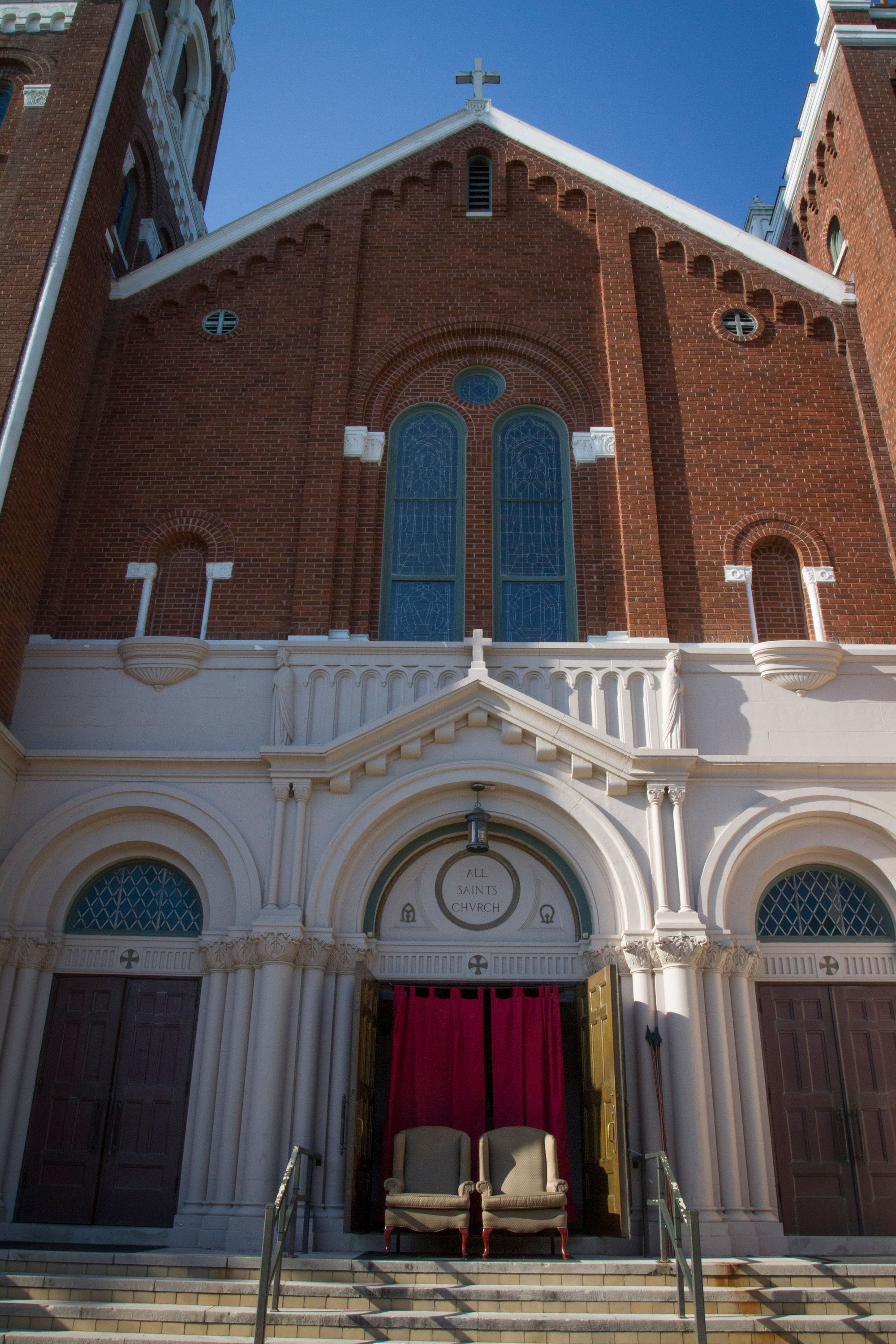 And for a while, they could remain members of their neighborhood churches where they had attended all of their lives… they could keep their faith traditions, their old friends, and their pastors and priests. Some churches even enjoyed a new member or two as young professionals moved in. But overall, church attendance is decreasing as fast as property values are increasing. Small community churches began to close up as older members moved or passed away. The few young people that are looking for a church usually wanted a good child care component, multi-use buildings, and large, contemporary worship spaces. Little frame buildings with a steeple and a bell are quaint, but don't seem to put butts in the pews… at least not like they used to.
But some remain, and they hold on to their traditions and their customs. Sometimes, they look as anachronistic as a crucifixion taking place on a neighborhood side street.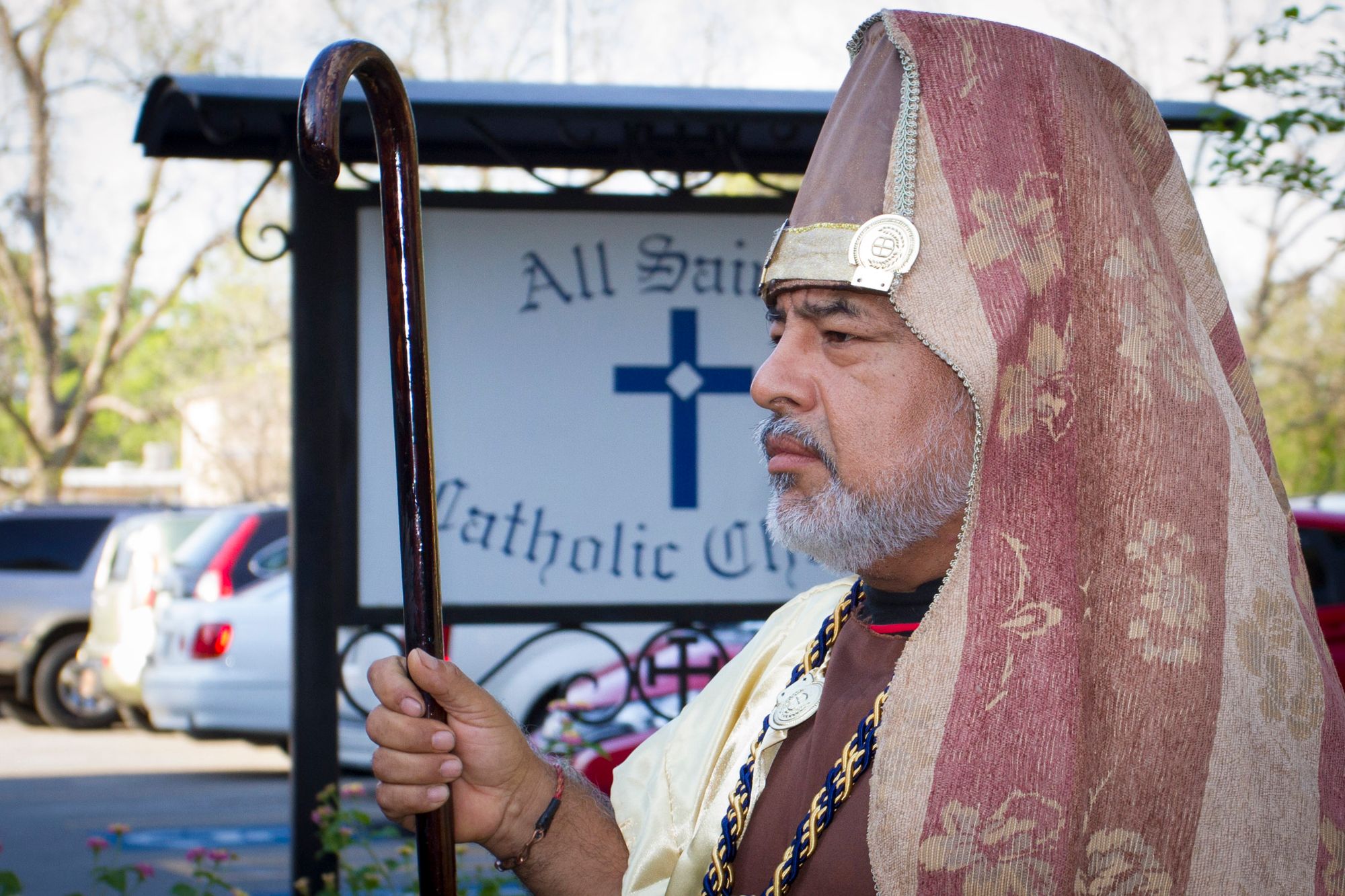 The All Saints Catholic Church on 10th street, a block or two off of the still grand Heights Blvd is one example. The church still retains much of its Hispanic membership, many of whom have moved away from the homes where they once lived and could walk to Mass. Driven out by higher and higher property taxes and buyout offers too good to pass up, they are still loyal to their parish priest and drive in to attend Mass regularly in the stained glass lighted sanctuary.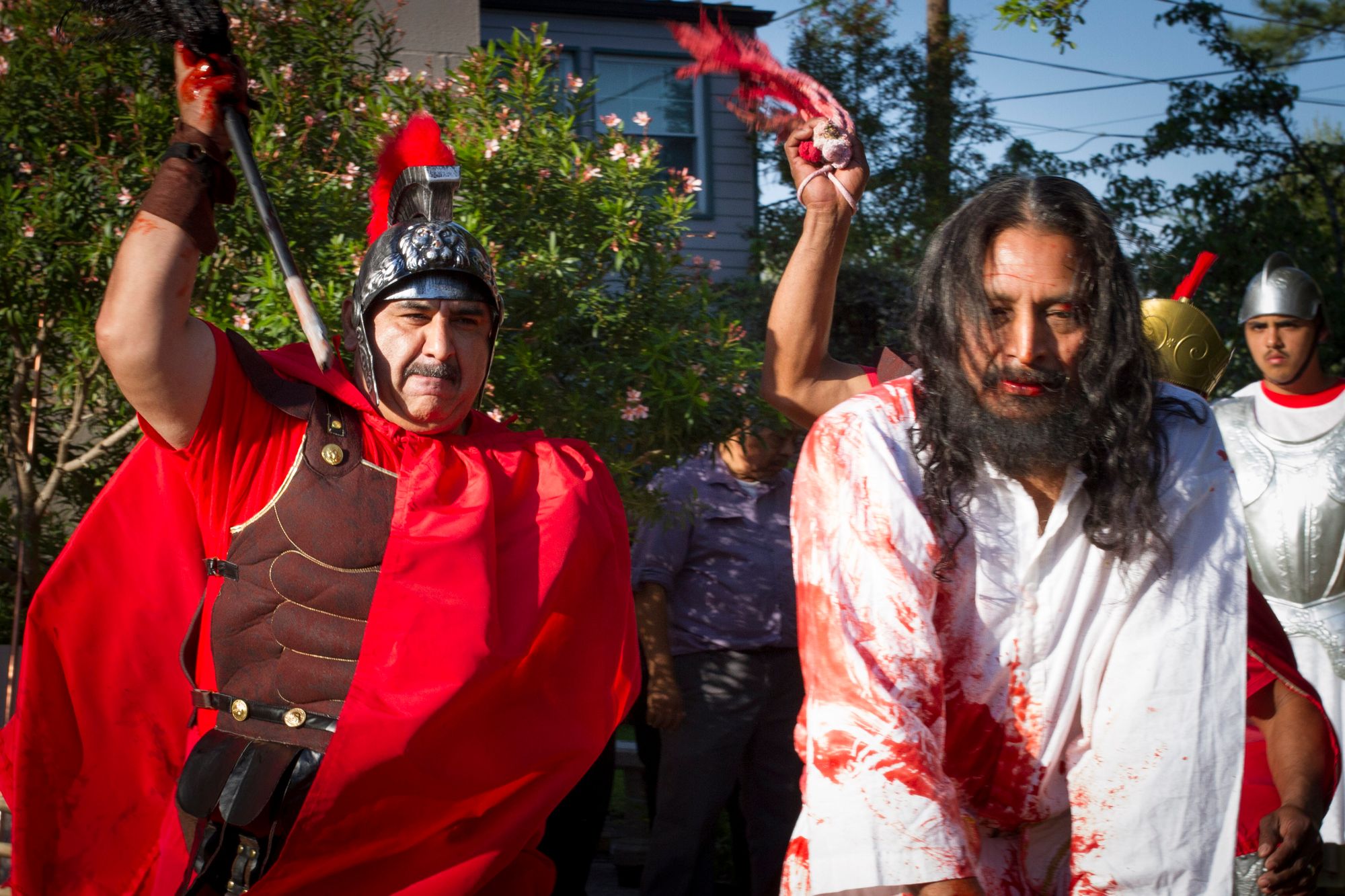 And so in one of Houston's toniest, most gentrified neighborhoods, you can watch a reenactment of Christ on the road to his crucifixion. The Way of the Cross is an annual procession to honor Jesus' final walk to the Heights of Calvary. Based on the 14 Stations of the Cross, the reenactors don't spare the fake blood as the scourging whip comes down. The Roman guards tend to play their roles with almost too much enthusiasm.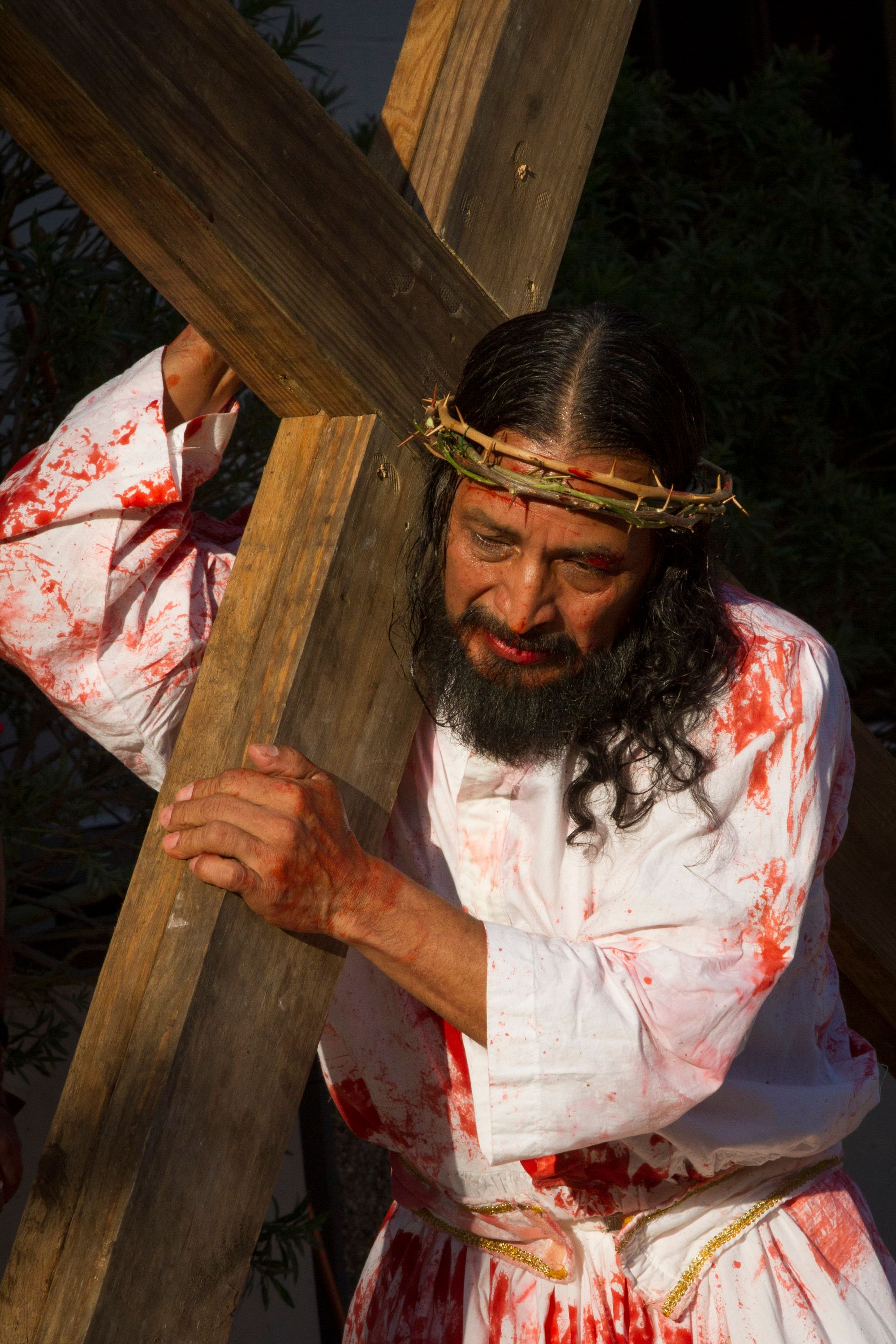 This is no edited-for-younger-audiences version of the Passion Play. And undoubtedly, that's intended. The traditional, bloody story tends to make an impression. If imprinted with this at an early age, it will not be forgotten.
And while it's more than a bit uncomfortable to watch the reenactors follow through with the well-known cruelties of the Story, even for non-believers it's impossible not to be moved by bearing witness to the Christ's suffering.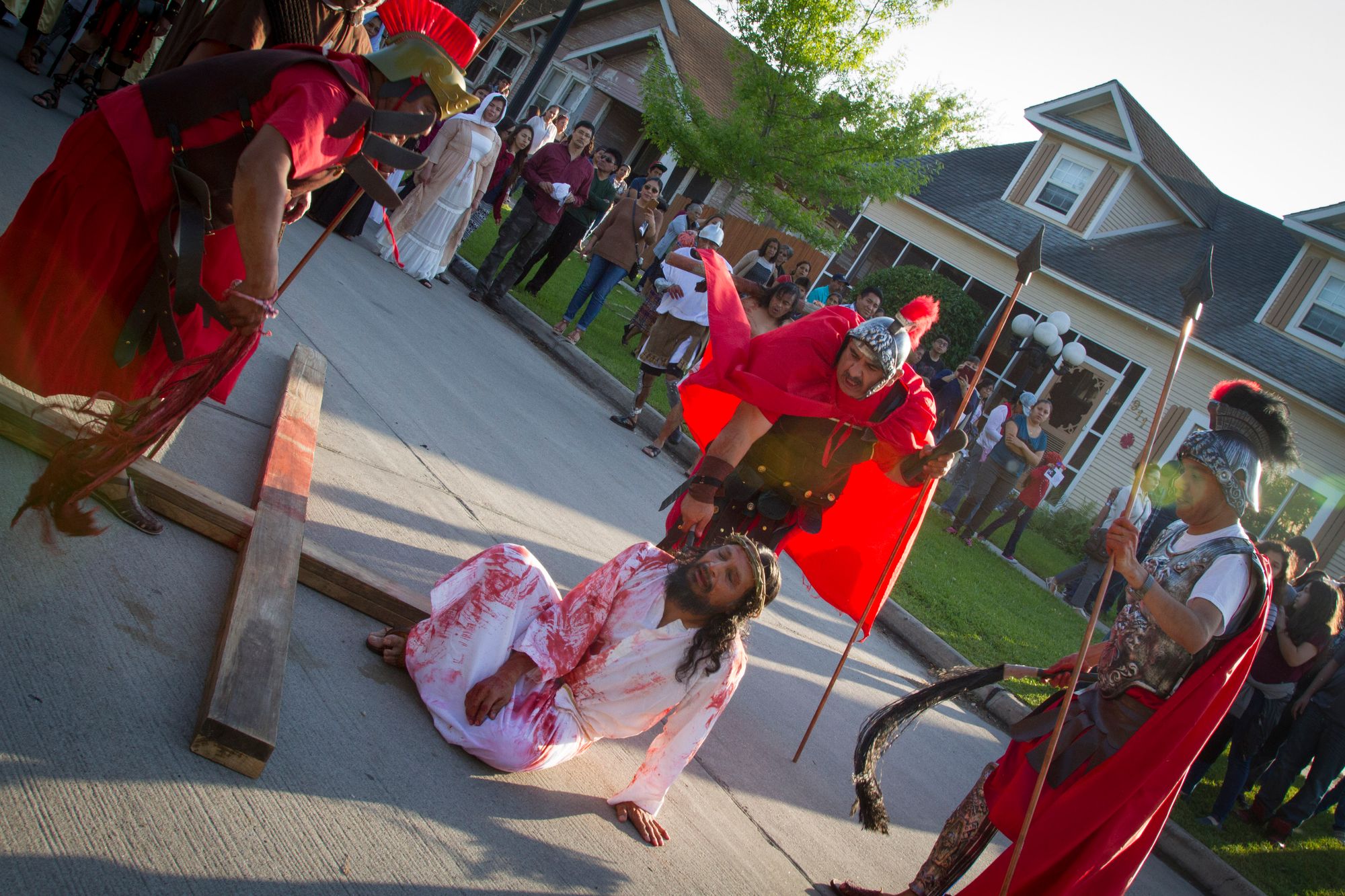 Who knows how long these small neighborhood churches can survive. How long can the old members keep coming back, encouraging their kids or grandkids to make these little houses of worship part of their own faith tradition? How long before a neighborhood association makes a fuss over the parking headaches or the inconvenience of a street blocked for an hour? How long before a bureaucrat in the diocese weighs the expenses of running a little church against the pledged tithes and property values and decides that resources can be better spent elsewhere?
The irony of the impoverished Prince of Peace bearing his wooden cross in front of $60,000 SUVs and million-dollar homes is lost on everyone... or maybe not. It was, after all, the real point of the original story.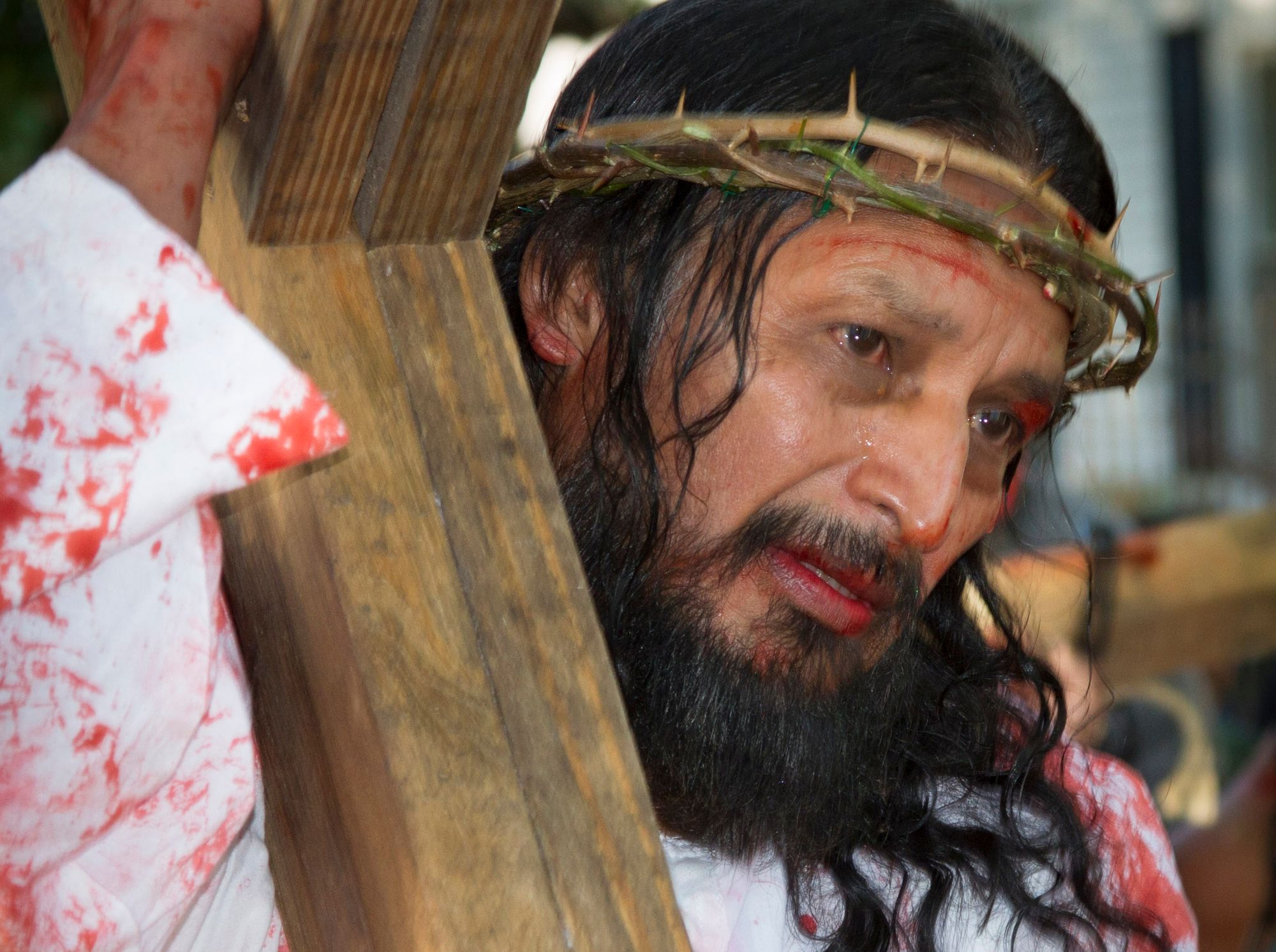 ⭐
Good stuff, right? Be sure you get ALL of the Texas Outlaw Writers' scribblings delivered directly to you in a weekly newsletter. Subscribe for free! (Though we'd love it if you pick up a paid subscription!)