Governor Death
Nothing reaches his dark heart. How many Texans who need help and won't be able to get it because of Abbott's policies, and then will end up hurting themselves or others?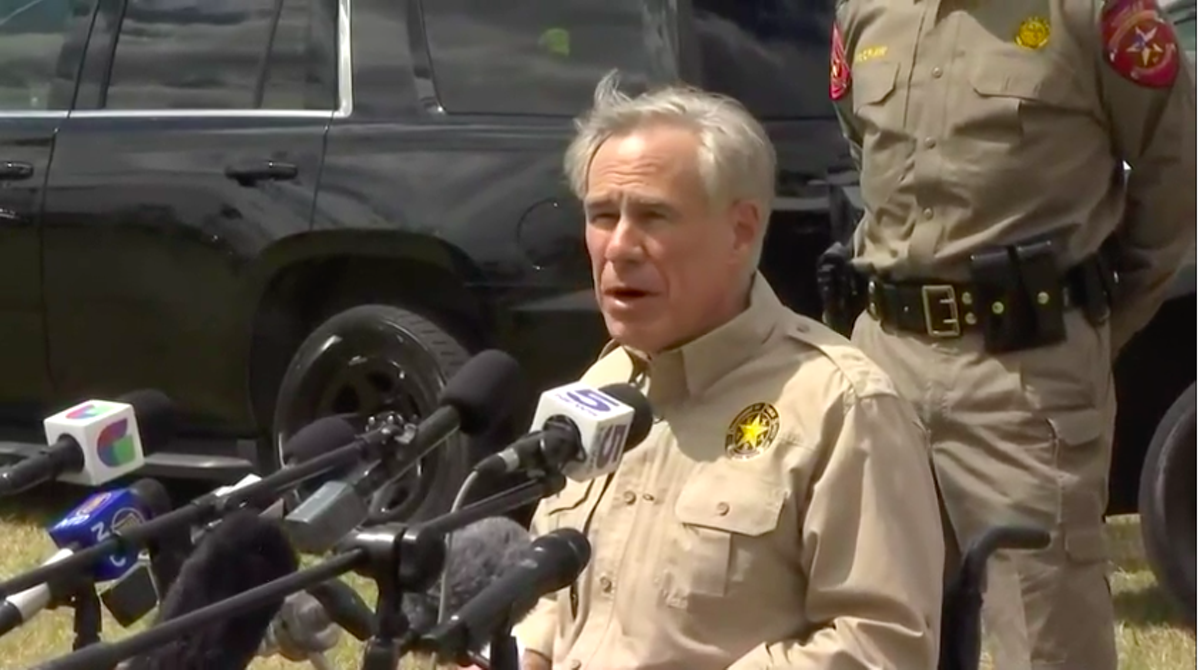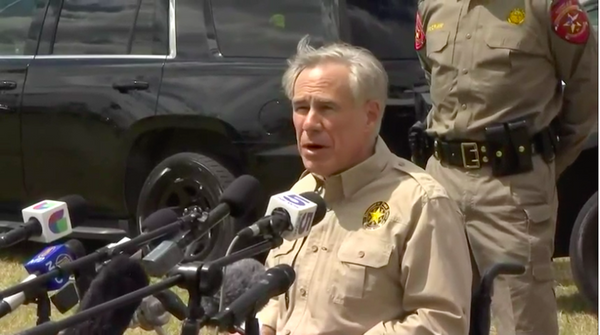 There is something disturbingly disconnected about the mind of Texas Governor Greg Abbott. Attempting to understand whether he is oblivious to his failures and contradictions or has profound, transcendent cynicism, is often a futile task. There are abundant signs he might even be consciously evil and completely devoid of the human emotion of sympathy. How else can his behavior be explained?
Begin with his latest hypocrisy and then head back through the dark turns of his administration. When 53 migrants were found suffocated by the heat in the back of a tractor trailer, Abbott decided the fault lay at the feet of President Biden for not securing the border, and he immediately held a news conference to politicize the tragedy. There were no expressions of sympathy to the families who had lost someone nor any emotional pleas to urge migrants to not risk their lives crossing our increasingly militarized border. We got only an angry, little man slinging blame.
Five years ago, however, when ten migrants died in the back of a trailer outside of San Antonio, the Texas governor did not blame his party's president, Donald Trump, for that great tragedy and his border policies. He kept his mouth shut. In 2003, during the administration of another Republican, George W. Bush, 19 immigrants were found dead in a tractor trailer, also near San Antonio. Neither political party blamed the president. The obvious conclusion for even the casual observer is that when there is a Democrat in the White House and deaths at the border, it becomes the president's fault.
The failure, however, demonstrably, belongs to Abbott. He is the officeholder who has spent $4 billion of Texas taxpayer dollars to militarize the border with 10,000 National Guard troops, hundreds of state troopers, concertina wire, and horrendously ugly shipping containers stretched for miles across the frontier. When asked at his news conference following the latest mass deaths what has been accomplished by his Operation Lone Star, he refused to answer.  In fact, Abbott and the Texas Department of Public Safety have failed to provide comprehensive data to back up their claims his border crackdown is working. The majority of Texas taxpayer money has been expended on misdemeanor trespassing arrests since the state has no authority to arrest and prosecute federal lawbreakers like undocumented border crossers.
Abbott publicly claimed that the billions Texans are spending on border security is more than the federal government, even though he surely must know that Customs and Border Patrol have an annual budget of $16 billion and more that 60,000 employees. Instead, the governor keeps wasting the state's resources. Covid relief money from Congress has also been dithered away into nothingness on Abbott's border grandstand. Washington is investigating the transfer of $1 billion in Covid funding, granted Texas to help mitigate the virus' damage, but instead sent to Operation Lone Star to have zero impact on immigration. Abbott is more frightened of the poor and helpless approaching the Texas border than he is of the 89,000 dead in his state from the virus, and the more than seven million who have been infected. As the virus spread across the state, Abbott used authority under a disaster declaration to issue anti mask mandate orders to prohibit cities, counties, and school districts from ordering masks for protection.
There is no way to measure how many lives might have been saved in Texas by more stringent masking requirements, but the governor's policy and political contradictions raise consistent doubt about his motivations. His primary aspirations always seem readily obvious as an increase in executive authority and constantly positioning himself politically as an heir apparent to the anti-democratic forces in control of the Republican Party. These ambitions make Abbott unbothered by his hypocrisies. When he took to the stage in Uvalde to praise the failed law enforcement at the massacre, he made certain his broader message was that Texas did not have a gun problem but was instead burdened with a mental health crisis. Left unmentioned that day was the fact the governor had vetoed $211 million dollars from the state agency that oversaw mental health programs, nor did it get pointed out that Texas ranks last among the 50 states in access to mental health care. In a blatant shell game, Abbott and the GOP drew down money from state agencies and sent it to the border and then replaced it with Covid relief funds from the feds.
How many Texans who need help and won't be able to get it because of Abbott's policies, and then will end up hurting themselves or others?
What's happening at the U.S.-Mexico border, though, isn't new, and every American president of the modern era has been trying to find a policy of effective management. If the numbers of people approaching the Rio Grande are increasing, it has much to do with a rise in desperation in Mexico and Central America and not an "open border policy," which, in both word and practice, does not exist. Rulings making it more difficult to seek political asylum are causing riskier behaviors to gain U.S. entry. If the border were "open," it follows that people would not be jumping into the back of trailers without cooling and water to get here. Executive orders from the Trump administration are also largely still in place, and the number of encounters by border patrol went down with Covid. The recent surge of people at the border is a number that shows 25 percent of illegal crossers are repeat offenders. There is nothing the Biden administration has done to demonstrably strengthen or weaken efforts at border security.
Greg Abbott, meanwhile, continues to beat his chest about what his administration is accomplishing at the border, which is demonstrably nothing of import. If his efforts were so manifestly good and more stringent than Washington's, how did that truck load of migrants enter Texas? Abbott's foolish and expensive gestures, however, have done much harm. When he decided to shut down border crossings with increased truck inspections, he did billions in damage to the state and national economies and discovered there were some trucks on the road that weren't mechanically sound. Not one immigrant was arrested nor was a single shipment of drugs captured during his stunt. As political pressure increased, Abbott found a way out by signing agreements with Mexican border governors to enhance their security. The Mexican foreign affairs minister accused the Texas governor of extortion and that nation's president called Abbott's behavior "despicable" while pointing out Mexican states have no authority to sign deals with other countries. They do, however, have an international neighbor who has put up concertina war to enhance their cultural and economic relationship.
Abbott's disinterest in anything that obfuscates his political ambitions continues to cost lives. The Army Times has linked four suicides to the seemingly endless deployment of Texas troops, and an increasing mental health and morale crisis caused by deplorable living conditions, a loss of educational benefits, undependable paychecks, and no idea when the mission will end. The governor allows this to happen while taking to a microphone in Uvalde and talking about how "we as a culture" need to do better dealing with mental health challenges.
His personal mental health problem, however, is our state's greatest challenge. Even if someone were confronting such issues, their chances of using medical insurance to get help are reduced in a state where 4.2 million people lack coverage. Texas has the highest percentage (17) and number of individuals lacking health insurance, and studies show that those without coverage tend to have a worse health status than those who can regularly see doctors without undue financial burdens. Governor Death and his Republican predecessors are largely responsible for these numbers because of their failure to accept Medicaid expansion from the federal government. The Texas Hospital Association reports that more than 20 rural hospitals have closed in Texas since 2013, the most of any state.
The numbers, if you can bear to read them, are devastating. If the state would accept federal expansion under the Affordable Care Act, another 1,748,00 people would get health insurance, and if Texas Republicans continue to refuse the coverage, 771,000 would remain with no realistic access to health insurance. Although more than 5 million Texans are presently covered by Medicaid and, this year alone the state is leaving $15.3 billion dollars on the table by not accepting government Medicaid funding. There is no logical reason for a failure to participate beyond political petulance and a desire to not see "Obamacare" succeed. An estimated one million children lack coverage in Texas. How many of those children and their parents suffer from long-term chronic illnesses in rural communities without hospitals, and even die because of a lack of access to doctors and medicine?
There is no reason to think this will ever change while Greg Abbott remains governor. You cannot find evidence he gives a solitary damn. There is, however, considerable data he does not. The governor was warned that the state's electric grid needed significant repairs, but he did nothing, nor did he direct the unironically named Electric Reliability Council of Texas or the Public Utility Commission to begin the investment in improvements. When the 2021 storm hit the state, the grid broke down and hundreds died from the cold and related incidents. Trying to avoid negative publicity, Abbott's office released a death toll report on New Year's Eve of 2022 claiming 246 people were casualties of his failed leadership. Other expert analyses put that number at more like 750. The crisis worked out just fine for Abbott and his energy industry donors, however. The cost of natural gas rose to 400 times its normal price and providers like Energy Transfer Partners made $2.4 billion dollars, which lead to the company's CEO making a $1 million dollar donation to the Abbott campaign.
Nothing reaches his dark heart. In the almost eight years he has held office, there have been six mass shootings and nothing to address the problem of easy access to guns. Abbott puts on his khaki shirt with the governor patch and races to the scene to talk about how horrific things were in El Paso or Santa Fe or Sutherland Springs or Uvalde, and praise law enforcement even when they are rank cowards, but he does nothing. He urges Texans to "come together" so we can heal as a state and a community. How in the hell do you heal when you know the gun disease is still out there and more will die? He is so unabashed about his support for weapons of mass destruction that he went to Houston a few days after Uvalde to express his support for the NRA, and, of course, to take a generous check from the organization.
We are all, slowly, becoming casualties of Governor Death's political ambitions.
---
⭐
James Moore is a New York Times bestselling author, political analyst, and business communications consultant who has been writing and reporting on Texas politics since 1975. He writes frequently for CNN and other national media outlets and can be reached a jim@bigbendstrategies.com.