Happy 98th, Bongo Joe
George Coleman was a percussionist and spacey philosopher / one-man Sun Ra Arkestra beloved by generations of Texans for his constant presence at high-traffic tourist areas — Galveston's Seawall, Houston's Market Square, and later the San Antonio's Riverwalk.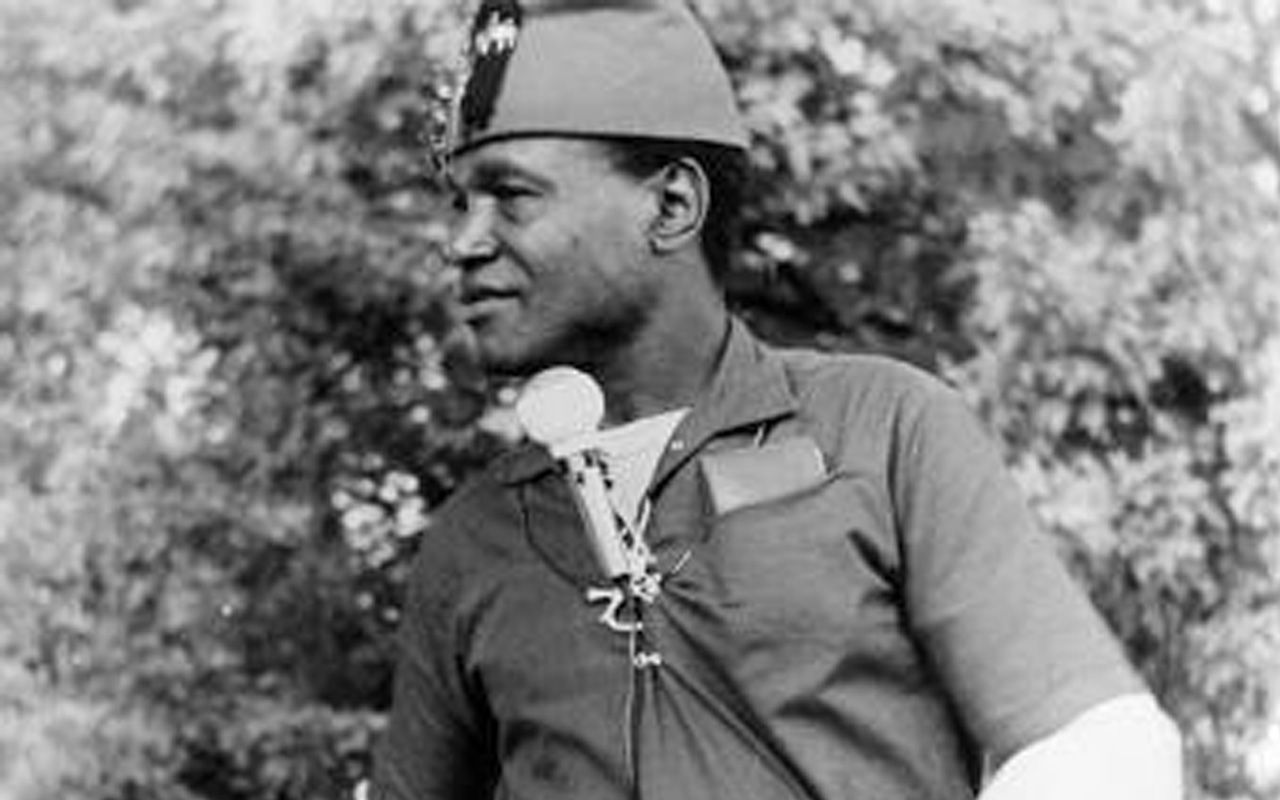 Perhaps Texas's most famous (and influential) pure street performer and outsider musician
You ask me what I like about Texas
It's the big timber round Nacogdoches
It's driving El Camino Real into San Antone
It's the Riverwalk and Mi Tierra
Jammin' out with Bongo Joe
It's stories of the Menger Hotel and the Alamo!
(You remember the Alamo!)
— Gary P. Nunn, "That's What I Like About Texas"
["Bongo Joe" Performs] hosted by The Portal to Texas History
November 28 marks what would have been the 98th birthday of George Coleman, the percussionist and spacey philosopher / one man Sun Ra Arkestra. Beloved and widely renowned to generations of Texans for his constant presence at high-traffic tourist areas — Galveston's Seawall, Houston's Market Square, and later and finally for many years in the heart of San Antonio's Riverwalk.
At these places and elsewhere, Coleman — who had an affinity for strange hats and was always armed with a hatchet (and more, as we shall see) — would roll out his drum set of several tuned, brightly-painted 55-gallon oil barrels. (He'd tow them from his home in a crumbling downtown San Antonio tourist court to in a wagon of sorts strapped to the back of a cheap Japanese motorcycle.)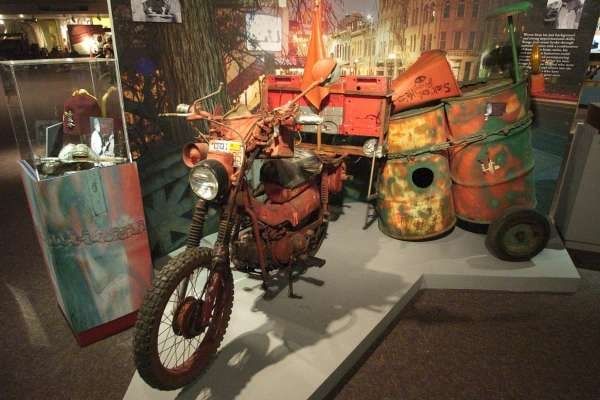 He would then proceed to produce rolling polyrhythmic using sticks crafted out of hammer shafts tipped with rubber chair leg-tips encased in small oil cans and filled with BBs and pebbles, thereby adding a maracas-like texture to the low rumble of his self-created drums. These hypnotic polyrhythms were set against his raspy tenor — which he would pause every now and then to whistle a melody or accent.
All this as he sang his strange songs about a wide array of topics such as the joys of what passed for a jambox circa 1968: "Transistor radio, really is the way to go, transistor radio, ho-ho, ho-ho…"
How we wished that he could really sing:
And man's inhumanity to man, in the form of the parable of the "Innocent Little Doggie," his biggest "hit":'
All of these songs come from the 1968 Arhoolie Records album Bongo Joe — George Coleman, his first and last recording, one that has sold steadily enough for over a half-century to have remained continuously in print for all those years
---
I am not the first writer to detect a possible calypso or Caribbean influence in his music, and I suppose it's possible, though Coleman himself never claimed that heritage.
Born in 1923 in Haines City in Florida's citrus country Coleman was orphaned by the age of seven. It's possible that one or both of Coleman's parents were Caribbean, perhaps Bahamian. Haines City — a northeastern suburb of Orlando today — was surrounded by citrus orchards, and the orchards and sugarcane fields have long attracted workers from all over the Caribbean. Or perhaps that he had music like this from fellow pickers.
In the end, I have concluded this a sort of historical-romantic version of events I'd like to believe true from a musicological standpoint — devotees love to draw lines to the Caribbean from which the jump back to Africa is much shorter than America. However, this just seems not to be the case — he loved sophisticated big band jazz, especially when those bands featured a hot drummer. In an unusually direct answer to an interviewer's question, he cited his favorites as "Dave Brubeck, Stan Kenton, Erroll Garner, Fat Wallace [Fats Waller?], Chick Webb, Gene Krupa, Stan Kenton, Duke Ellington, Johnny Hodges, Flip Phillips, Dizzy Gillespie, and this Mexican guy, I can't think of his name right now."
And you can definitely hear an affinity for songs like Cozy Cole's 1958 chart hit "Topsy, pt. 2" — among the first to feature a drum solo — that he dedicated his life to extended that groove. (Man this is groooovy…)
On the death of his mother, Coleman moved in with his big sister in Detroit, where by the late 1930s, he'd immersed himself in the local jazz scene, albeit on piano rather than drums. That switchover would come after he migrated back South circa 1940, where he settled first in Houston, and after he'd perfected his act and drum set, he settled into a 15-year residency on the Seawall, overlapping the tail end of the Maceo Brothers' let-the-good-times-roll "Free State of Galveston" era.
Coleman trundled his kit west to San Antonio in time to catch the huge HemisFair shindig, San Antonio's months-long debutante ball on the world stage, and a goldmine for Bongo Joe. Coleman checked into a room at the 12th Street Courts and remained there for years, apparently even after all the other rooms were condemned and demolished in 1982. His battle with his landlord over his impending eviction made all the papers in Texas — with the San Antonio Express-News sparring with the Galveston Daily News over which city would make a better home for the beloved drummer — not too different from a modern-day squabble over a free agent baseball star. Coleman let on that didn't really want to go back to Galveston, but unless they gave him wanted, well, then…
And he won. He'd become so beloved by that time he'd become something of a power in city hall. An arrangement was made to destroy all the structures in his tourist court save for the best, which would then be further improved and rented to Coleman. He simply brought that much joy to the masses every night with that strange drum set and those cracked vocals singing those mysterious songs and cryptic behavior.
In the comments to one of his songs on Youtube, a Texas man recalled seeing him as a child, and between songs, Coleman handed the boy a replica Confederate $20 bill, telling him "The South Will Rise Again."
By the mid-'70s he was taking his show on the road. It's said he accompanied Gerald R. Ford at a couple of campaign stops in '76. At a Louisiana festival, he and fellow outsider musician Robert Pete Williams performed back to back.
And at the 1983 New Orleans Jazz & Heritage Festival, his performance highlighted the evening of Boston Globe critic Bob Morse*:
One minute he joked frivolously about wanting to make love with any woman in the crowd, but then he finished with a remarkable chant about the Ku Klux Klan. "Run like hell and yell like fire, that's what you do when the KKK come," he said over and over, before dropping his mallets, lighting an enormous pipe, and walking away from his stunned listeners.
In interviews — such as this one he gave for the Arhoolie Foundation — he was equally mercurial, given at times given to gnomish statements like "If you can have an influence to cause people to see on a level, you can get yourself out of a situation, and when you get out of the situation you don't have to worry about somebody else trying to connive or scheme a way to throw you right back in it, because you're out of it truly. You ain't out of it through scheme."
Or he could be surprisingly direct. In the same interview, he was asked what he took in his coffee.
"Benzedrine," he replied. The stunned interviewer asked if he'd heard him right, and Coleman repeated the request, but was forced to settle for a little cream and no sugar.
I discovered him via the album, which had come down to me after my late uncle Joseph Lomax's untimely passing in 1988. By that time, Coleman, whose health had begun to fail, had semi-retired, playing only sporadic gigs. Gone was the nightly grind on the Riverwalk. Many a famous Texas musician has sung in the streets — George Jones, Blind Willie Johnson, Blind Lemon Jefferson, to name but three — but they did so primarily for quick money and perhaps a chance at getting discovered. Bongo Joe did it because he loved it, and in his 30 years of busking from the seaside to the shadow of the Alamo, he earned his spot as the greatest pure street musician in Texas history and one the finest in America, too
Bongo Joe died of kidney disease and diabetes on December 19, 1999, a month and day after Doug Sahm.
FOOTNOTE
* That he was able to make that gig suggests a possible resolution to one sad story I found. After being robbed four times, Joe bought a 44-caliber pistol for protection. Not long after a 23-year-old man interrupted Joe's show by accosting fans and spewing racial slurs at Joe, who said the young man then reached for his back pocket, whereupon Coleman, who sang often of pistols, shot him once in the chest. Coleman was charged with aggravated assault and made a $5000 bail. "I am in somewhat mourning for the boy who got hurt," Coleman told a reporter. "I don't want to see nobody get hurt." (The victim survived — in fact, he was in and out of the hospital in a couple of days.) After that, the paper trail goes cold — because of that, and the fact that he was free to travel to New Orleans a few weeks after the April 1983 incident, I would imagine he was no-billed by a grand jury.