Looking for Mr. Brautigan
"I always wanted to write a book that ended with the word mayonnaise." - Richard Brautigan, Poet and Novelist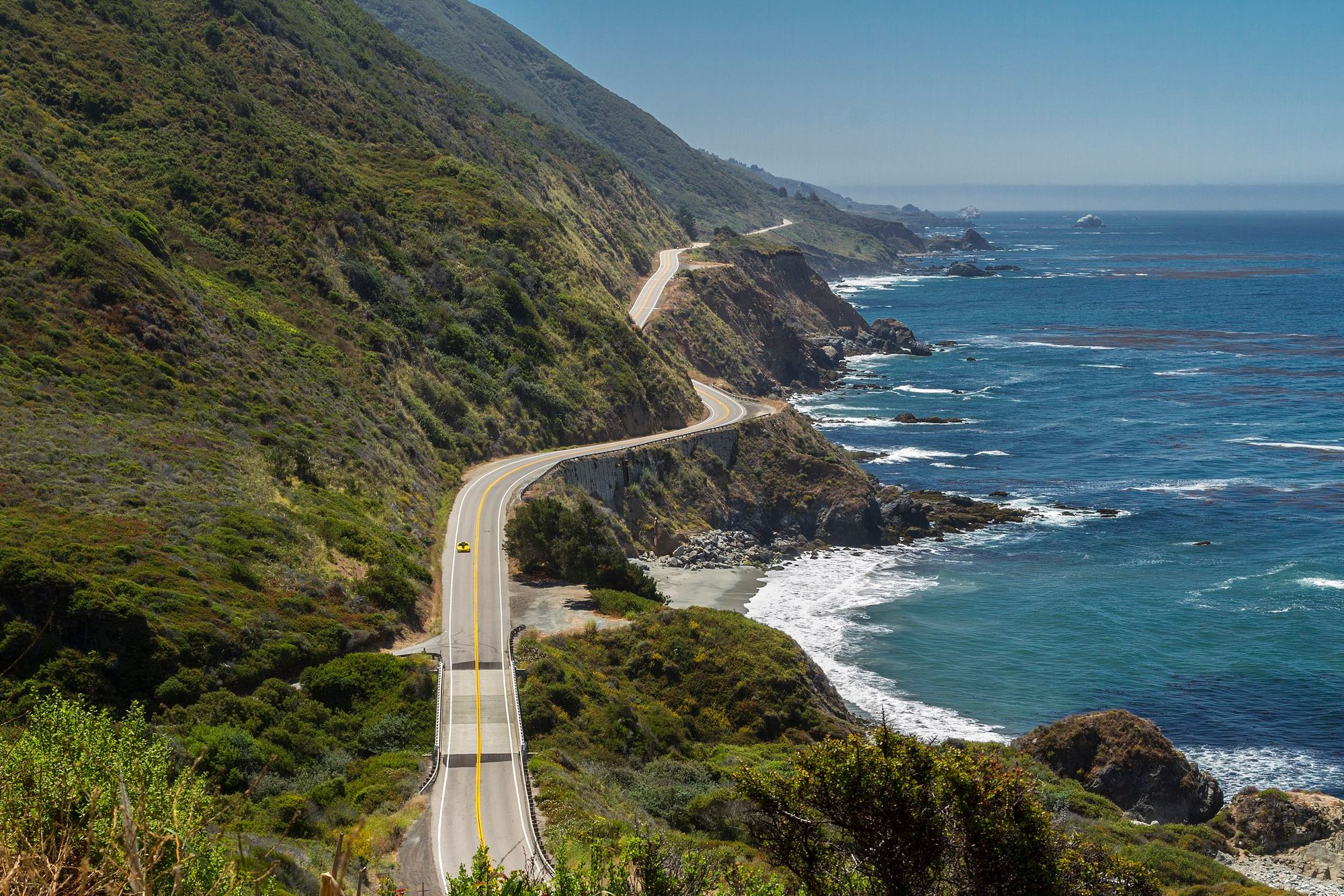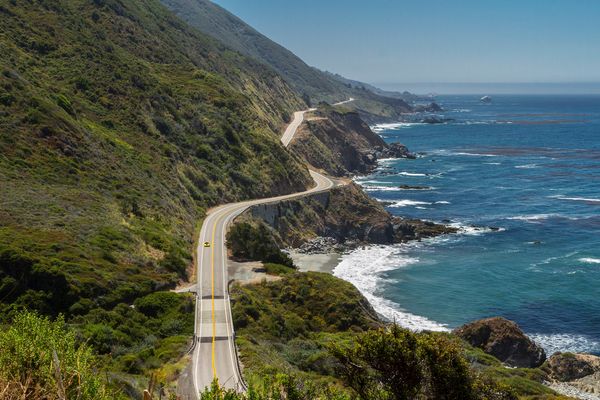 We took the backroads into LA and came down through the Angeles National Forest. When I rode around one especially sharp turn on the Honda 450, I had to jump on the brakes to avoid careening through the middle of a circle of people on the pavement. They were all bent at the waist, staring at the roadbed. I dropped the kickstand and went to join.
"What's going on?" I asked.
"That." A man in shorts, sandals, and a black tee shirt pointed at a spider, a rather large, frightening creature almost too big to be considered an insect.
"Oh, great. That's a tarantula?"
"Yeah, we have a lot of 'em in California. But, as you can tell, none of us has seen one this big. Looks like it could pull a baby in a carriage."
I did not want to continue watching and went back to my bike. Butch and I were camping that night in the park and I was suddenly doomed to lay awake with visions of giant spiders crawling across my face. The gaggle of nature voyeurs broke up as the arachnid moved into the underbrush and took dominion over every other bug in the woods. I restarted my bike and later survived a night without spiders and the next day Butch and I rolled stately into big L.A.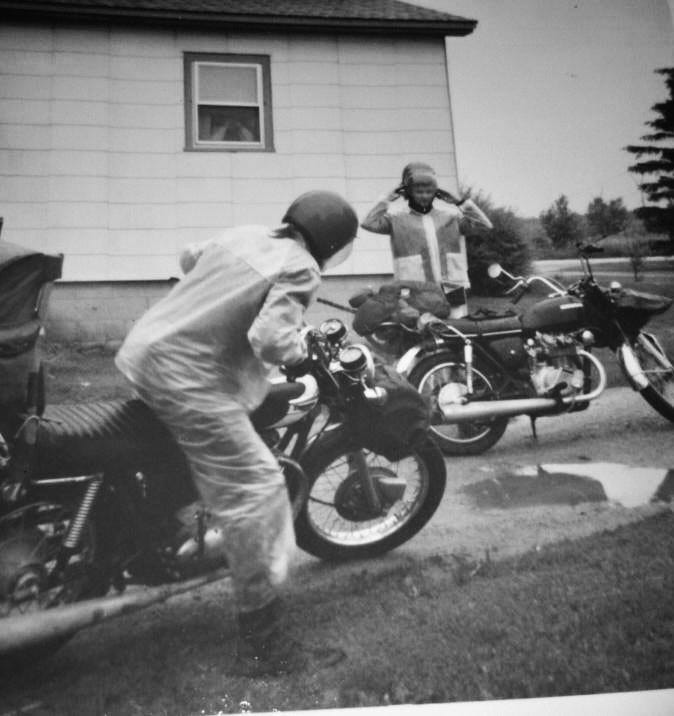 We made our way to a bungalow on the south end of the Valley. Butch was determined to spend time with a buddy from Vietnam, who was building a residential remodeling business. Kevin had been drafted into the Army at the same time as Butch and was sent to a base in Alaska, but ended up touring the jungle with a weapon.
"I don't understand," I told him. "How did you get orders to leave Alaska?"
"Wasn't difficult," he said, sucking hard on a joint with that cramped face people make while holding their breath. "I asked to go over. They needed grunts."
"You asked to leave a safe, permanent assignment in Alaska for Vietnam and combat?"
"Yep." He exhaled, letting the smoke out slowly, determined to retain as much psychoactive in his lungs as he could abide. "Told my CO there was no way I could tolerate Alaskan winters. I grew up in Southern California. I needed sunshine, even if it sometimes had bullets in it."
There were other characteristics about Kevin that left me unsettled, though I was not certain why. His blonde hair was thinning in his early twenties and his gray eyes were always on the move. Maybe he got that from nine months of worrying about what was hiding in the jungle tree lines, but it made me uncomfortable. His slight build and upturned nose made him appear almost feminine and I wondered how he had survived Viet Cong attacks but Butch said Kevin was fearless and had saved his life a few times. I was glad of that but my impressions were unchanged. I thought Kevin was involved in endeavors less innocent than fixing up homes in the L.A. basin.
I slept on a wooden swing on his front porch and listened to the nighttime sounds of the sprawling valley. The two palm trees in his modest front yard were the only indication I was not in a Midwestern city. My first cross country trip on a motorcycle had lived up to my optimistic expectations as Butch and I camped in the Rockies, pitched our tents on the Colorado River and listened to roaring rapids through the night, and rolled down slowly through Monument Valley in Utah to make the spectacular horizons linger in our view.
This was also my first time in California and after three days I was ready to leave Kevin's. I did not know, immediately, where we might travel next but for a motorcyclist the state was a wondrous dream of roads and natural beauty. I figured Butch and I would take a short run west to beaches, find a location further north, camp a few days on the sand next to the ocean, and then ride Route 1, the Pacific Coast Highway. I was certain the state was going to inspire me to write much better than the pages I was producing between my classes at the university up in Michigan.
I was exploring myself, I suppose, as much as I was the country. My trips to war protest marches in Washington had left me confused about the prospects for my generation and I was doubtful we were having political impact. Writing was an outlet but the more I read the classics and authors with success the less inclined I was to think my mind and words were destined to have much value to a publisher. My free time reading was spent on thinkers who focused their intellect on the darkness of the human condition. Growing up disadvantaged, I reckon I was drawn to any insights that might be offered to help me understand my surroundings and their unfairnesses. The world did not seem to me to be any kind of a construct for whimsy or lightheartedness, though I sought it out with friends and alternative publications.
Those are the reasons, I am certain, I was entranced when I came across the works of Richard Brautigan. Like me, he was tall and gangly, a poet conflicted by his contradictory impulses to be both a romantic and a wiseass. Brautigan's childhood had been so impoverished he recalled his single mother sifting rat feces from her flour to be able to make her children pancakes. They lived often in their old car. Growing up in Eugene, Oregon, he began writing not long after he started talking and came of age doing any disgusting odd job that might pay a few bucks. When I read about the work he endured, I thought of my first job cleaning the shit out of dog and cat cages at a veterinary clinic, and figured maybe I had much in common with Brautigan, though I had no mastery, or even yeomanry, regarding imagery and linguistics. My paragraphs were facile and went nowhere.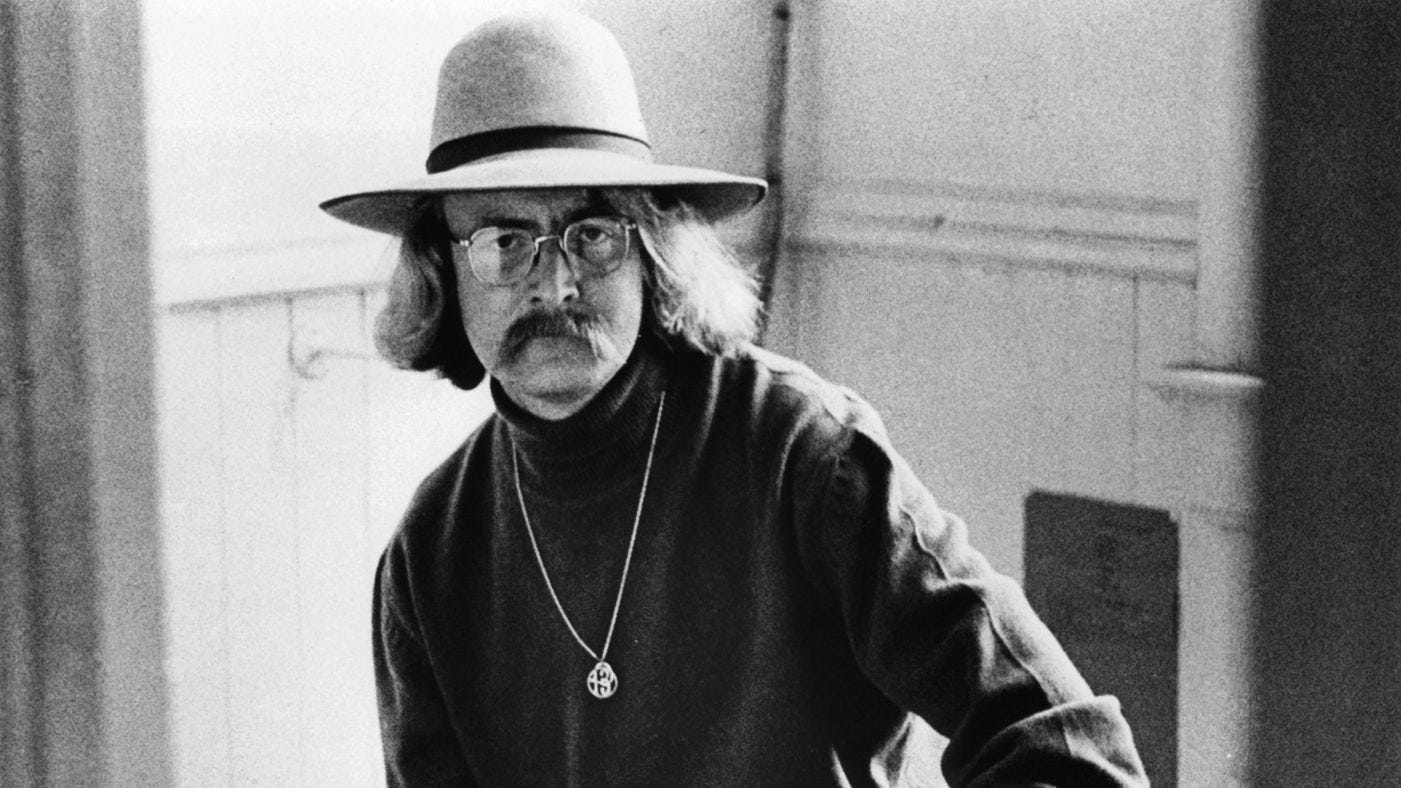 Brautigan's initial fame came from his second novel, "Trout Fishing in America," which seemed to my youthful eyes as more of a series of chapters that were connected only by his strange perspective and a specific type of fish, which swam through his words. In one brief chapter, he writes about fishing for a "hunchback trout" and describes a river's length and width as being equal to certain numbers of phone booths and he went into one to catch fish. Contrasting the natural beauty of a mountain stream with the mechanical and electrical phone booth of steel and glass may have been his purpose but the more I read of his work the less clarity, if any were available, I acquired. What did I expect? His prose was rendered almost as poetry and his poems were prosaic. Brautigan was unburdened by rules like the beats of meter or the stresses of iambic pentameter, but his poems were also beautiful, observational and lit with insight into moments otherwise mundane.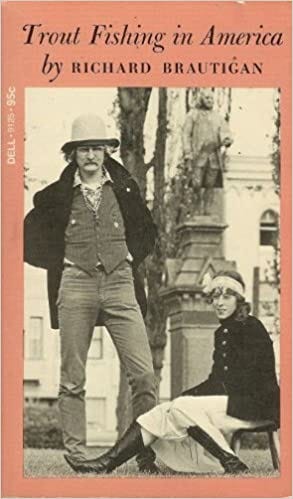 A half century past the first time I opened one of his poetry books I can still recite his words, fairly accurately, from memory. I do not know if that is a product of my love of English letters or the enduring power of his unique voice. Literary critics of the sixties saw Brautigan as the heir to Jack Kerouac and the Beat Generation but as he shuffled around San Francisco's inclines and North Beach bars, he ignored any such assignations to frame him as a hippie and he rejected what all that implied. He was simply a writer who put down what was swirling in his brain, and who hated the idea his art was considered whimsical, though the interpretation was understandable.
Consider the title poem of his collection, "The Pill Versus the Springhill Mine Disaster."
"When you take your pill it's like a mine disaster.
I think of all the people lost inside you."
I had brought a few of his books with me on the motorcycle to reread during the summer wanderings. My other possessions were mostly clothing and included two pairs of jeans, tee shirts, socks, running shoes, a windbreaker, underwear, sweatshirt, toothbrush, a cotton sleeping bag, and a nylon tent. Everything but the sleeping bag was stuffed into a cloth duffel and tied with rope to the back of my seat. The sleeping bag was secured between the handlebars and headlight and helped to reduce the wind.
While reading a newspaper article about the poet, sitting on Kevin's porch swing, I realized where Butch and I needed to ride in California. The story said that Brautigan was spending a lot of time at fellow poet Lawrence Ferlinghetti's cabin at Big Sur, which was near the cabin Kerouac borrowed to compose his eponymous novel of the locale. Kerouac had died a little more than a year earlier but I really wanted to meet Brautigan and see if there was a discernible magic to his persona. I read another one of his poems just as Butch came out the front door.
"She dove into the pool, and I envied the water's ability to touch her completely."
Butch sat at the other end of the swing and did not talk. I realized how much he reminded me of Brautigan with his long, stringy hair and Fu Manchu mustache hanging below his chin. I waited for him to give me an idea of what he was thinking regarding our time at Kevin's and when we might leave but he offered nothing. So, I did, because I was tired of watching everyone get stoned and listen to music.
"I've got an idea, Butch," I said.
"About what?"
"Where we should ride in California."
"Now?"
"Sure, let's take off tomorrow. Go up the coast to Big Sur."
"Nah, we're all getting a spoon of coke. Everybody's pitching in."
"Cocaine? I thought you were mostly out of money."
"I am. Kev's covering me till I get work, and I'll pay him back."
"You're gonna stay here and get a job?"
"Yeah, I think I like L.A."
"Wow. I didn't expect that." I paused for a half minute. "Well, I'm going to ride."
"Yeah, I know."
The complete unemotional response to my departure was a bit depressing. Though he knew I had no interest in drugs, we were boyhood friends and seemed interdependent confederates on the road across the continent. Butch had clearly expected me to leave but gave no hint he was bothered by my choice. I stayed outside on the porch when the nightly party started and loaded my motorcycle in the early light while whoever had remained at Kevin's was still sleeping.
I rode quickly west to the Ventura Freeway and slipped into the traffic, watching the L.A. smog and marine layer in my mirror as they settled over the valley and made the morning cool and gloomy. The Pacific Coast Highway was as beautiful as the films I had seen on television and I had trouble keeping my focus on the white line as the road curled along the palisades above the water and then lowered down to parallel the empty beaches shining in the morning light. I never have taken a more invigorating motorcycle ride. The fog had lifted near Santa Barbara and every turn toward the next horizon struck me with the conviction I was present in one of the most beautiful places on Earth. My disappointment at leaving Butch disappeared into the rising sun.
My first night camping in California was on a soft dune just outside the small community of Pismo Beach. Homes and businesses were set upon a strip of land between the coastal hills and the beach. The lights fluttering across the night did not seem distant and the sound of a rare honking horn carried across the open space and above the winding of the waves. When I rolled out my sleeping bag in front of the sun that was dropping into the Pacific, there were no footprints in any direction, and I slept unconcerned about anything but pocket money for my journey. I remember stopping the next morning to walk the streets and look into the shops and felt like I had stumbled onto a movie set and would presently be asked to leave.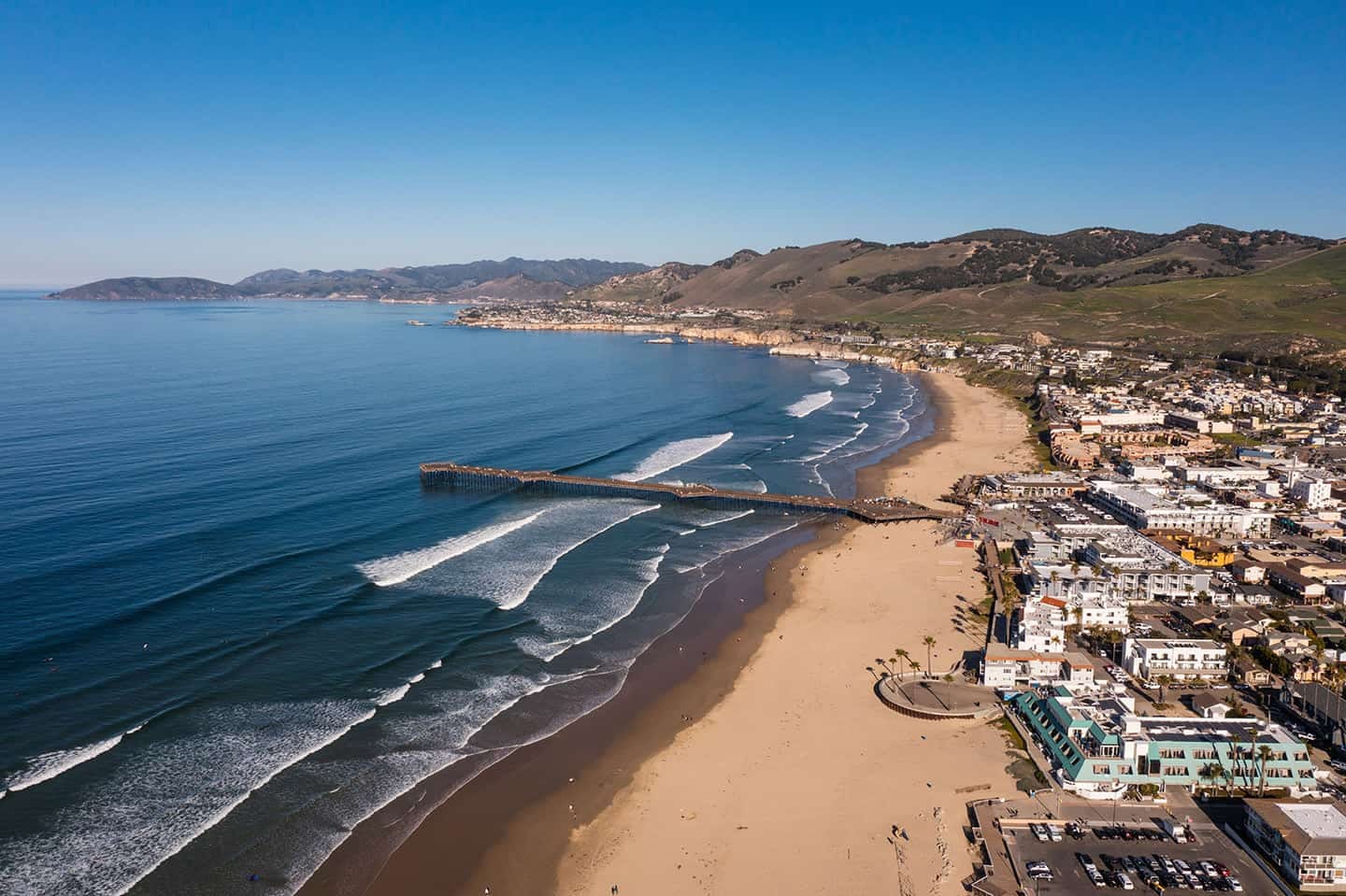 By early afternoon I had reached my destination of Big Sur. I crossed the famous Bixby Bridge and took a side road back toward the east because it was the span frequently referenced in Kerouac's book. Brautigan's first novel, "A Confederate General from Big Sur," which was not published until after "Trout Fishing," also used a cabin near the bridge for its primary setting, owned by Price Dunn, a friend of Ferlinghetti's. Dunn served as a proxy and almost template for Brautigan's story, a hard-drinking womanizer who seemed to have been manufactured by literature, and Brautigan, friends said, failed miserably to emulate.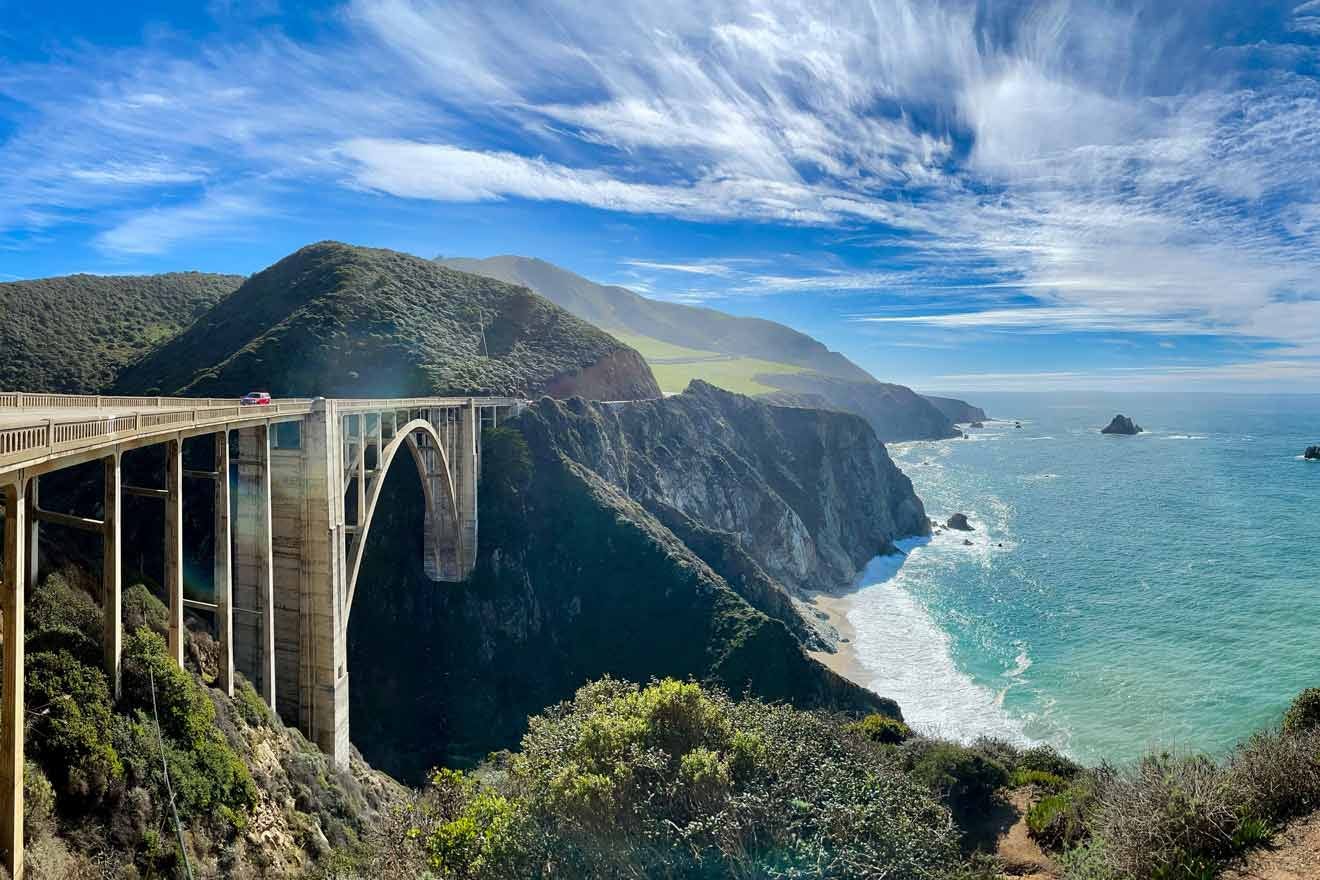 There was a small gas station and general store not far off Route 1 and I stopped to get gas in my bike. When I went inside for a Coke, the middle-aged man working the cash register looked like a hippie who had found his peace. I paid for my gas and the cold drink before deciding to ask him a question.
"Hey, do you know this writer guy, Richard Brautigan?"
"Don't know him," he said. "But he stops in here when he's around."
"Does he live at Big Sur?"
"I don't know if he has a place of his own. But he seems to be here all the time. Why you asking all these questions?"
"Just thought I'd like to meet him."
"Oh, well, we get folks like you coming to Sur. People like their privacy, though; that's why they live here. I wouldn't tell you where Brautigan lived or was staying, if I knew."
"Yeah, I understand. I'm just a guy who wants to be a writer and was hoping to talk to him. Probably a little stupid, I guess." He did not respond. "Well, I'm just gonna go ride around and look at the scenery."
There were not that many gravel roads to be found within sight of the bridge and I rode several, looking for a gate described by Kerouac, and a low-slung cabin with a pond, whose croaking frogs were made immortal by both writers. Nothing fit the imagery I carried from their books, and I gave up after several hours, though the cycling was immensely pleasurable with live water creeks and rolling hills and meadows bounded by cottonwoods and sometimes I heard the ocean breaking against the Pacific Palisades.
Long shadows began to cross the road from the mountains and taller trees. The day was growing short as the light lengthened down the valley and I admitted I had no idea what I might say to Brautigan in the unlikely event there was any kind of an encounter. I figured my youthful aches and yearnings were not considerably different than his and his poet friends and I had wondered if he might give me an idea how to turn them into art. I was on a childish errand, not so much to praise a hero, but to ask for a moment of teaching.
I turned back onto pavement and away from the ocean with the vague idea of pointing toward Yosemite. I felt a little foolish but I had not ever become an imposition. We are supposed to be free to follow our impulses when we are young, and learn. I rode into the dark for a while and wondered what might become of Brautigan, a man that novelist Thomas McGuane described as "sad, dark, lonely, and troubled." The poet's problem was drink, which dulls the artist's torture but often improves their creations and productivity before it fells them with decay, which was Kerouac's inevitable fate.
I was working down in Texas about fifteen years later when I read in the paper Brautigan had turned his own cold hand and at only 49 years had put a gun to his head. Friends found him weeks later in a state of great decomposition.
I wanted to know if there were any evidence of words splattered across his walls.
"He wore a costume of trout fishing in America. He wore mountains on his elbows and bluejays on the collar of his shirt. Deep water flowed through the lilies that were entwined about his shoelaces. A bullfrog kept croaking in his watch pocket and the air was filled with the sweet smell of ripe blackberry bushes." — Trout Fishing in America
⭐
James Moore is a New York Times bestselling author, political analyst, and business communications consultant who has been writing and reporting on Texas politics since 1975. He writes frequently for CNN and other national media outlets and can be reached a jim@bigbendstrategies.com.