Meet Me in the Astrodome
It defined an era in Houston. It symbolized who we were and what we could accomplish. Today it's padlocked, a depressing reminder of our can't-do present.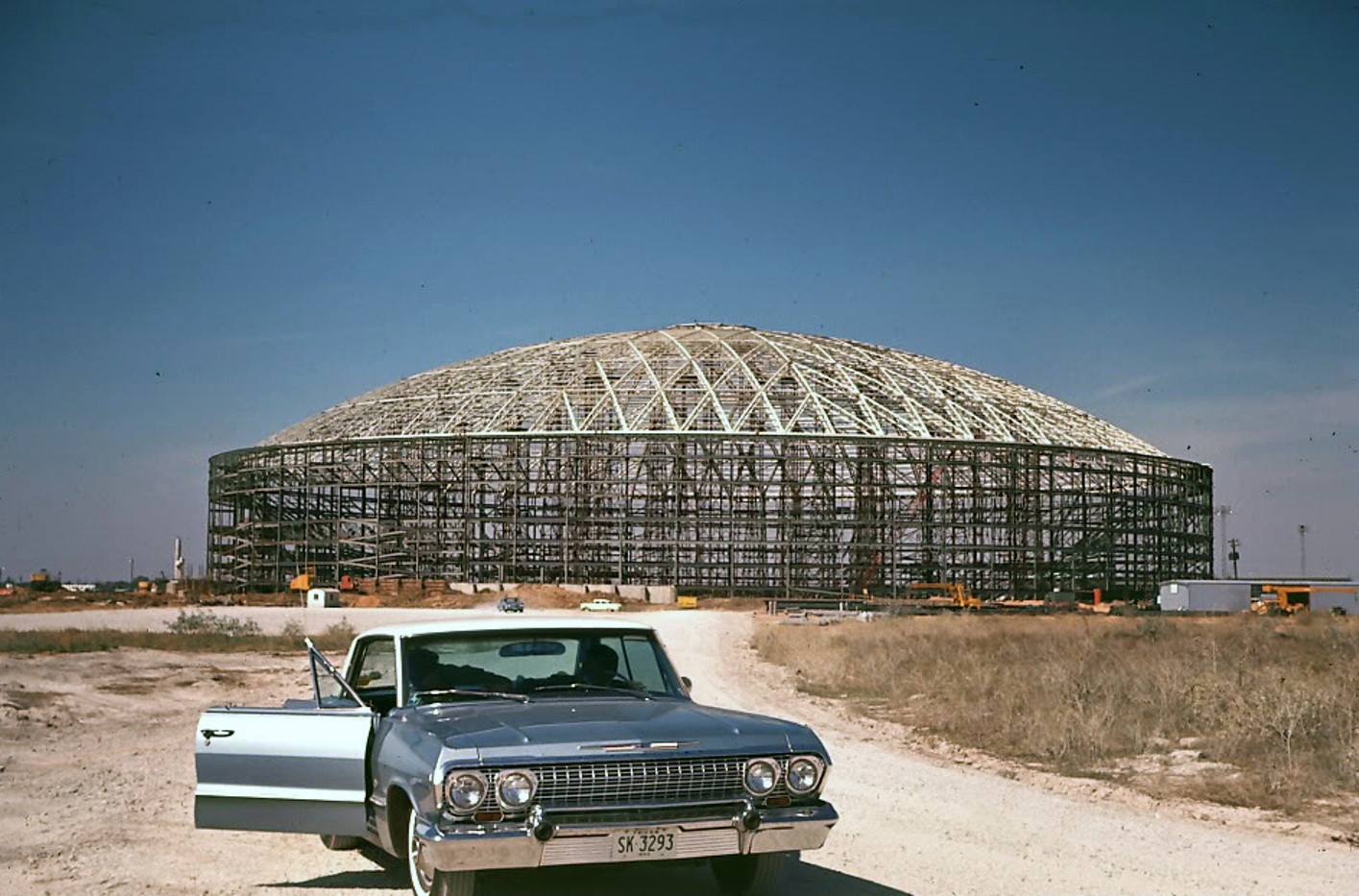 My old high school best friend, Rusty, called me up. We were both off to college by then, but it was the holiday break in '79 and so we were home.
"What's up?" I figured we'd get one last night out before heading back to school.
"Let's go over to the 'Dome."
"Why? What's going on?"
"Well, you saw the game, right?"
"Yeah, the Oilers lost, big time."
"Yeah, but the radio's sayin' that Bum Phillips had said that they were gonna come back to the Astrodome anyway. To wave to the fans or something. Thought we could go check it out."
Why not? We jumped in Rus's old '68 Mustang Fastback and headed for the dome, just a couple three miles from where I lived back then. The radio DJs seemed pretty excited, and the Dome parking lot was pretty full as car load after car load piled through the unmanned parking gates. Rus and I had been in that Dome probably hundreds of times by then: baseball games, football games, rodeos, circuses, concerts, "monster-truck" pulls & destruction derbies, and all kinds of special events. The Oilers had pretty much been an embarrassing joke until only recently, especially when compared to "America's Team," the Dallas Cowboys, only two hundred miles to the north.
But in the mid-70s, the team owner, an irascible curmudgeon named Bud Adams promoted his defensive coordinator to head coach after hiring and firing a dozen or more before him. Bum Phillips was different from his coaching contemporaries by a country mile. With an honest ranching background (and years of high school and pro coaching experience,) he immediately jelled with the team. He showed up in cowboy boots (eel skin? anteater? rough outs?) cowboy hats, rodeo-sized belt buckles, sheepskin vests and jackets, and was known to chew a wad of tobacco. It was Lonesome Dove riding into town to coach football. The fans loved him, and his team loved him more. Dallas Cowboys coach Tom Landry, with his stone-cold demeanor and hard-ass coaching style, was the archetype of the day. Bum and his easy-going, country nature (and dress) stood out. He (strategically) treated everyone like family, and in a state and city scarred by years of racism and mistrust, he made sure everyone was treated equally. Bum conducted open practices on some days so that players' own families could come to watch. There were no curfews. His players started dressing up in Bum duds after hours. The whole city slickin' city did.
And then they started winning games. "Win games, and they will come," to awkwardly paraphrase a popular movie. The crowds started filing through the turnstiles and filling up the seats.
Phillips spoke in a slow drawl and never seemed too particularly uptight. Some thought him a bumpkin. Others knew better. Like baseball great Yogi Berra, he was a dream interview - his quotes at once paradoxical, understated, and witty. "I don't care if people think I'm dumb," he said. "But I ain't gonna prove it for 'em."
And in 1978, he proved how smart he really was. He drafted a U.T. grad and Heisman trophy winner named Earl Campbell and put him in the powder blue and white Oilers' uniform. "The Tyler Rose" as he was known, had grown up poor and on the wrong side of the tracks. Football was his way out. He had great coaching in high school and Darrel Royal and the staff at U.T. further shaped him as an athlete. More importantly - a powerful mama and ten siblings molded his personal values. Needless to say, he took to Bum's Oiler family instantly.
That 1978 season was explosive. Monday Night Football took Bum and Earl & Co. and a packed Astrodome to new heights. The Oilers were on the national map. "Luv Ya' Blue" was the town's unofficial motto and printed on every bumper in town. Houston finally had a winner. There were team songs recorded, including one little ditty that had the musical depth of a nursery rhyme. It played incessantly on the radio and at the 'Dome. The team seemed bound for the Super Bowl, unimaginable just a couple of years earlier. Everything was going right, right up until a disastrous loss to the Pittsburgh Steelers in the AFC title game. The 34 - 5 loss left the team shattered.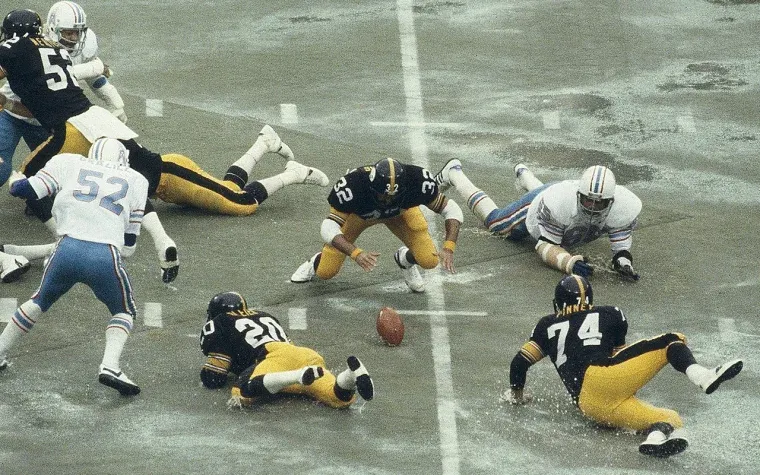 The plane home from Pittsburgh was hours late. The game had been played in sub-freezing temps in pouring rain and sleet. When it was over, Bum told the press, "The behinder we got, the worse we got." The team wanted only to go home and forget the whole season. Bum told them that he'd made a promise back in Houston to thank the fans, and even if only one person was there to receive them, they were going to stop by the Astrodome and make an appearance.
Rus and I waited, along with over fifty thousand other screaming, singing fans. The event, as it was, was purely organic. There had been no plan, no pre-publicity, and there were no tickets. So there wasn't a lot of program, nor was it an era of wall-to-wall sponsors and commercial content. Some radio DJs spoke, a few local muckety mucks, and that Luv Ya Blue song never stopped playing as Columbia blue and white pompoms were waved. The mood was elation, even after hours of waiting. The delay only allowed for more people to get the word. When the Oilers landed, there was a mob at the airport (before airport security.) Cars lined both sides of the freeway on the route home - stopped - with occupants getting out and standing on vehicles and on the side of the road cheering the buses as they passed. The Oilers couldn't believe what was happening. They had just LOST the season, LOST the chance at a Super Bowl ring. By the time the motorcycle cops cleared a path through the traffic to get inside the Dome, people lost their minds. Players were dumbfounded. Many were wiping away tears. The Astrodome literally vibrated with noise. Rus and I just looked on with awe, realizing what a perfect moment this was.
It seemed to happen in slow motion, like an ending to a bittersweet movie. The underdog team, after struggling all season, comes together and fights their way to the top and into the hearts of their fans, only to lose the big game. But as we focus on the crestfallen, dejected player's faces, we hear music! Terrible music, yes, but music, and we cut to the screams of cheering fans rushing to greet the team upon their return. Closeup: Bum and Earl trade smiles, Bum waves his hat to the crowd, and we dissolve to a wide shot of the Astrodome at night and slowly fade to black.
A definitive moment in Houston's history. Actually, the moment was repeated exactly one year later after a similarly fantastic regular season, a loss to the Steelers, and a return to the Astrodome. Only that time, in addition to jammed freeways, there were about 70,000 folks waiting at the Dome, including 20,000 who couldn't get inside milling around the parking lot waiting just to wave at the returning buses.
Though it seemed to be a pinnacle that captured the zeitgeist of the whole era, it was one moment amid hundreds. The Astrodome, for years, was Ground Zero for Houston sports and entertainment. And spirit.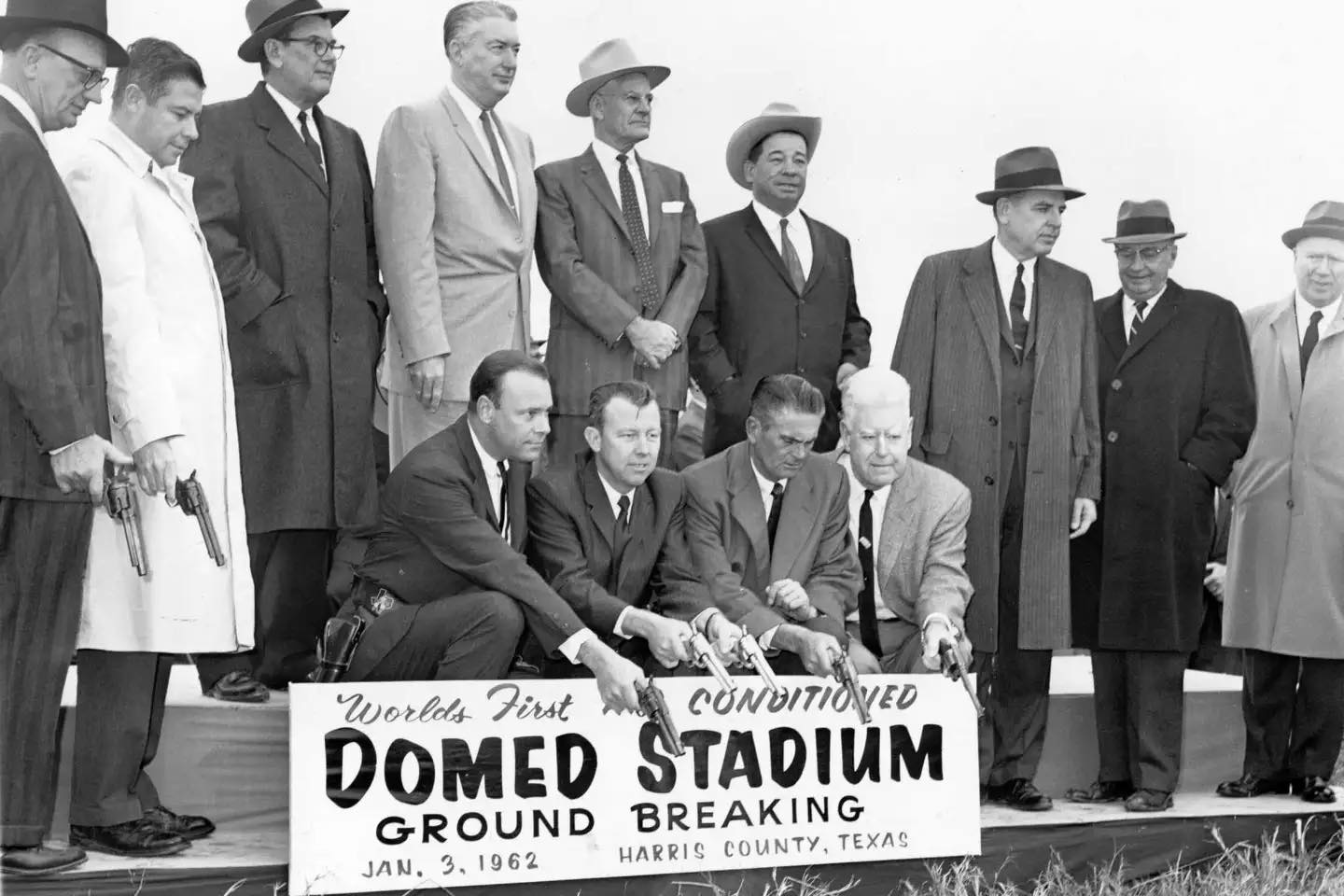 I can still remember as a small child being taken to see a game at the precursor to the Astrodome - the old Colt Stadium. I remember holding my dad's hand as we walked into the stadium, seeing that baseball diamond, hearing the roar of the crowd, and thinking: what kind of cruel joke is this? Who enjoys this hot, muggy, oppressive AF "experience." I could only imagine that I was brought there to be sacrificial, drawing mosquitos away from the adults. It would begin a lifetime of paternal mistrust.
Directly south of the Colt field, excavation had begun for the Astrodome. Steel was being hoisted into place. Roads to this remote place (!) were being improved. The town was buzzing over the crazy idea of a covered, multi-use ballpark... air-conditioned no less!! A flamboyant lawyer/former judge/former Houston mayor named Roy Hofeinz dreamed up the concept of a covered stadium after visiting the Colosseum in Rome. He spearheaded the project and its financing, and famously built himself a 24-room suite that overlooked the action below. He had been known as a forward thinker, and to his great credit, he made sure that the Astrodome and all of its facilities would be desegregated.
Houston topped a million people in the 60s. The space program was taking off, and NASA's mission control was being built in the Clear Lake area. A world-class medical center was established and expanding exponentially. And now Houston had the Astrodome, hosting both the Houston Oilers and the Houston Astros. The city was growing, and the Astrodome (and the entire "Astrodomain" complex) was a proud centerpiece.
I've always maintained that Houston's impressive (and improbable) list of exceptional cultural institutions - a world-class ballet company, an internationally renowned opera company, our regional theaters, art and science museums, architecture, and even the food scene - is a result of a giant chip on our blue-collared shoulders. Dallas was always a bit snooty, New York and Boston were full of East Coast ('yankee') blue bloods, L.A. had Hollywood celebrities... and they all looked down on redneck, blue-collar, working-class Houston. Our crazy wildcatters had made their nouveau riches in the dirty, smelly, and uncouth oil fields or by owning cattle ranches (which often had oil on them, too.) The rest of us (stereotypically) served those interests as roughnecks, rednecks, and cowboys. We talked too loud and laughed too much.
To show them fancy people we weren't a bunch of rubes, those oil men and their heirs threw a lot of money around, building some highfalutin institutions, buildings, and cultural centers to secure some braggin' rights. We were gonna be a leeeetle' bit bigger and better than everyone else. Nothing exemplified that like the Astrodome.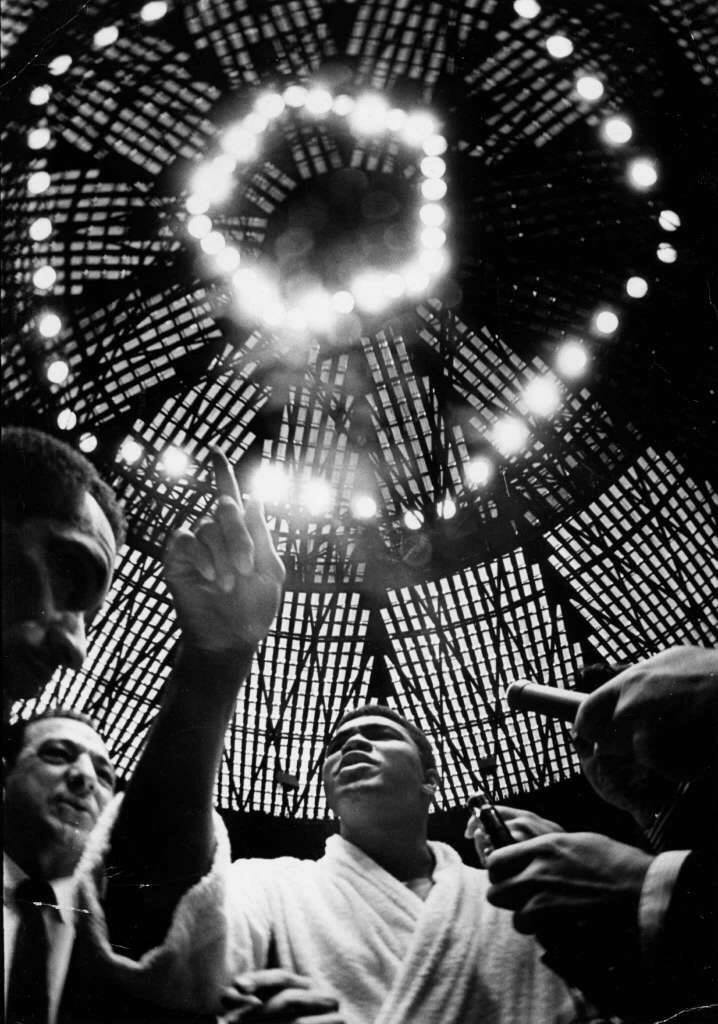 And it worked. Forever, it was known (er, promoted) as the "Eighth Wonder of the World." It was the home stadium for the Houston Astros, the Oilers, and the famous Houston Livestock Show and Rodeo. The Dome was the part-time home court for the Houston Rockets, and it was UH Cougar football's home field for years.
The opening game in the Astrodome was an exhibition game between the newly named Astros and the (damn) New York Yankees. Mickey Mantle fired off the first hit and then the first home run before a crowd that included President LBJ, Governor John Connally, Mayor Louie Welch, and of course, Roy Hofheinz. Judy Garland headlined the first concert held in December 1965 inside the world's largest indoor, air-conditioned space. (The Supremes were the opening act.) In 2002, Country singer and local favorite George Strait closed the place down singing "The Cowboy Rides Away."
It wasn't just music and sports. The Dome was rarely dark. There was a Boy Scout Jamboree, boat shows, car shows, home builder's conventions, a Billy Graham Crusade, destruction derbies, Monster Truck Pulls, numerous high school football championship games, college bowl games, circuses, wrestling and boxing matches, and soccer games.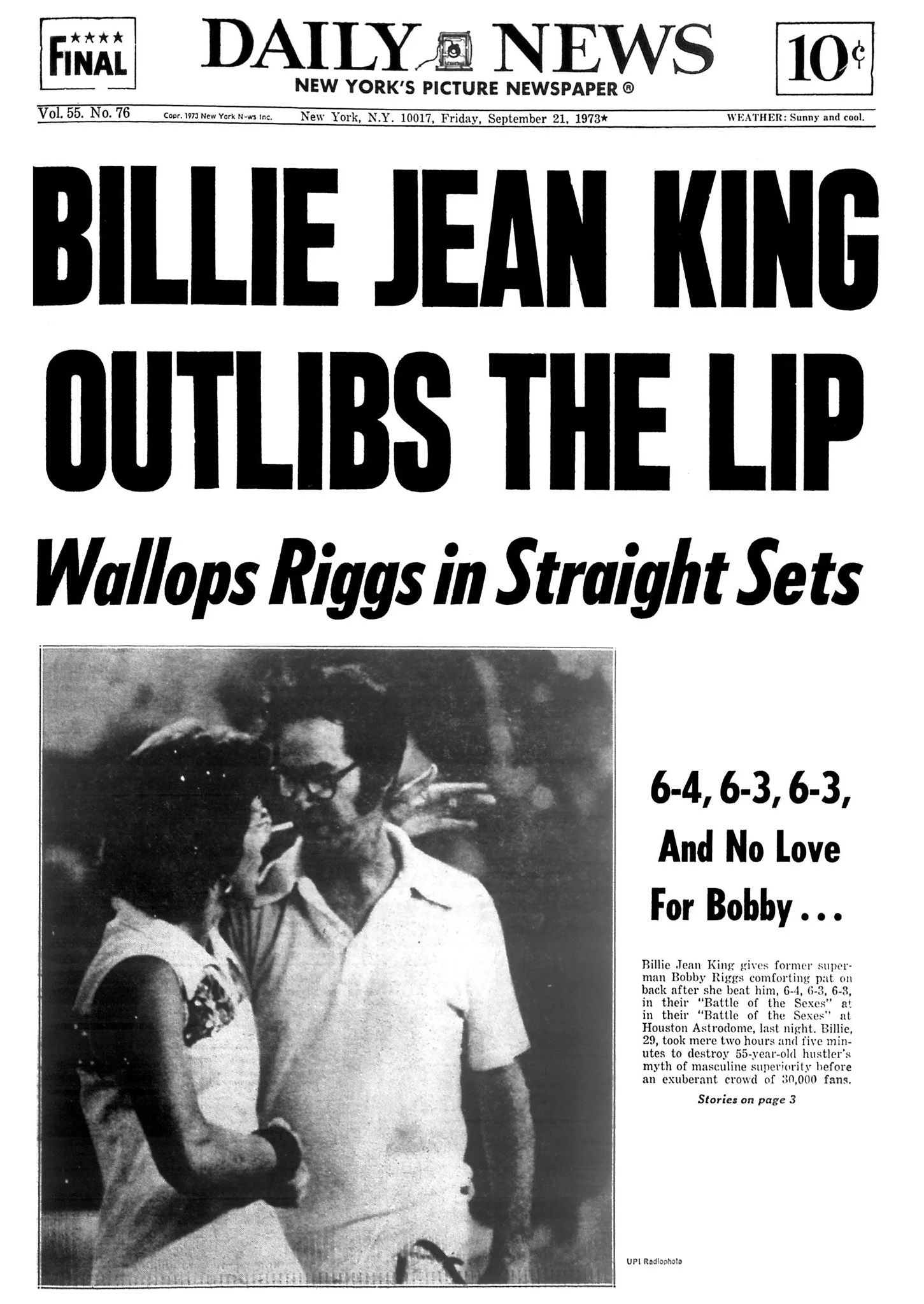 In between the Yankees hitting the first home run and George Strait waving his hat to the crowd one last time? Here's a partial list of some of the historic events (in no particular order):
• MLB All-Star Games in '68 and '86.
• The College Basketball "Game of the Century" in 1968 between the University of Houston Cougars and the UCLA Bruins. It's widely considered to have put college basketball on the map (and on television) and paved the way for "March Madness."
• In 1966, in the heavyweight title fight, Muhammad Ali knocked out Cleveland "Big Cat" Williams. Ali returned in 1967 and 1970, facing Ernie Terrell and Jimmy Ellis.
• There were many motocross races over the years, and in 1971, Evel Knievel jumped his motorcycle over a record 13 cars two nights in a row.
• In 2001, Wrestlemania XVII was fought between Stone Cold Steve Austin and The Rock. Austin won in 28 minutes.
• The Battle of the Sexes tennis match occurred on September 20, 1973. It was the wildly popular game between women's tennis champion Billie Jean King and (openly sexist) semi-retired pro and champion Bobby Riggs. Promoters sensationalized the gender war facet of the match, and 140 million people around the world tuned in.
• The 1992 Republican National Convention. President George H.W. Bush was nominated for reelection.
• A very partial listing of concerts over the years (some of these were in conjunction with the Houston Livestock Show and Rodeo. Each rodeo season has a couple of weeks of rodeos, and each rodeo has a music act.)
1969: Frank Sinatra
1970: Elvis Presley (again in 1974.)
1973: The Jackson 5, with a young Michael Jackson. (Again in 1974, 1984.)
1971, 1973: Jazz Fests with acts such as Ike & Tina Turner; B.B. King; Roberta Flack; Lou Rawls; Herbie Mann; Dave Brubeck; Aretha Franklin; Ella Fitzgerald; the Staple Singers; Stevie Wonder; Ray Charles; B.B. King and more
1976: Night of the Hurricane Rubin Carter Benefit Concert (Bob Dylan's Rolling Thunder Revue, Stevie Wonder, Isaac Hayes, Ringo Starr)
1981: The Rolling Stones (also in 1989, 1994)
1987: Madonna
1987: Pink Floyd
1989: The Who / Stevie Ray Vaughn
1992: Genesis
1992: U2 (also 1997)
1993: Selena y Los Dinos (also in 1995)
1993: Paul McCartney
• And finally, in 2005 after the place had been informally closed up, the Astrodome offered refuge for thousands of Hurricane Katrina evacuees from Louisiana after they fled New Orleans and were brought to Houston.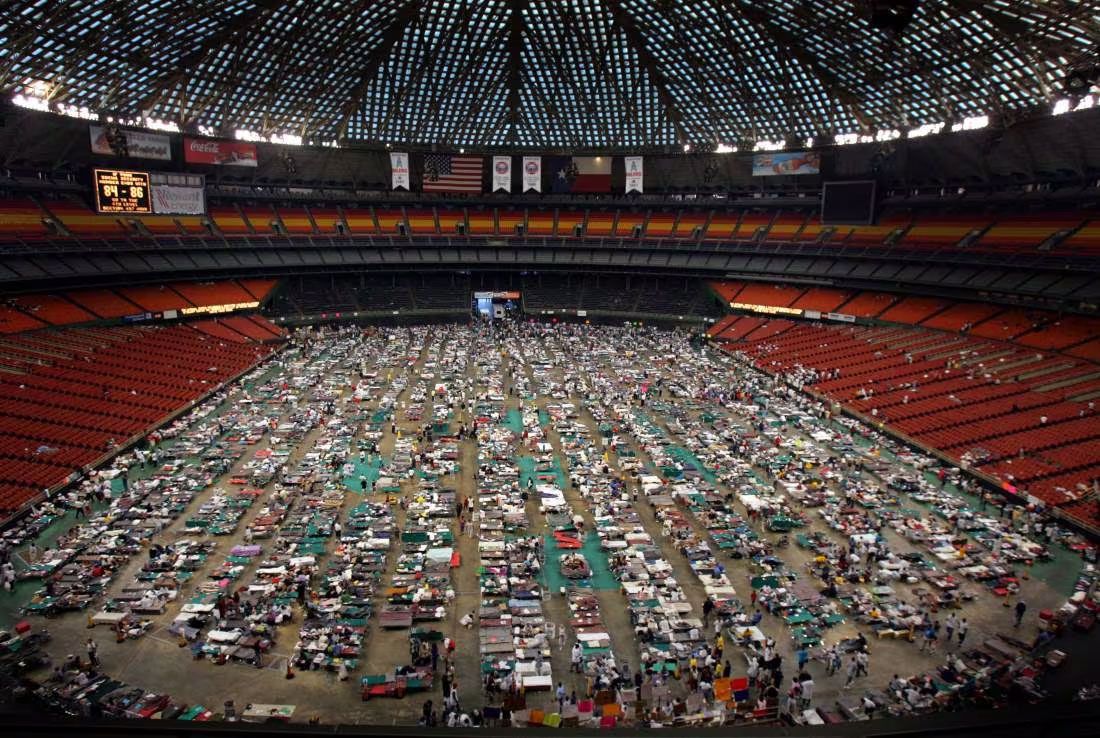 People often tout the addition of a sports stadium or convention center complex as a great addition to the economy. If there was ever proof of that rule, it was the Dome. Of course, it was somewhat of a rarity since it served both purposes and even more. As a member of the local working media in the eighties and nineties, I can attest that not a week went by that there wasn't a river of commerce flowing in and out of the complex. One week there might be a huge trade show attracting attendees and vendors from all over the country. There might be a 24-hour or even an overnight turnover to reset for a football game, the Astroturf readied along with a specific seating plan. The turf would be rolled back up and massive lighting truss and sound equipment would be hung from the ceiling to enhance a music concert on a custom stage. Truckloads of dirt would roll in for a Monster Truck rally. That would be bulldozed up to prep for a boxing match. And on and on it went. Tourists from all over the globe attended events within the Dome, and for the first decade or so, many came just to see the place. All of that traffic added up to estimates as high as four billion dollars in economic impact.
(If there's one link you should click... check out this sweet little song and music video by Bruce Robison and Kelly Willis. The video features many of the classic highlights from Astrodome history.)
With all of that use, the old dame went through some wear and tear. More importantly, the imitators came fast. Each copy of the Astrodome concept in other cities added new amenities and money-making additions to their layouts. The trend moved away from multiuse, one-size-fits-all spaces - new stadiums were custom-designed for their individual sports. They were bigger, with more seats, and more leasable space for concessions, vendors, and even restaurants and shops. And even though the whole concept of a domed stadium in Houston was to seal out the elements and seal in air conditioning, retractable roofs became a trend.
But the real threat that ultimately doomed the Dome was the old Oilers curmudgeon himself, Bud Adams. He wanted more seats to accommodate bigger crowds, and in the late 80's, a multimillion-dollar remodel gave him what he wanted. Still, he complained. Newer stadiums had fancy new amenities and more (and more luxurious,) VIP suites for high rollers and corporate season ticket holders.
Things started going downhill after those big Steeler losses. While the crowd finally had a team to love and a head coach who seemed to embody Houston's self-vision, Adams wanted a Superbowl ring. After losing to the Steelers for two years, (and in 1980 having another strong season but losing to Oakland in a wild-card game) - Bum was unceremoniously fired. Though Earl Campbell personally had a couple of good seasons after Bum left, the team was becoming a laughingstock. Campbell asked to be traded and joined Bum in New Orleans who was coaching the Saints.
Adams by then had demanded a brand new football stadium, one with lots of those club seats and luxury boxes. (Those would not be part of a profit split under the NFL's revenue-sharing plan.) Adams had never been well-liked, and after firing Phillips and losing Campbell, he was a pariah. His team sucked in those years, so no one encouraged him to stay, nor did anyone want to buy him a new palace. He left town for Tennesee in 1996 and took his football and team with him. It wasn't long before the Astros started looking at building a new ball field, and in 1996, the public approved. The 'Stros moved downtown to (now) Minute Maid Park in 2000.
(Side note, though Adams had an impressive winning record over his life as a team owner, he never got a championship ring.)
In 2002 the NRG Stadium (originally named Reliant Stadium) was in place - a soulless, unremarkable stadium with the prerequisite retractable roof and VIP lounges (and a double dose of ugly.) Houston picked up an expansion NFL team, the Texans, and the Rodeo was able to share that space during their season.
Many who hear the rantings about the "good old Dome" from aging fools like myself couldn't care less about saving it. Time marches on, things change, business changes, and customers' expectations change, blah blah blah. Tear it down and let's build something nice... bigger, fancier, now with 5G and Bluetooth and maybe seatwarmers (?) ("Hey look honey, it's a mall with a football field in the corner!")
But at the risk of sounding overly cliché, the Astrodome was the heart and soul of Houston. It was built and celebrated in an era when Houstonians, Texans, and Americans could dream big, and realize those dreams. The whole "Astro" part of Astrodome recognized our part in the space race... we would go to the moon just a few years after the first pitch was thrown on that newly invented AstroTurf™. Medicine was advancing in the Medical Center, hearts were being transplanted! Newfangled machines called "computers" were coming on line, making hundreds of math and logic calculations every second! Did I mention a man had walked on the moon? Was there anything a boastful Houstonian couldn't do?
The Astrodome was all that and a Dome Dog washed down with some Dome Foam.
Nowadays, we can barely keep the government functioning. So many contrarians celebrate obstruction, destruction, and dysfunction. There are several interesting plans to transform the deteriorating Dome, but any suggestion to create something new from Dome bones is always met with jeers. Heck, it costs about 400K a year just to keep the place locked up. How many millions would it take to bring it back from the dead? There are at least 11 billionaires in Houston today, and almost 100,000 millionaires. Gee, hard to guess where private investment might come in. (Remember when the wealthy class wanted to give back to their communities?) No doubt Roy Hofheinz made millions from his investment in the Dome, but the city, the county, and the citizens made billions more.
The Astrodome was in the news recently when Houston Sports Authority president Janis Burke commented that a bid for a Superbowl in Houston might hinge on what happens to the Astrodome. Which was odd, considering that the old Dome hasn't stopped us from getting any other marquis events in this town. It's hard to know if that was sort of a shake-down statement or a weird shot across the bow at one side or the other. But there's a nice twist in case anyone wants to dynamite the old girl, (the Dome, not Ms. Burke.) Somewhere along the line, the Dome was designated as a State Antiquities Landmark. That designation stipulates that a historic property cannot be removed, altered, damaged, salvaged, or excavated without a permit from the THC. (Or, you know, a Dome load of money.)
That sounds promising, it certainly keeps the wrecking ball at bay. So there's some hope for renewal, but in this modern era of can-don't attitude, nothing is assured. Well, except for keeping the lock on the door and riding the inertia of doing nothing.
"I'm a-gonna go on down to sit in the Astrodome
Just me and you and all of them blue and faded memories
Hey I'm a-gonna go on down to sit in the Astrodome
And wonder whatever ever became of me."
-Bruce Robison and Kelly Wills, "Astrodome"
---
PS. What can you do to support the Astrodome? I'm not sure, to tell you the truth. Write a city councilman or mayor? hmmm, maybe. A county judge? (Former Harris Country Judge Ed Emmett was working on a revitalization plan when he was ousted by Lina Hidalgo. Hidalgo put the Dome on the far back burner.) Definitely write the judge. There's now an Astrodome Conservancy; sign up there and be kept up to date on the goings-on regarding preservation efforts. Multiple Facebook groups celebrate the Dome as well.
---
Random Stuf to start your week:
Texas Outlaw Writer John Nova Lomax's memorial service was a couple of weeks ago at the Continental Club. From all reports, (I was out of town,) the place was packed. I saw social media posts from people looking to find each other inside the crowded club. Steve Earle sang, and friends toasted and roasted John.
I got a note from John's dad, John Lomax III, that they were able to assemble some photos and all of his "Sole of Houston" series. Check out some of the source material for the book, John's columns for the Houston Press many moons ago. From a press release for the book:
The paperback presents all twelve of the late John Nova Lomax's 2006-2010
walks across the city, originally published in the Houston Press.
Prominent musician David Beebe accompanied Nova on ten walks. Beebe lives in Marfa now, serving as a county Commissioner. John, David & four one-walk guests covered over 200 miles on foot in America's 4 th largest city, one often called "unwalkable".
They strolled on EVERY major Bayou City thoroughfare, leaving
their footsteps on over 150.
In addition to printing all the walks in book form, this
volume adds Beebe's comments and photos, only seen on his
blog. He, John Nova and Jay Lee provided the color photos.
Copies are available from Lomax Global Music, 757 Brownlee Drive, Nashville, TN. 37205. The $25 cost includes postage. It is now available at Sig's Lagoon, Cactus Music and Brazos Books in Houston with further distribution plans to be announced.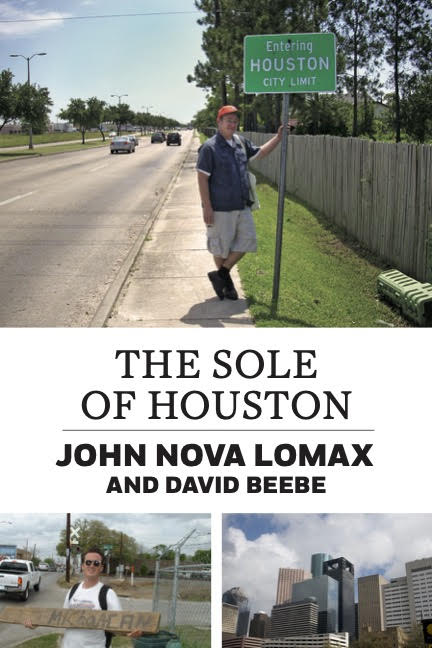 ---
Notice you gasoline prices going up? Not exactly a shortage of oil, or of unexpected demand. Just a reduction in production to jack prices... mainly from Russia and the Middle East, but domestic producers are happy to pocket the profits and tell their shareholders that it's a result of the genius.
---
Gov. Abbott and minions are still primed to jam school vouchers down an unwilling public's throat. He's called a special session, and he's promised to keep calling them until he gets his way. Prick.
---
Season 2 of "Winning Time: The Rise of the Laker's Dynasty" is up. I'm not the biggest sports fan in the world, but this is a great couple of seasons. John C. Reilly has been phenomenal as Jerry Buss. Reilly has previously been known for being Will Ferrell's sidekick in a couple of great comedies, Talladega Nights and Step Brothers. Here, he really shines as he brings to bigger-than-life Buss, the Lakers' owner that took the Lakers (and the NBA) from old-school basketball games to multi-million dollar entertainment properties. The series is based on Jeff Pearlman's book, Showtime: Magic, Kareem, Riley, and the Los Angeles Lakers. Adam McKay is the E.P., (Succession, Q: Into the Storm), "Winning Time examines a team that defined its era, both on and off the court."
---
Did you get last week's Outlaw newsletters?
Roger Gray remembers a former colleague and then takes his emotions out on the usual suspects in state government.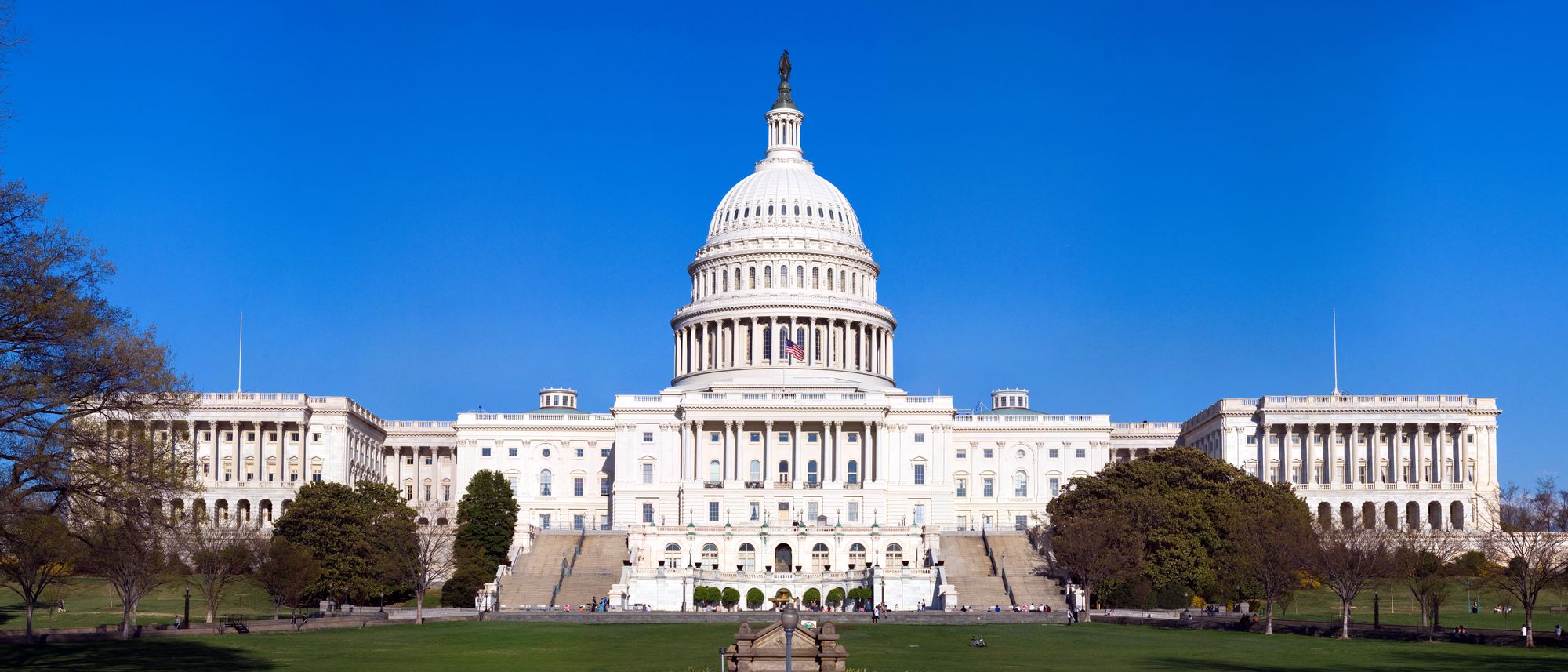 ---
Myra Jolivet thinks we need to lose political debates all together. Or rather, just stop labeling these mud wrestling matches "debates."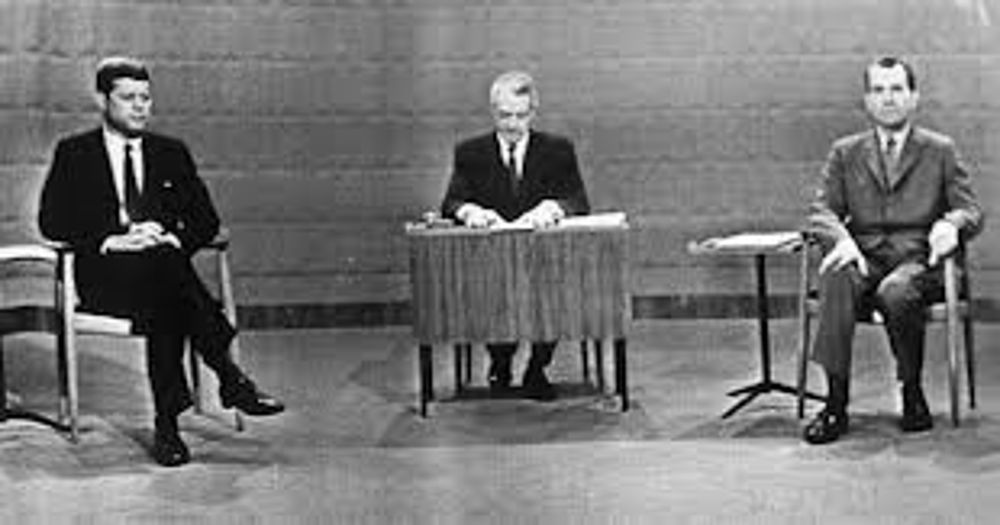 ---
Jim Moore also remembers an old friend whose spirit had directed him to "Go West, old man." So he headed to Big Bend, (the place they never made it to) on his buddy's motorcycle.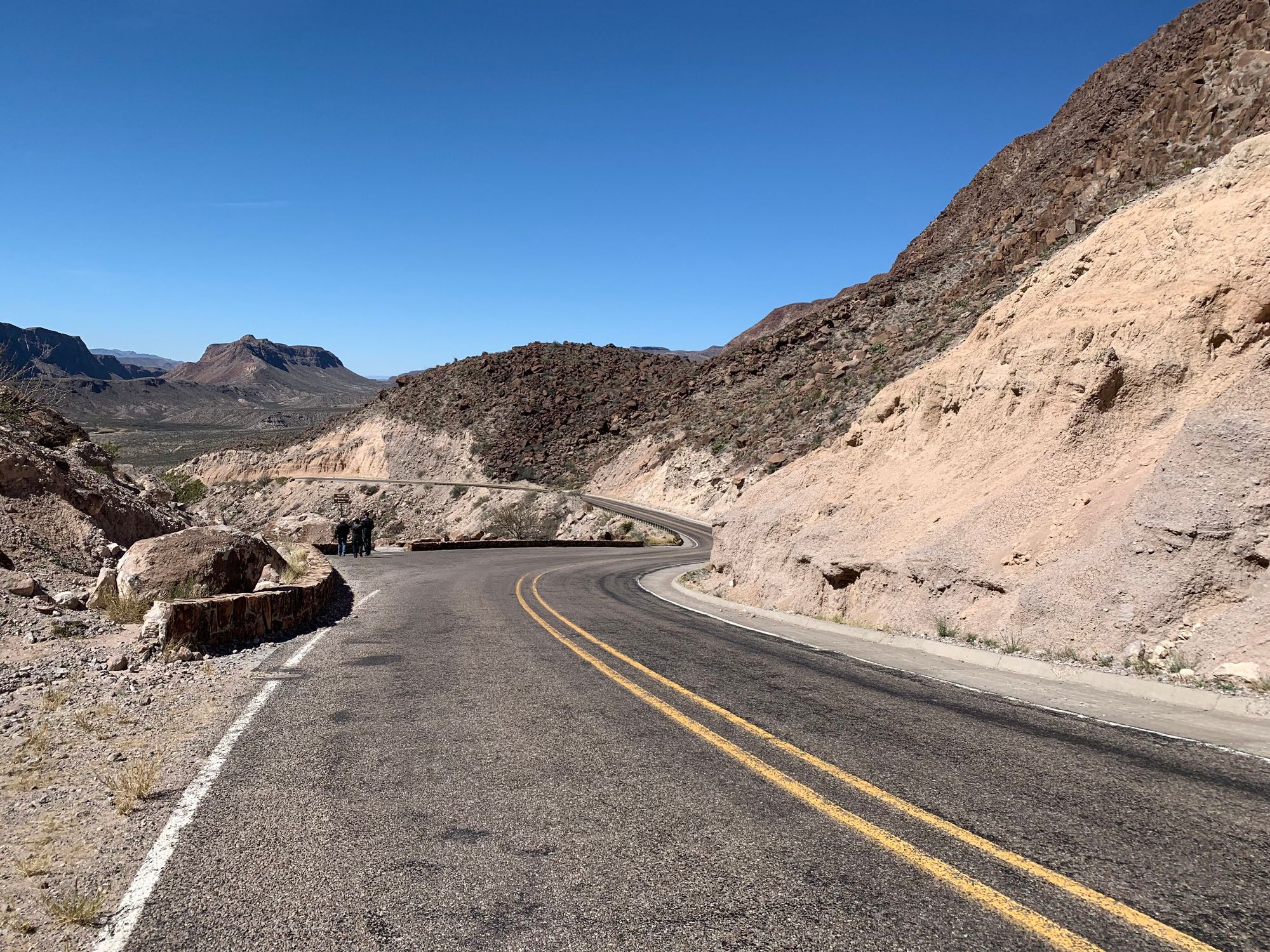 ---
⭐
Chris Newlin worked around Tee-Vee stations before he went out on his own and continued to work in the world of video and multi-media production. Then came iPhones and YouTube accounts, so now he sits around full of self-pity and too many Keystone Lights. He still enjoys sunsets, long walks on the beach, and a good bowel movement, at least every now and then.