Ode To A Typewriter
"Most heartfelt, I thank my typewriter. My typewriter is a Hermes 3000, surely one of the noblest instruments of European genius. It has kept me for thirty years out of the dry embrace of the computer." -Larry McMurtry, On Winning a Golden Glove for Brokeback Mountain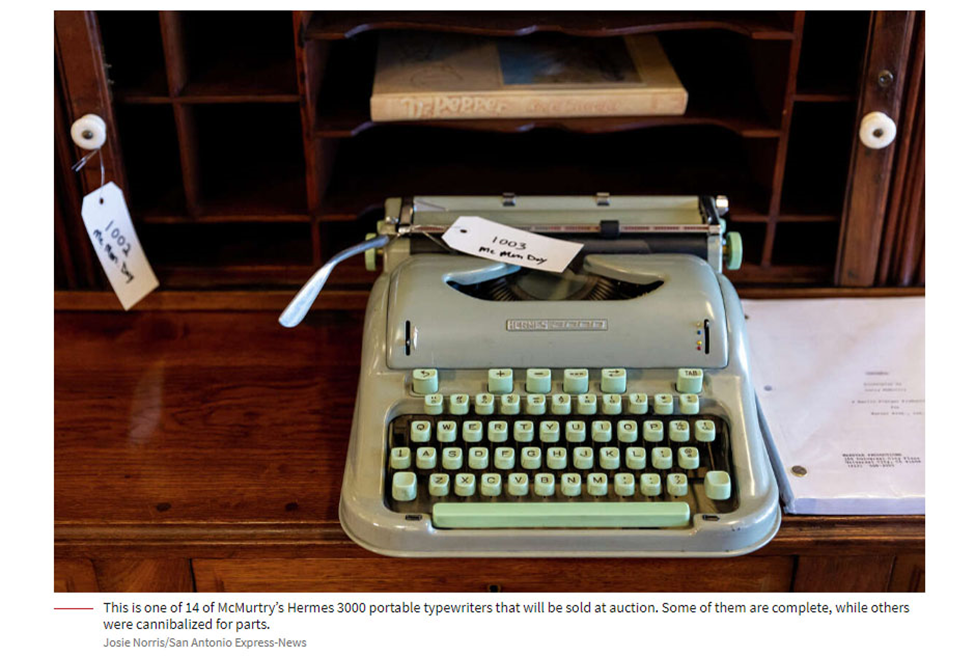 I see they're going to auction off a bunch of Larry McMurtry's possessions this spring, according to a story in the San Antonio paper.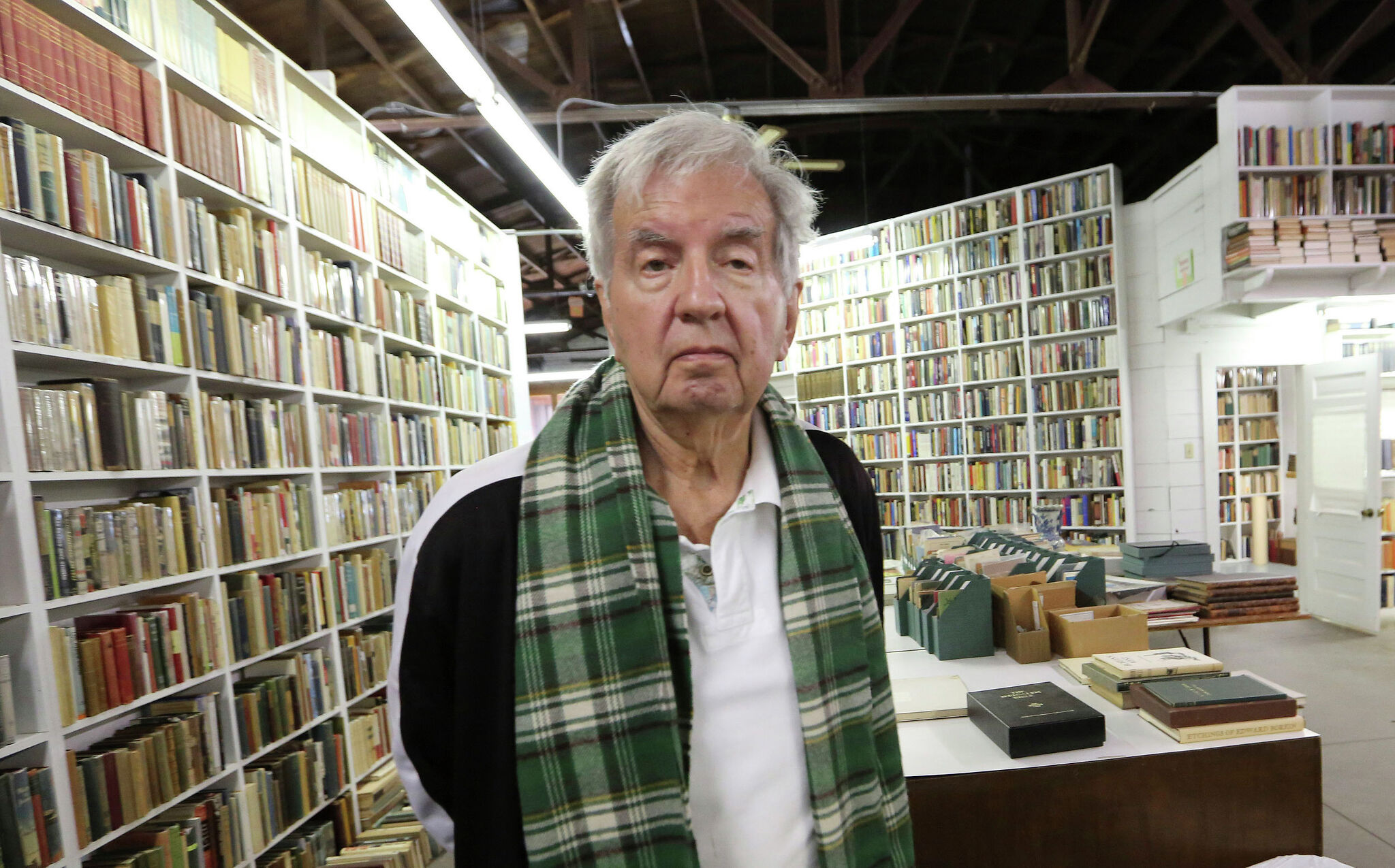 I doubt I'll be bidding on anything, but a look through the stuff they're going to sell sure stirs a lot of memories.  Especially his typewriters—his Hermes 3000s.
In the spring of 1970, after two years in the army, I was back at KPRC-TV in Houston and working for Ray Miller—the legendary Channel 2 News Director. My first gig was shooting, reporting and editing stories for "The Eyes of Texas," a weekly travel, history and feature show, which had a devoted following in Houston.
I did stories like a profile on Madalene Hill and her Hilltop Herb Farm in Cleveland.  A look at Judge Roy Hofheinz' collection of railway cars moldering on tracks off the Gulf Freeway near Santa Fe.  And a visit to UTMB in Galveston where they were teaching kidney patients to do dialysis at home.
I also did this "report" on a square dance convention at the Rice Hotel:
The square dance folks were not amused.
At one point, Ray pulled me off "The Eyes of Texas" to do some political coverage. So I packed my Yoder-Conversion 16mm Auricon sound-on-film camera and joined former UT cheerleader, and newly-minted-lawyer-turned-reporter, Kay Bailey on the campaign trail.  Kay and I traveled the state covering the spring primary races for the U.S. Senate.
On the GOP side, a Congressman from Houston's 7th district was running against a boring, now-forgotten lawyer from Dallas.  Rep. George Bush had made some money in west Texas oil before moving Zapata Oil to Houston and getting into politics.  He lost the 1964 race for the Senate, then won two terms in the House. But Richard Nixon pushed him to give up that safe seat to run for the Senate in 1970. And so he did—shirt-sleeves rolled up, and that jacket hanging over his shoulder.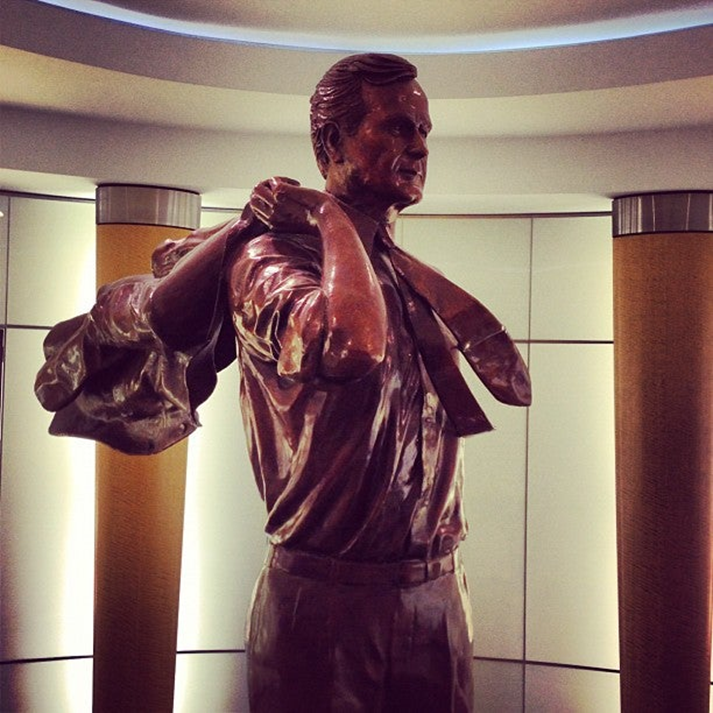 On the Democratic side, liberal incumbent Ralph Yarborough was fending off another rich Houstonian, Lloyd Bentsen.  Bentsen had the foresight to be born to a persistent Danish immigrant who founded a successful insurance company.  The humorless Bentsen knocked off "Smilin' Ralph," and then faced Bush, who had lost to Yarborough in the '64 Goldwater debacle.
In November of '70, I produced the election night coverage, when Bentsen handed Bush his second defeat as a senatorial candidate.  (Beto, are you listening?)  I sat in the control room, watching the Bush "victory" party feed from our live camera at the Rice Hotel, and a shot of Kay Bailey (soon to give up TV news and start her own GOP political career) with tears streaming down her face over Bush's loss.
Sorry, I digress—back to "The Eyes of Texas," McMurtry, and typewriters.
And in 1970, Hollywood came to my old stomping grounds in north central Texas. I grew up in Wichita Falls, the "big" city twenty miles northeast of Archer City, Larry McMurtry's hometown, and the setting for his 1966 novel "The Last Picture Show." It had not been a booming success. But a copy found its way to Actor-Director Peter Bogdanovich via Sal Mineo, and after a location-scouting road trip with McMurtry, Bogdanovich picked Archer City as the spot to film the movie.
Of course, Archer City is barely a spot.  It didn't, and doesn't, have even a full-fledged traffic signal—just one flasher. But it did have the burned-out ruins of the Royal Theater, and an overall ambiance hardly changed from the novel's setting in 1951.
Ray sent me up to do an EOT advance piece on how filming was going to play with the locals.
Before going, I thought I ought to read the book.  It turned out to be a bit of a project just finding a copy.  Only four or five thousand hardbacks had been printed four years earlier.  It took the Yellow Pages and a bunch of phone calls to find it in one of Houston's bookstores.  I did wind up with a first edition, which showed signs of having been in the hands of at least three book sellers.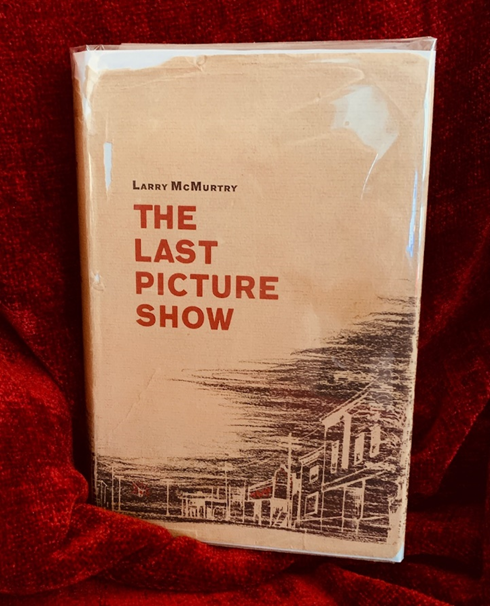 In Archer City meanwhile, news the moviemakers were coming wasn't playing well.  The word had gotten around about some of the words in the book.  Not to mention the sex.  McMurtry wasn't exactly the town's favorite son, either.  His first novel, Horseman Pass By, had been made into the successful movie, "Hud" which won three Oscars®, but its dark plot, set on a Texas ranch, didn't endear him to his former neighbors.
At that point Larry McMurtry was still having to work for a living. He had a bookstore in D.C., and a teaching slot at American University.  I got him on the phone and asked how he felt about how the locals felt about the book, the impending film, and him.  He said he didn't much care.  For a writer, he was a man of few words—spoken at least.
But the trucks and trailers and cameras rolled in, the movie got made, won awards and created some stars.  It took two Oscars® and was a bigger success than the novel had been.
McMurtry kept pounding away on one or another of his Hermes 3000s.
He used one to write Lonesome Dove, Terms of Endearment, the screenplay for "Brokeback Mountain," and more, much more.
In May, they're going to auction of much of his estate, including his guns, writing desk and fourteen of his Hermes 3000 typewriters.  I used to own two of those myself but sold one.  The one I still have, I got from my father more than fifty years ago.  I used it to write scripts at KPRC and at NBC News, type notes and interview transcripts, and uncounted letters.  I took it overseas to network bureaus in Israel and Italy. It still has a sticker from a little shop in Tel Aviv where M. Cohen did some repair work and told me it was the best typewriter in the world.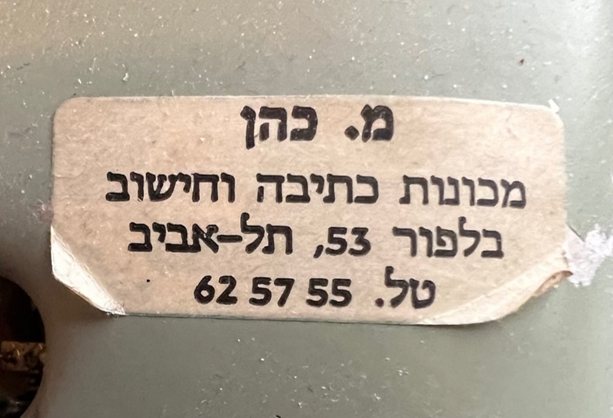 Translation:
M.Cohen
Writing and calculating machines
53 Balfour Street
phone 625755
There's still a sticker on the case from KPRC 2, too.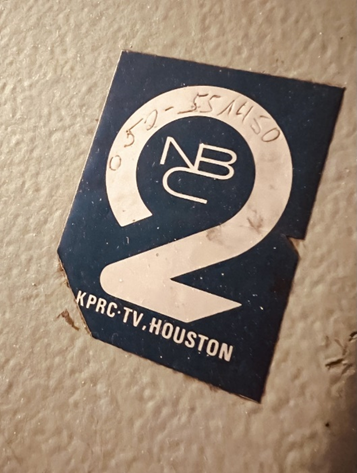 I always liked that logo.
There's something kind of magnetic about a typewriter.  Our grandkids are drawn to it.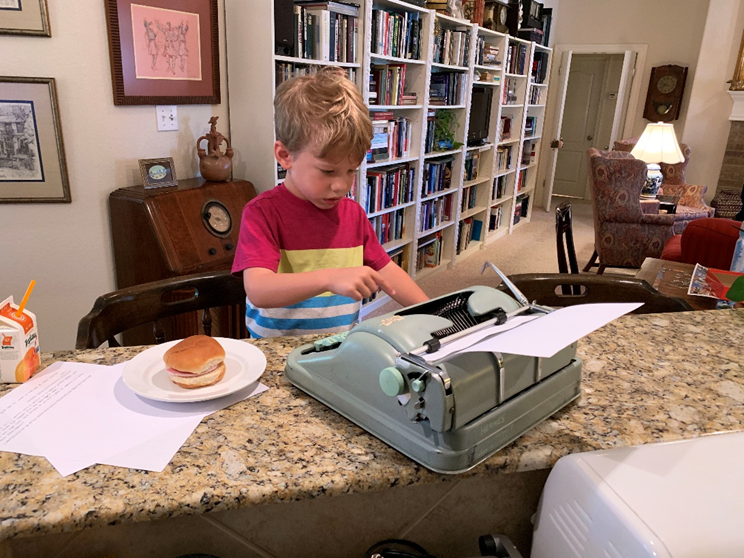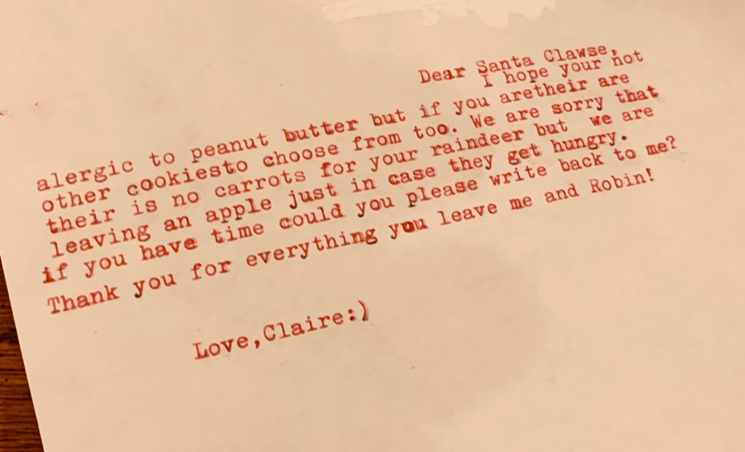 I used my Hermes to write my first—and only—novel, but switched to a Selectric to revise.  I'm pretty the manuscript is still in the closet if you'd like to stop by and read it.
The Hermes 3000 dates to 1958, and became a bit of a star itself.  It was manufactured into the '80's by the same Swiss company which made the jewel-like Bolex 16mm film camera I started out with at Channel 6 News in Wichita Falls in 1963. Books have not only been written on it—at least one has been written about it.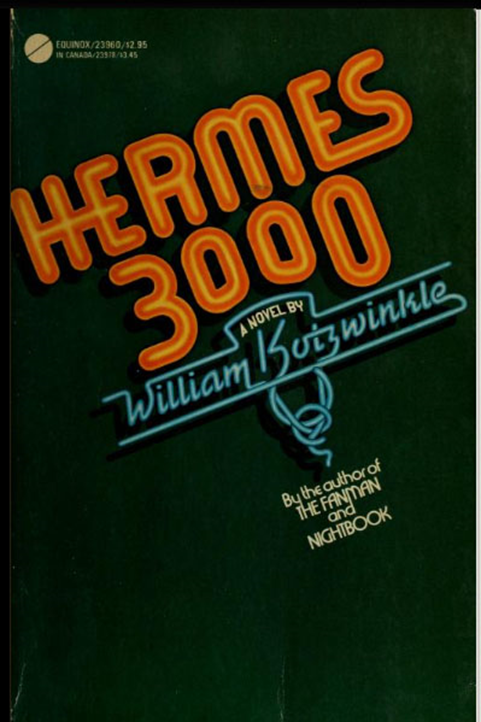 Larry McMurtry was always quick to praise the machine.  On winning a Golden Globe for the "Brokeback Mountain" screenplay:
"Most heartfelt, I thank my typewriter. My typewriter is a Hermes 3000, surely one of the noblest instruments of European genius. It has kept me for thirty years out of the dry embrace of the computer."
McMurtry kept his typewriters scattered around the country so he didn't have to carry one with him.  Even though they've got a handle, they're heavy, and sometimes confound TSA screeners. But he wasn't a collector--they were just his tools sitting ready for work.
Actor, producer, writer Tom Hanks is a collector—he's said to own 250 typewriters. A frame grab from the 2016 doc, "California Typewriter," shows him with two of his Hermes—"…the Cadillac of typewriters."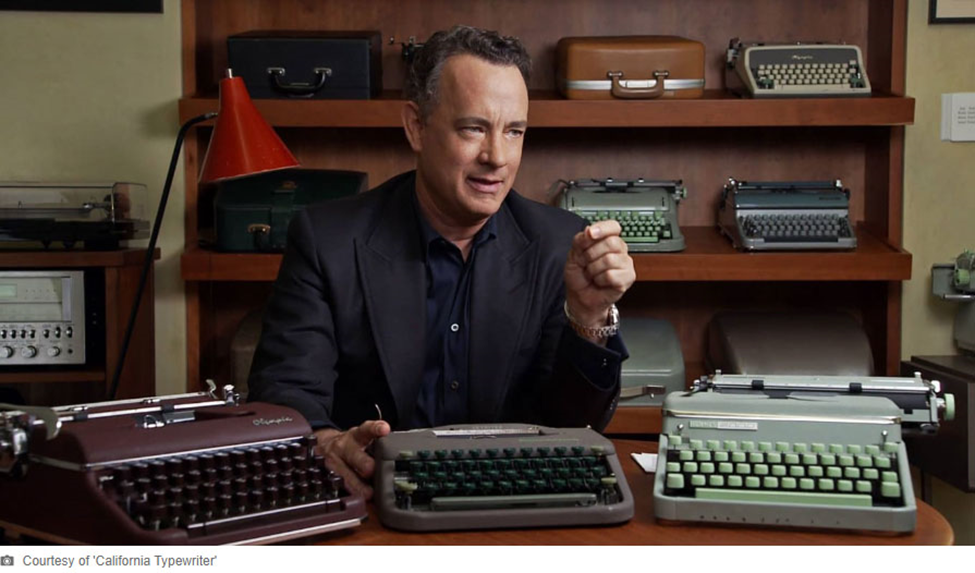 It's hard to say what McMurtry's 14 typewriters will bring at auction.  In years past, others have brought jaw-dropping prices:
$4375.00 for one John Updike sold.
$22,500.00 for Jack Kerouac's green Hermes.
$46,071.00 for the somewhat battered 3000 on which Sylvia Plath wrote The Bell Jar.
A final thought...on mine: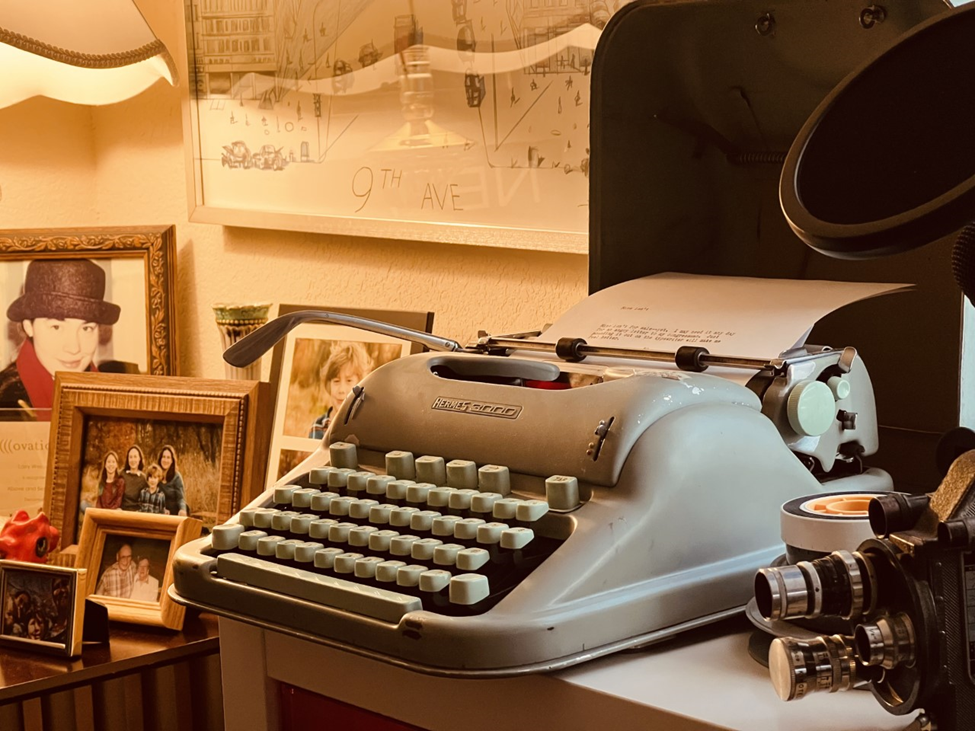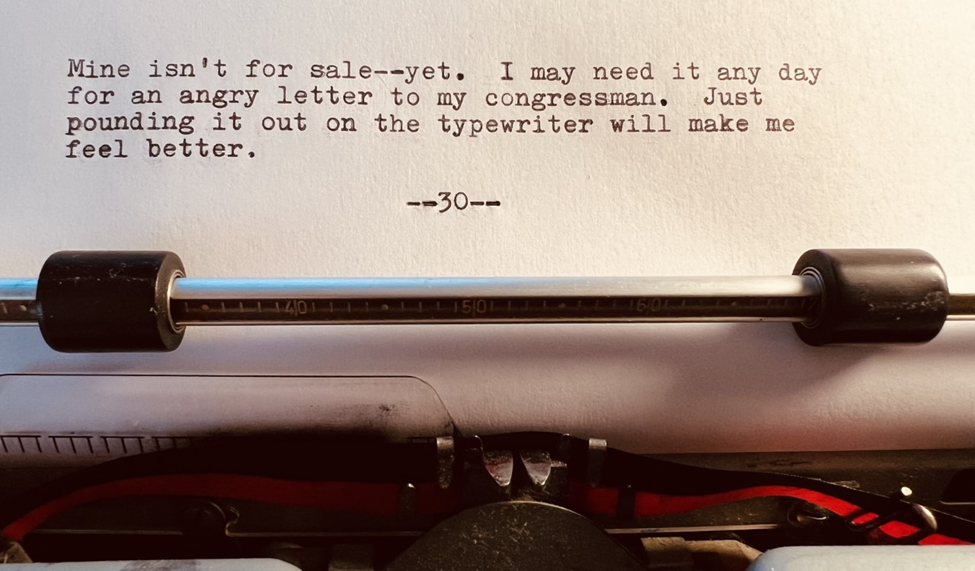 ---
⭐
Larry Weidman is a retired local and network TV newsman. He's lived and worked in Germany, Italy, and Israel, in addition to many, many decades in Texas. His great-great-great grandfather arrived at the San Jacinto Battlefield the day after the battle.