The Problem with Lieutenant Dan
The Lieutenant Governor is the apex predator of Texas politics, with whom lobbyists, trade associations, businesses and individuals must deal if they wish to accomplish their priorities. And that's the problem with Lieutenant Dan.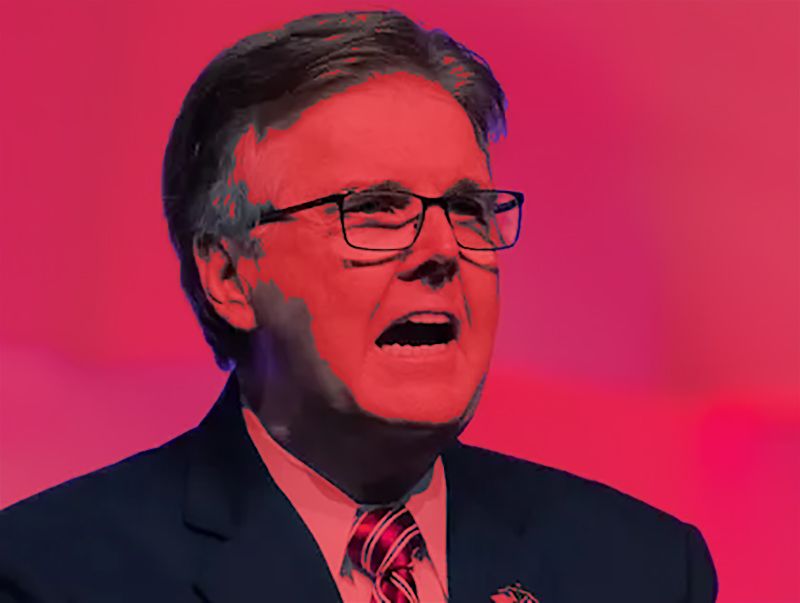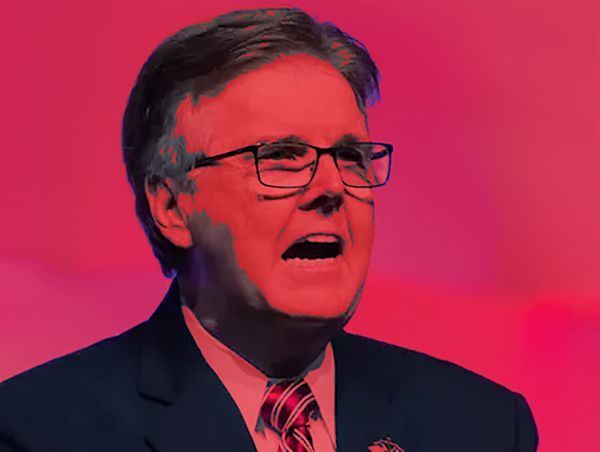 October 16, 2022
The Texans who rewrote their state constitution in 1876, after the disastrous reign of Reconstruction governor Edmund Davis, were enormously distrustful of concentrated power. Their new constitution created a part-time Legislature that meets only five months every two years. It also created a "weak Governor" system, with the executive power spread out over nine officeholders chosen by the voters: a Governor, Lieutenant Governor, Attorney General, Comptroller, Land Commissioner, Agriculture Commissioner, and three Railroad Commissioners. Statewide elected officials then had only two-years terms, which were not extended to four years until 1972.
The Lieutenant Governor is the presiding officer of the Senate, but unlike the federal model, or as in many states, where the Lieutenant Governor is largely ceremonial, the Lite Guv is the day-to-day leader of the Senate. His powers and duties are set forth in the Senate Rules, written and approved by the senators themselves. The Lite Guv:
o   Makes all committee assignments, including committee chairs

o   Determines to which committees all bills are referred (or not referred)

o   Determines which bills will be debated on the Senate floor each day, and in what order, reserving the right whether to recognize a senator to discuss a bill

o   Names conference committee members when negotiating differences with the House on legislation
These rules give the Lieutenant Governor enormous power to pass or stymie legislation and to nurture or maim the political lives of the senators. In the inside baseball of the legislative process, he is the most significant single player. The Lieutenant Governor is the apex predator of Texas politics, with whom lobbyists, trade associations, businesses and individuals must deal if they wish to accomplish their priorities.
The longest-serving Lieutenant Governor in Texas history is Bill Hobby, who held the office from 1973 to 1991. Hobby was the scion of a storied Texas political dynasty: his grandfather had been a state senator, his father had been both a governor and lieutenant governor, and his mother was in FDR's Cabinet. But if he'd had any pretensions of being a dictator of the Senate, they were dispelled when the Killer Bees went on strike in 1979. Hobby later said his attempt then to circumvent the two-thirds rule was his biggest mistake as Lite Guv. He had power, but he learned to use it judiciously.
In 1990, when Bob Bullock was elected Lite Guv to replace Hobby, insiders worried that Bullock's legendary work ethic and equally legendary temper would make him a grim taskmaster. But Bullock's saving grace was his capacious love for all of Texas and its betterment, embodied in his slogan, "Do What's Right for Texas." Under Bullock's leadership, the Senate was more focused, inclusive and effective.
Dan Patrick is the product of a different Texas than Hobby or Bullock. Both men knew their way around state government. Patrick was a talk radio host, following the Rush Limbaugh playbook mixing misinformation, paranoia and grievance into a potent stew focused on Harris County and Texas politics. He was Tea Party before there was a Tea Party, and MAGA before there was MAGA.
In his first session, Patrick attracted controversy with two initiatives. First, he authored a resolution requiring the words "In God We Trust" to be emblazoned above the dais in the Senate Chamber, something the founders of Texas, the builders of the Capitol, and its inhabitants for 119 years had not found necessary. Indicative of his style, he sandbagged his fellow senators into voting for the proposal: "You're not against putting 'In God We Trust' up there, are you, Senator?"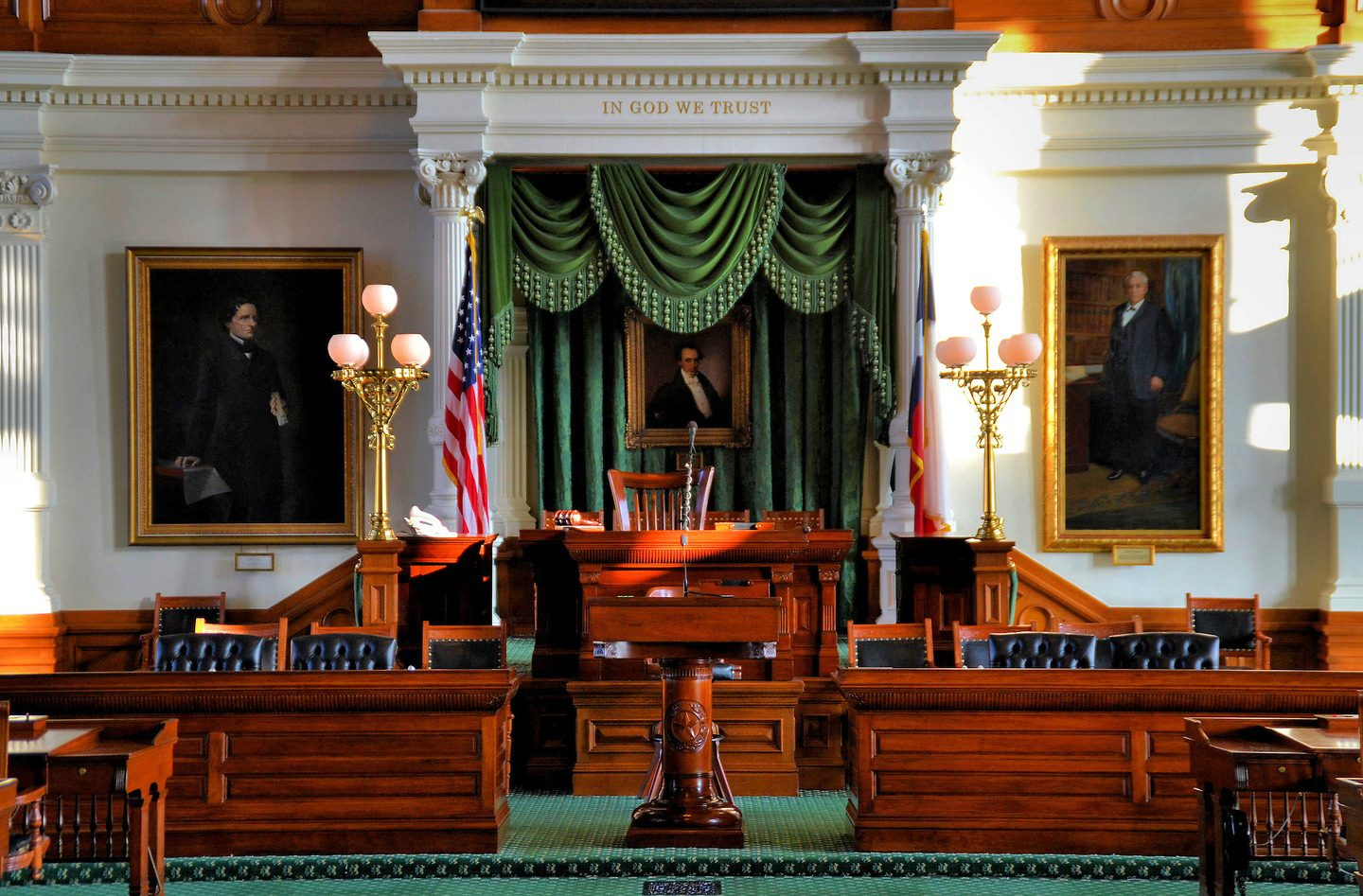 More significantly, he proposed elimination of the "two-thirds rule," which had governed Senate floor debate for over 60 years. The rule required two-thirds of the senators to vote to bring a bill up for discussion, amendment, and debate, even though final approval only required a majority. The purpose of the rule was to force opposing sides on an issue to seek dialogue and compromise before legislation got to the floor. At the time the two-thirds rule was first implemented, the Senate had 31 Democrats, who squabbled intramurally over legislation. By the time Patrick got to the Senate in 2007, there were 20 Republicans, just one shy of overcoming the two-thirds rule.
He lost that vote, 30-1, but succeeded in 2015 when he became Lieutenant Governor. That year, he lowered the threshold to three-fifths and then, after Democrats gained another seat in 2021, lowered it again. Patrick's goal has always been clear: Republicans should be able to pass legislation without a single Democratic vote.
These changes had two effects. They made Democratic senators, who represent 42% of the state's population, virtually irrelevant to the Senate's functioning. But they also required the GOP senators to act in lockstep, and Patrick has turned out to be a master at applying the screws to wayward members of his caucus.
When he proposed his three-fifths rule in 2015, only one Republican senator, Craig Estes from Wichita Falls, voted against it. Patrick retaliated by stripping him of his committee chairmanship and, later, supporting his primary opponent in 2018.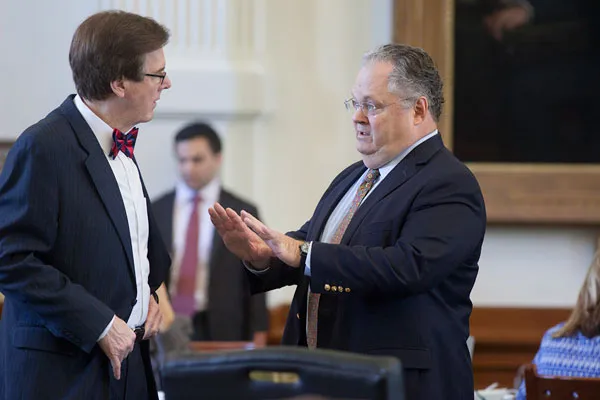 In 2021, State Sen. Kelly Hancock from Richland Hills opposed an energy-related bill Patrick favored. Patrick promptly removed him as chair of the powerful Business and Commerce Committee. (Having subsequently bent the knee, Hancock appears to be back in Patrick's good graces – for now.)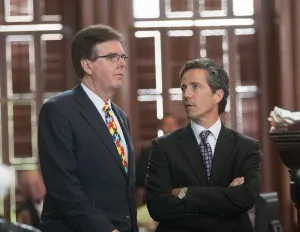 The poster child for Patrick's retribution, though, has been retiring State Sen. Kel Seliger, a former four-term Amarillo mayor who tangled with Patrick multiple times over school voucher and local control issues. Patrick retaliated in 2019 by stripping Seliger of his committee chairmanship and his membership on two other key committees. In 2021, Patrick engineered a redistricting map that would have made it harder for Seliger to hold his seat, and then endorsed his opponent. Seliger has chosen to retire.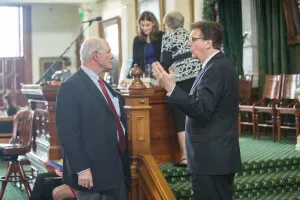 Historically, Lite Guvs refrain from getting involved in primary elections, but that has not been Patrick's style. And this election cycle, Patrick is promoting five GOP Senate candidates, all of whom are more conservative than the people they are replacing.
And that's the point. Patrick doesn't just want a GOP majority in the Senate – he wants an archconservative supermajority bent on passing a reactionary agenda for Texas.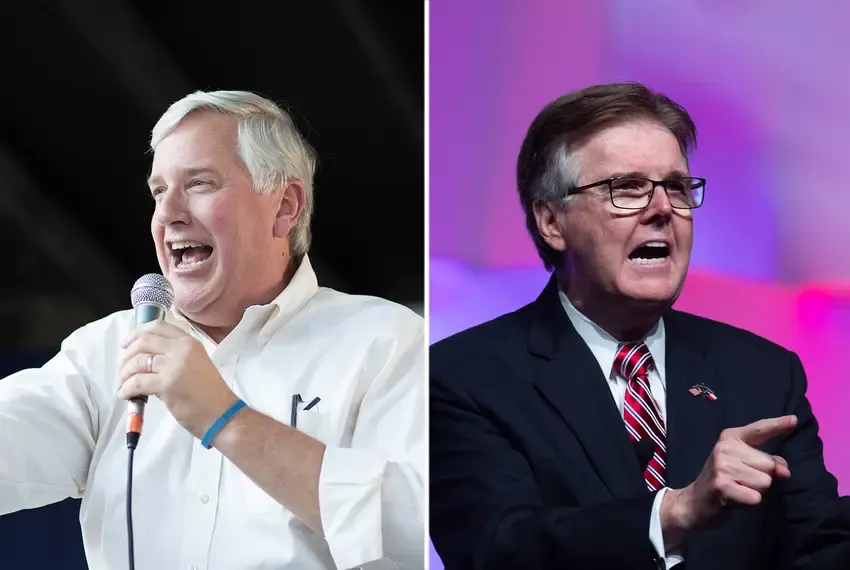 Dan Patrick is up for re-election himself this fall, in a rematch with Democrat Mike Collier, who came within five points of beating him in 2018. Collier, a former Republican, is running a smarter, better-financed campaign this year, although Patrick still has a formidable advantage. The 30-days-out campaign finance reports due last Monday showed Patrick with almost $17 million cash on hand, while Collier has less than a million dollars.
In a rebuke to Patrick's leadership, a passel of prominent Texas GOP elected officials – including Kel Seliger – have endorsed Collier in the upcoming general election. One of them, retiring Tarrant County Judge Glen Whitley, sent a letter to over 1,200 county judges and commissioners, urging them to vote for Mike Collier because of Patrick's hostility to local governments.
Patrick is campaigning harder this time, although he refuses to debate his opponent. He is on a 131-stop bus tour of Texas, to which the media is not invited. The Texas Tribune says, "It is perhaps the biggest example in this election of a timeworn tradition by Texas Republican leaders: campaigning strictly on their terms and sometimes keeping much of the media in the dark."
Whatever. Dan Patrick is sitting in the catbird seat. He has a passionate base of supporters who applaud his rants against transgender athletes and "woke" educators, whatever that means. He has brought the lobby and the business community to heel, and they in turn have funded his campaign with as much as it needs. Although he is not personally well-known and even less well-liked, he is in better shape than his ballot-mates Greg Abbott or Ken Paxton. Barring some astonishing outcome, he will be sworn in for a third term as Lieutenant Governor in January of next year. Which means that Beto O'Rourke's legislative program, should he miraculously ascend to the Governor's Office, is dead on arrival.
---
Is Texas better off because there's an "In God We Trust" sign over the dais in the Senate Chamber? Are Texas schoolkids better educated because Patrick led the charge to ban transgender athletes from competition last year? Are Texas universities better for Dan Patrick's vow to ban "critical race theory" – again, whatever that is – from all levels of Texas education?
You already know the answer.
⭐
DeeceX (Deece Eckstein) has over 30 years of responsible experience in the Texas legislative and advocacy arenas. He is the retired Intergovernmental Relations Officer for Travis County, Texas, where he created the office and coordinated legislative policy development and advocacy for the Commissioners Court. He also amassed a distinguished record as a policy guru and public servant, including six years as the chief of staff to state Senator Rodney Ellis and three years as a senior advisor to Governor Ann Richards, who also appointed him to the State Board of Insurance.