You Can Go Home Again
I was ambivalent about going. But there is a lovely truth to a 50th high school reunion: no one has anything left to prove.


The Great American Novelist Thomas Wolfe (not to be confused with the Great American Novelist Tom Wolfe) wrote "You Can't Go Home Again." But the Great CCHS '72 Graduate Larry Braun said, "You can go home again," as he greeted me at my 50th high school reunion last weekend.
As I mentioned in a previous post, I was ambivalent about going. I'd spent years thinking that I'd outgrown high school somehow, and left it behind me. I'd not really lived in San Antonio since then, nor kept in touch with my classmates. Although I'd enjoyed high school, and liked my classmates, what purpose would be served by returning?
But there is a lovely truth to a 50th high school reunion: no one has anything left to prove. We're there by the grace of god, and have buried enough contemporaries to appreciate it. If we're lucky, we've accomplished some things in life – reared a family, built a business, excelled in a profession, traveled the world, cultivated a wide circle of friendship. We've also suffered some disappointments – a failure in business, an imploded relationship, the death of a loved one. If we're really lucky, we still have some loved ones with us on the journey.
By this point in life, we realize that our days are numbered. We don't know what the number is, but the idea that it is finite, and approaching, becomes part of how we look at the world. There are, as they say, more days in the rearview mirror than in the windshield. (This is something young people do not grasp, bless their hearts.)
A reunion can thus be a chance to visit the old haunts, catch up with old friends, retrace the pathways of memory. With 50 years' distance, we can see our young selves more clearly, and how who we were then has shaped who we are now. I'm not that man I used to be; in fact, I never was.
It turns out that was exactly what I was looking for — the chance to see and reconnect with people, and a place, that had been very important in my formation. And to do so without judgment: to experience a fellowship that, fifty years on, had no tricks up its sleeve or games to play.
And so I wandered around in a kind of bliss, assisted by an efficient margarita machine. It was, unfortunately, impossible to say hello to, much less really catch up with, everyone there, but I was grateful to visit with so many. Some vignettes from the evening:
On July 20, 1969, as Neil Armstrong was clambering down onto the surface of the moon, I was spending the night at my best friend Lorenzo Mireles's house. We watched on the TV while his mother made the best tacos in the world. One of the most memorable nights of my life. Mama Mireles passed away some time ago, but Lorenzo and his father were at the reunion.
Lorenzo was just one of several classmates who'd also gone to grade school with me: John Carrington, Alejo Leal, Patrick Parks, Blas Tenorio. It was terrific to visit with each of them.
Carlos Enrico went from being an athletic star in our class to being the longtime coach and athletic director at Central Catholic. He was a confident and funny emcee at the reunion. He was a leader among a big group of classmates who had spent months planning the event.
Steve Cervantes showed up at the reunion with his usual combination of exuberance and attentiveness. He wrangled my friends John Hagan and Mario Ramirez and me into trying on some hats for a photo booth. In the comments, tell me which one you think is more ludicrous.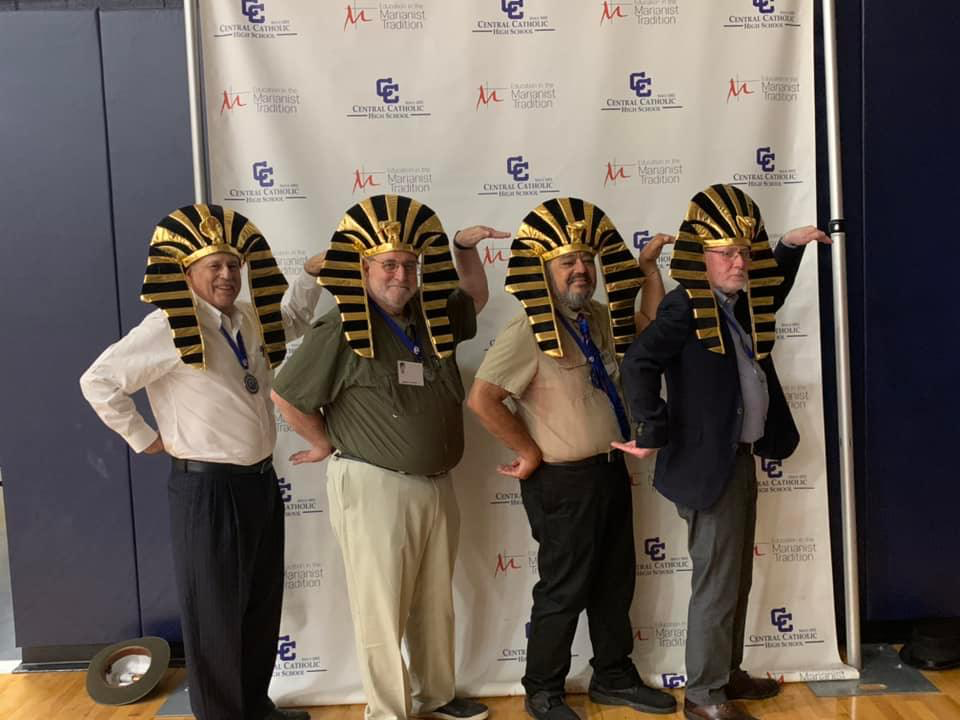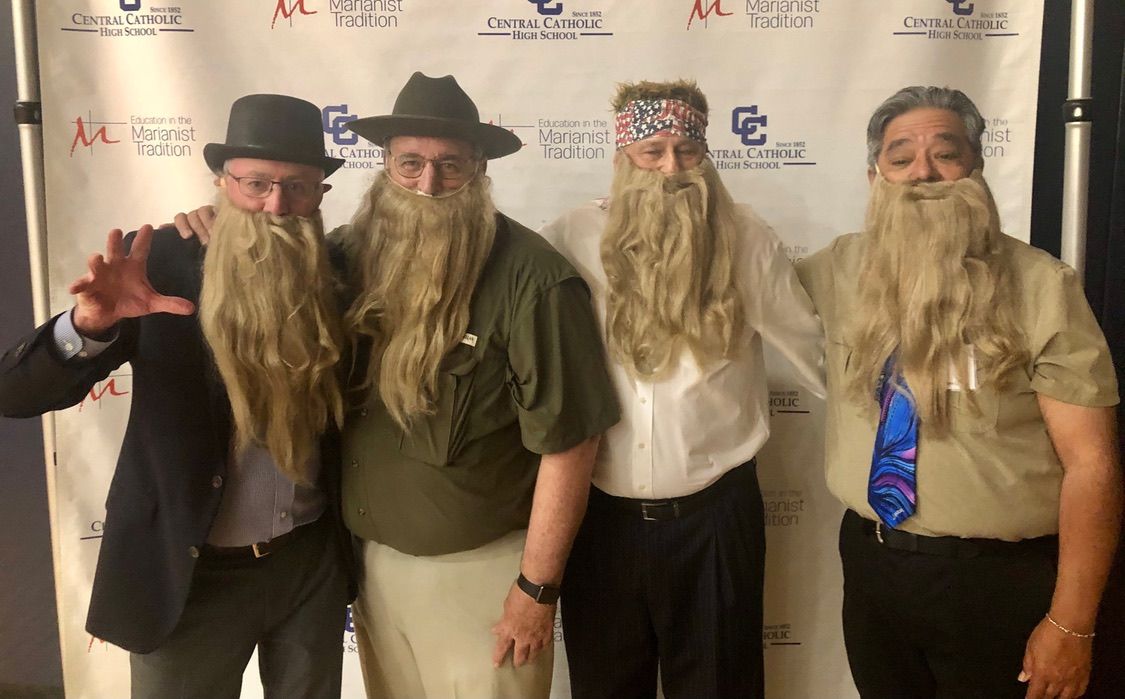 And others I chatted with briefly and was glad to reconnect with: Al Aguilar, John Daniels, David Garcia, Ernest Karam, Joey Mendiola, Terry Salazar,Henry Sepulveda.
And so it went. Steve, Jehn, Mario and I joined our significant others for breakfast the next morning at that San Antonio institution, Mi Tierra. The chance for a slower, more intimate conversation was welcome. We shared some stories that had the wives shaking their heads as if to say, "I KNEW it!" Thank goodness we didn't share all of them.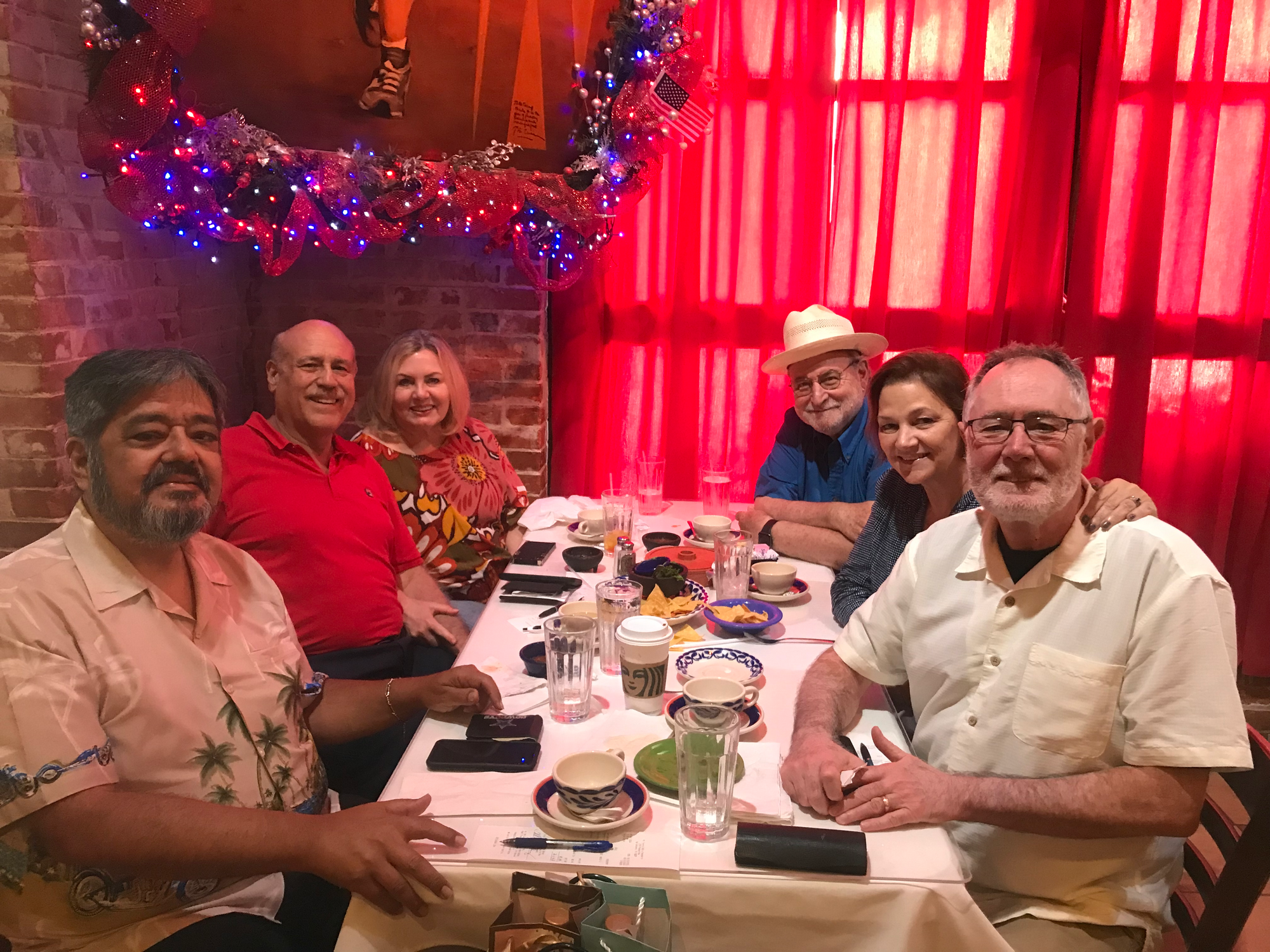 The general sentiment at the reunion was that we should get together more frequently now that we've passed the 50-year milestone. There is wisdom to that: out of a class of about 200, over 35 have already passed. There's a pretty good core group still living in San Antonio, and they plan frequent activities, all shared on the group Facebook page. Spending part of my time in the Transpecos, and the rest of it in Austin, I'd be excused if I did not attend.
But I think I will make the effort.
---