Texas Outlaw Newsletter: Memorial Day Edition
Today is the day we honor the men and women who died while serving in the U.S. military. Many folks have it in their minds that it's a day to honor veterans and those currently serving, but it was started to honor those lost in battle. Originally known as "Decoration Day," it began only a couple of years after the Civil War. From the History Channel:
On May 5, 1868, General John A. Logan, leader of an organization for Northern Civil War veterans, called for a nationwide day of remembrance later that month. "The 30th of May, 1868, is designated for the purpose of strewing with flowers, or otherwise decorating the graves of comrades who died in defense of their country during the late rebellion, and whose bodies now lie in almost every city, village and hamlet churchyard in the land," he proclaimed.
The date of Decoration Day, as he called it, was chosen because it wasn't the anniversary of any particular battle.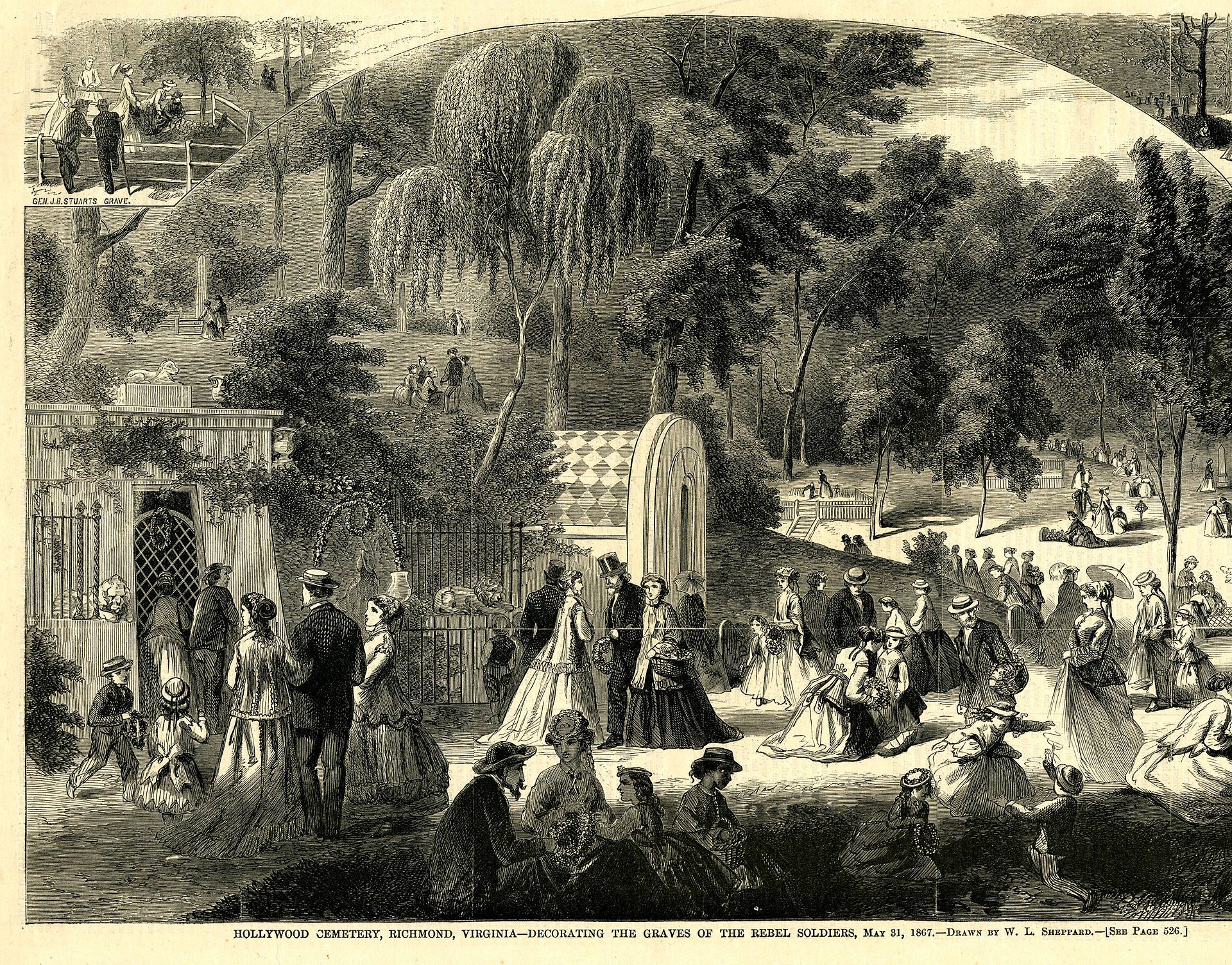 The first official Decoration Day was held at Arlington. The Civil War had made a national war cemetery necessary, and communities had already started to establish days of remembrance. War graves were often decorated with flowers in the Spring. Several towns around the country have claimed to have had the first official remembrance. Ironically, it was recently discovered that one of the first, if not the first, Memorial Day remembrance was held by former slaves in Charleston, South Carolina about a month after the war had ended. When the South fell, former slaves took it upon themselves to dig up Union soldiers from a mass grave at a local horse race track and give them a proper burial. The track and an attached country club had been used by the Confederates as a prisoner of war camp. Over 250 soldiers had died there in captivity.
They exhumed the mass grave and reinterred the bodies in a new cemetery with a tall whitewashed fence inscribed with the words: "Martyrs of the Race Course."
And then on May 1, 1865, something even more extraordinary happened. According to two reports that Blight found in The New York Tribune and The Charleston Courier, a crowd of 10,000 people, mostly freed slaves with some white missionaries, staged a parade around the race track. Three thousand Black schoolchildren carried bouquets of flowers and sang "John Brown's Body." Members of the famed 54th Massachusetts and other Black Union regiments were in attendance and performed double-time marches. Black ministers recited verses from the Bible.
---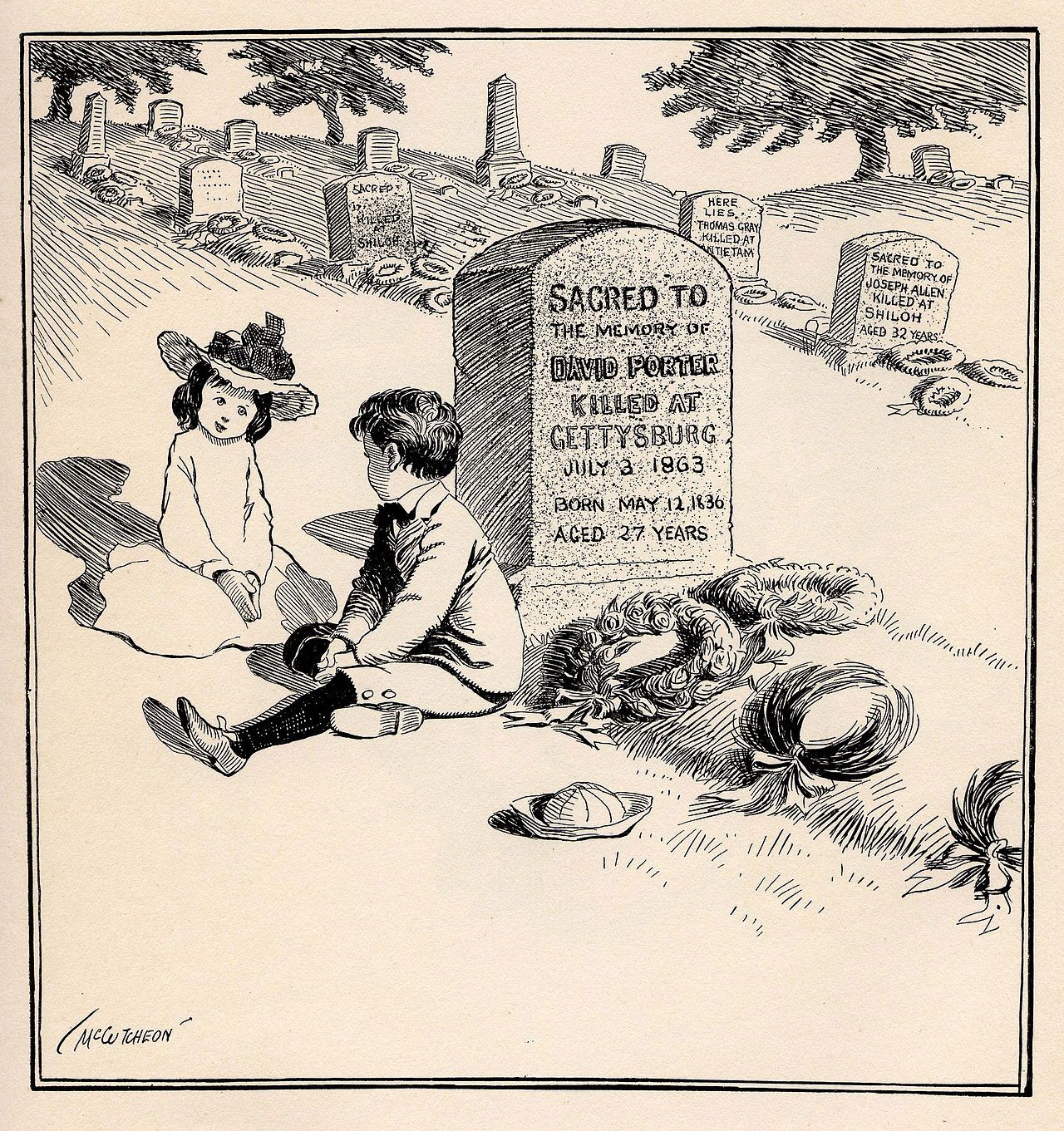 ---
We celebrate Memorial Day in Texas, the holiday that may have started with freed slaves honoring the Union dead. Unsurprisingly, Texas also still "celebrates" "Confederate Heroes Day" (on January 19th, Robert E. Lee's birthday, of course.) This holiday does not trace a long history back to the Civil War, any more than Confederate monuments were erected immediately after the conflict. The WaPo has a great summary of a piece that originated in Texas Monthly.
As recounted in a lengthy story in Texas Monthly, it all began in 1973, when eight Black representatives joined the Texas House, the highest number since Reconstruction. One of them, 34-year-old Senfronia Thompson, introduced a bill to urge the state to recognize the Jan. 15 birthday of the Rev. Martin Luther King Jr. as an honorary holiday, but without the full bells and whistles of a taxpayer-funded day off for public employees. White Republican lawmakers opposed the bill, some claiming that Texas didn't need any more state holidays and memorials, and that King wasn't deserving of state holiday recognition because he wasn't from Texas.
But state of birth did not stop Texas legislators from shortly passing a bill to memorialize Jefferson Davis and Robert E. Lee on Lee's birthday, Jan. 19, under the name Confederate Heroes Day. It was absurd enough that the House responded to Black lawmakers with an utterly un-American celebration of Confederate traitors, enslavers, racists and, above all, literal losers. But neither Davis nor Lee was even Texan!
---
Texas Outlaw John Nova Lomax remembers his great grandfather who captained the Auk-class minesweeper USS Portent in WWII. His remembrance come in the form of a poignant letter that he'd written home.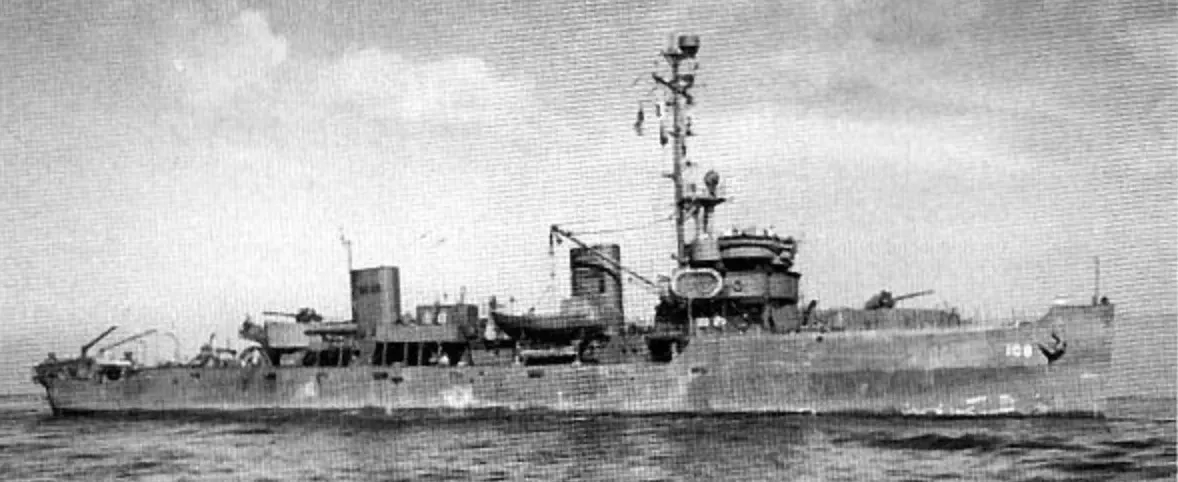 ---
Beyond the many memorial services happening in honor of fallen heroes, it is the fallen children in Uvalde that are still on everyone's mind, (and the absence of much-needed heroism there.) The Texas Outlaw Writers have had a couple of special editions with pieces on Uvalde this week, but there is still much to discuss.
Myra Jolivet believes that violence is simply America's brand. And she is having a hard time seeing a way out.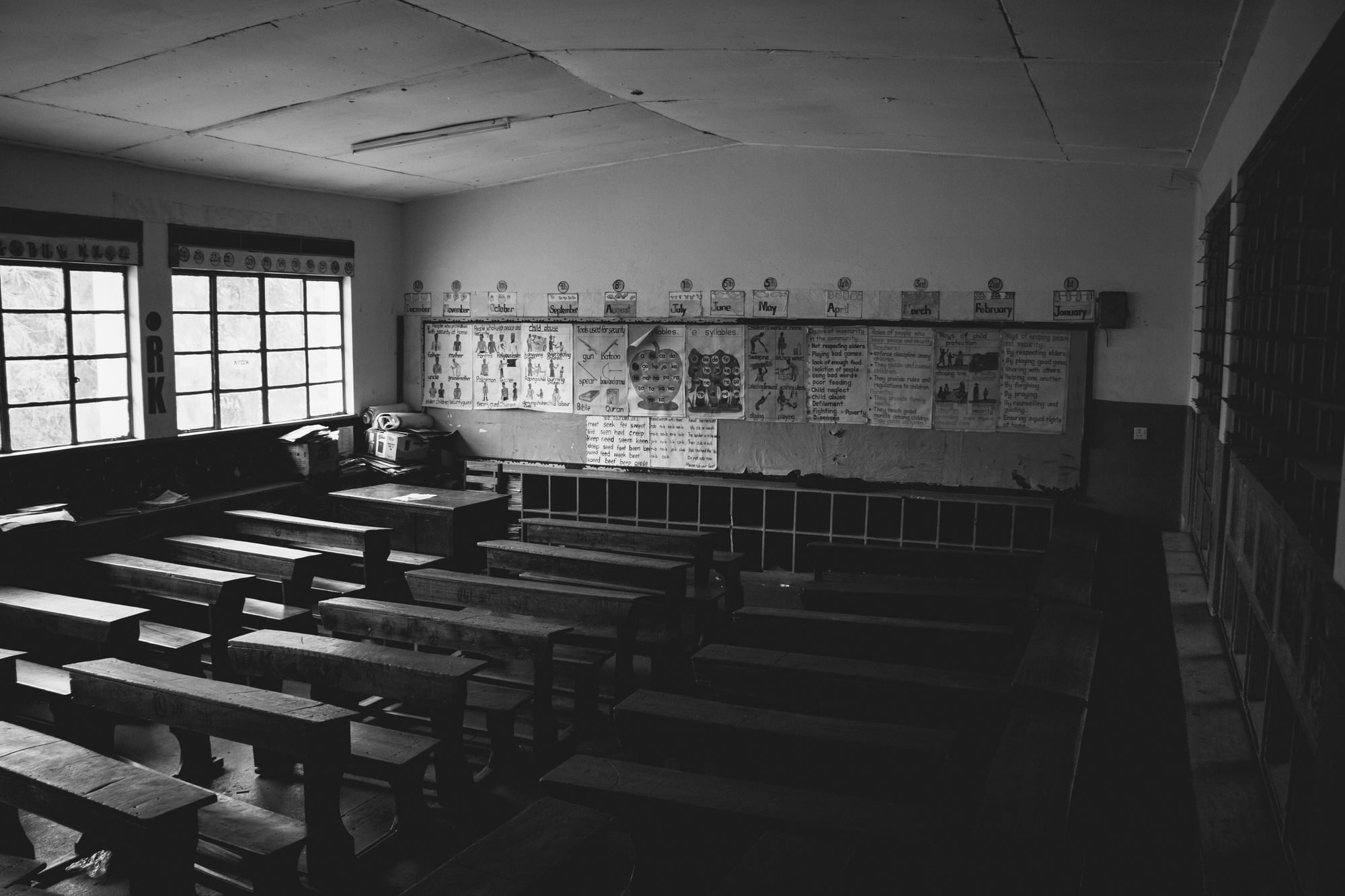 ---
James Moore is as outraged as we all are. He places the blame squarely on our lawmakers. He looks to the governor as he explains that the shooter was not the only one with a mental health problem. But like Myra, he's afraid our national karma may have finally caught up with us.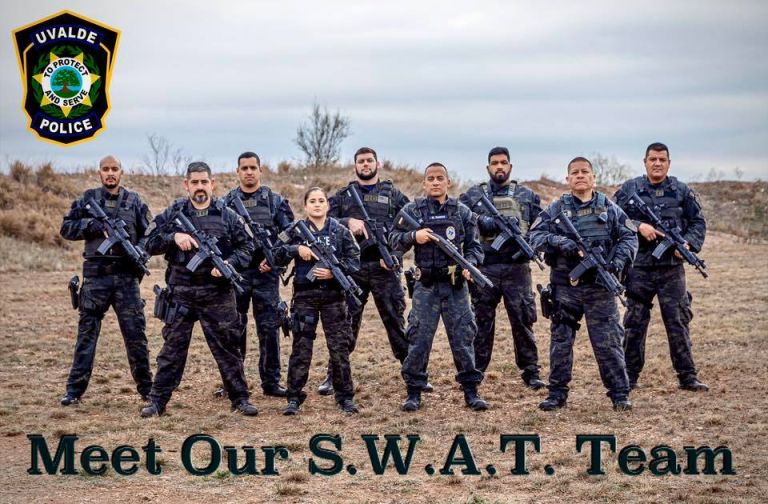 ---
Memorial Day's meaning has expanded in so many people's minds, but it is still, at its core, the day to remember those fallen while in uniform. "Decoration Day" will mean flags and flowers on many graves. This Memorial Day, there will also be a continued focus on the massacre in Uvalde, Texas. And the flowers keep coming.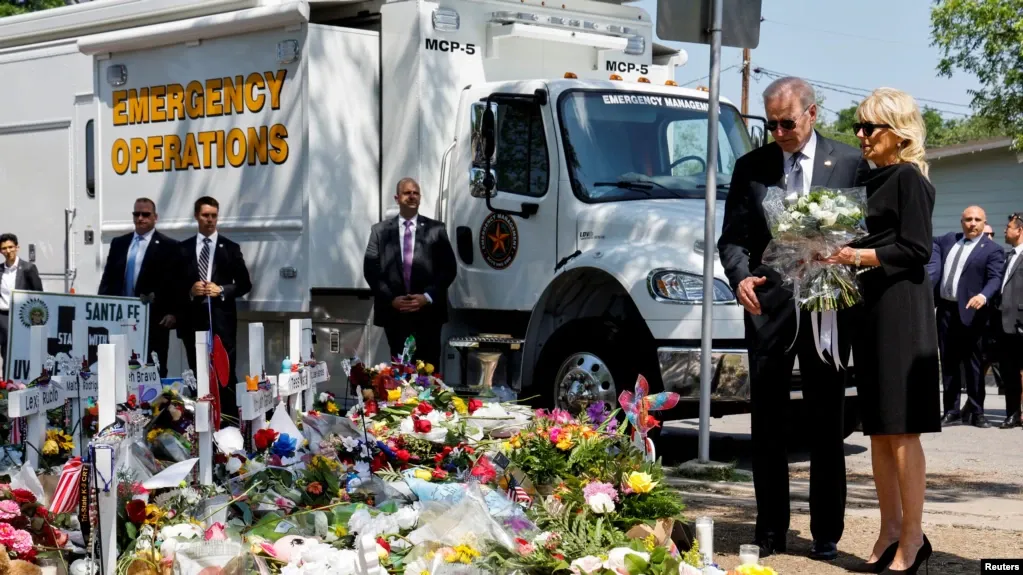 ---
---